"The New Mexican Eating Trip"
Day Four, Thursday – "Dinner is how far away?":
(note: Formatting works best at 1024x768)
My morning walk in Albuquerque was a brief exploration of some of Route 66. I discovered that several 66 "era" motels still pepper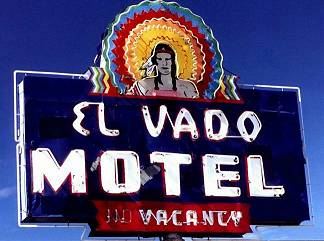 the area (most, still motels, though I noted a couple of "apartment" buildings that looked suspiciously motel-y) including the
"El Vado Motel,"
which is still so classically 66-era that there's actually little garages next to each of the motel rooms (most motels filled those in as additional rooms decades ago).
Anywho, a bit later in the day, after Dee Dee awoke, we we headed back to
Little Anita's
for a breakfast then followed by going to
"Old Town."
Unlike a lot of "Old Towns" we've been through, where some of the "old" can be clear back to the 1950's (note:
Sarcasm...
), Albuquerque's has buildings that literally date back centuries. Adobe art galleries rub dirt with adobe shops sitting next to adobe cathedrals. We wandered about the area for a couple of hours, then decided to expand our wanderings in the car.
We headed east through some of the side streets, admiring the occasional (or more than occasional, in some spots) adobe, Victorian, or Craftsman home, until we passed the Interstate and then dropped down on to Central - Route 66 - to head back west towards the motel. This passed through what, in most cites, would be
itself
considered the "old town," filled as it was with nicely maintained and/or restored buildings from the nineteen-zeroies to the forties. What with the
real
thing just down the road, though, think of it as Albuquerque's "early middle-aged" town instead.
We eventually got back to Old Town and stopped again, this time, to visit the World Famous
"American International Rattlesnake Museum."
Okay, the name is a bit pretentious. The museum is half gift shop, half rooms with terrariums and about the size of a big Seven-Eleven. Mind you, they
do
have an impressive number of different species of snake (mostly rattle - given the name) there, often "unusual" specimens - "albinos," odd color schemes, etc.
It's an almost classic example of the kind of tourist-attracting "museum" that used to litter the southwest (especially on Route 66) - you know, the kind that the kids saw the billboard for and bugged their dad about over the next five-hundred miles: "Can we see it? Can we see it?" Attractions like this are now almost extinct, but the Rattlesnake Museum is not only one of the survivors, it's one of the better examples of its species. It's well worth the $3.50 admission to the snake-area (the gift shop part is, obviously, free) and we had fun there.
After the museum, we wandered a bit more about Old Town, then headed back to our motel to kill an hour or so. And then, just as it was starting to get dark, we piled into the car to drive to dinner...
...in Santa Fe...
Now remember, this is the "New Mexican Eating Trip." Its
whole
theme is eating at places we really, really like in New Mexico. Now,
Little Anita's
isn't a bad place,
but five years ago
we found what may be the best Mexican/New Mexican restaurant, well,
anywhere
...
...so we were for
sure
going to
Gabriel's
on this trip, even if we had to go a little out of our way. Well, the seventy-five miles from Albuquerque to Santa Fe easily qualified as "a little out of our way," so dusk saw us back on the 25, booming north towards our dinner reservation.
It was actually a very pretty drive. The Moon came up over Sandia, traffic was light (though probably not by New Mexican standards) and we made good time. In retrospect, we should have left a bit earlier, so we could have sight-seen in Santa Fe that day as well, but this was only a minor hiccup.
The
major
one didn't hit until we got off the 25 to make our way to the 285/84. The restaurant is just north of Santa Fe on - and right along side of - this road (it's near Tesuque Pueblo, for the
Mapquest-inclined
) and it was at this point that we noticed that there had been
slight
changes in scenery over the past five years...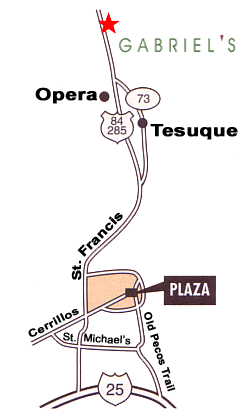 I'd been, perhaps stupidly, navigating by memories of our last trip. I mean, I
had
a map, but it wasn't out (and it was too dark to read, anyway), as three day's worth of RoadTrip 2000 driving around Santa Fe had given me what I thought was a nice grasp of the layout of the place - and especially how to get to
Gabriel's
.
Now in 2000, the 285/84 was a open, four-lane road with at-grade crossings and dirt "curbs" and a general sense of old-style "Open Highway" about it.
Gabriel's
sat by the road and getting to it was just a matter of making a right and pulling into the parking lot. You couldn't miss it - it was the only thing out there for miles.
In the intervening years, though, we discovered that for reasons unknown (the traffic
can't
be that heavy), they'd converted at least this stretch of the road into a freeway...
...and now we had no idea where to get
off
this freeway for
Gabriel's
.
Dee Dee makes a quick - and somewhat frantic - call to
Gabriel's
(let's hear it for cell phones!) and discovers that we should take "exit 176." So we did.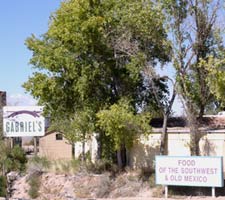 Surprisingly, we were still a little early for our reservation, but got to be seated anyhow.
Naturally, we had to start off with their
"Guacamole Especial"
appetizer, as we had five years ago, which they make right at your table: From avocados to dip in less than two minutes (one minute, fifty - I timed it. And he had to pause for a few seconds to let someone walk by). That
alone
is worth a trip to
Gabriel's
, but we were far from finished.
For the main course, I chose the
"Puerto Vallarta,"
which was and absolutely fabulous dish of crab, prawn and chicken in a tomato and wine sauce, while Dee Dee picked the
"Seafood Fajitas"
which was, you guessed it, fajitas with red snapper, prawns and scallops.
Ghod's know how they do it, but a place a good eight-hundred miles from the nearest "sea" to be "fresh" in manages to serve some of the best fresh seafood we've ever had.
Full, happy - and now working out how we can get our friends out to Santa Fe for dinner ("maybe if we
lie
about the shortest way back from
Diane's
...") - we stroll out into the freezing night air (Santa Fe is a lot higher than Albuquerque - and Albuquerque wasn't all that warm at the time in the first place) and began the long drive back to our motel.
Gabriel's
was worth every mile of the hundred and fifty we put on to get there for dinner and, indeed, is worth every mile of the eight-hundred-odd we were from home.
---
---
All Linked Pictures Copyright of The Sites They're Linked To,
All Non-Linked Pictures Copyright 2005 - David William Johnson
---