"Thataway!"
Day Six, Wednesday – Durango to Beaver:
(note: Formatting works best at 1024x768)
The morning comes and we're up early to get back on the road again. But first, while we didn't get to
ride
the D&SNGRwy-, I see no reason we can't at least wave "bye" as it pulls out of the station this morning...
...and, besides, we have to go right by the station to get out of town
anyway...
Pulled by an actual, coal-burning steam engine, the morning's train pulls out of the station trailing a cloud of coal-smoke and cinders as it slowly heads north through town. I run back and forth across the street (less dangerous than it sounds, what with Durango's light morning traffic) to get some good pictures while Dee Dee waits – shaking her head in silent resignation – for me in the car as I do the train thing.
Then it's back on the 160, heading west towards Cortez.
It's a nice, pleasant drive there, where we now head northwest back on the 666 towards Utah. In the long run, we're heading for Las Vegas (some of Dee Dee's family is there on a trip of their own, and we're going to meet up with them on Friday), but since I hate going back the way I came, I've decided to swing
up
into Utah, across Interstate 70 to the 15, then
down
into Vegas from the "opposite" side.
Not really sure how far we'll get today, but since I figure anywhere after we hit the 70 will make the next day's trip comfortably doable, I'm not really worried.
Past Cortez, Colorado opens up into miles and miles of slightly rolling farm country. Okay, it's really high
altitude
farm country, but in a lot of ways, it doesn't look too much different from what we've seen in the Central Valley or up the 101 'round Monterey.
Almost to the Utah border, we stop at the small town of Dove Creek to buy some beans...
...okay, perhaps this needs some explanation...
While strolling through Honeyville's gift shop the previous day, we had noted them selling some small bags of "Anasazi Beans" – a spotted native bean apparently praised for its flavor. However, the bags were small (just one meal's worth for two, not particularly hungry people) and kinda pricey, so I had told Dee Dee we'd stop at a place I saw on the 160 about halfway between Cortez and Durango and see how much
they
charged...
...then kinda zoned the next day and we drove right by it.
However! According to the packaging I read at Honeyville, the beans were from a company called "Adobe Milling" in a town called "Dove Creek" which we were going to drive right through. Well, we'd missed them on the 160, but if
any
place was likely to have Anasazi Beans, it would be the town of their "origin." We'd stop at a store there and, presto!
In fact, as we hit town we drove right past the packing plant – with it's
own store out front
.
So, twenty-five pounds of beans (and some spices, which they also had inexpensively) later, we were back on the road and entering into Utah.
Utah, at least so far, was just more farm country, like Colorado. We stopped in Monticello for lunch (not much choice – it was the end of the 666) and had some really blah, yet expensive fast-food chicken. Can't remember
the name of the place
(a blissful ignorance I am happy to return to), but the chicken was advertised as "moisturized..."
...pity it wasn't
flavorized...
You climb a bit as you head north out of Monticello on the 191, then suddenly you drop down into endless vistas of sculptured rock. Climate goes from "farmland" to "ranchland" just as suddenly.
It's really quite pretty. Initially done in tans and yellows, as you continue north the rock begins to display much prettier colors: Reds, grays, shades of yellow, even copper-greens streak through the immense piles of rock on both sides of the road. Meanwhile, the climate shifts from "ranchland" to "desert" almost before you notice it.
Heck, you even drive right past another "Window Rock" as you go.
Unfortunately, the scenary is often compromised by the fact that southern Utah is apparently a land of the house trailer. Small towns are made up (from what we could tell) entirely of house trailers of varying ages and conditions. Farm "houses" are house trailers. House trailers litter both sides of the road as you near and depart Moab. It's all quite tacky and not a little bit sad.
Speaking of Moab, about fifteen miles south of it, we stop at a classic roadside attraction:
"Hole in the Rock."
Seems back in the 30's, Albert Christensen – an ex-miner – decided to build a house and – being an ex-miner – did so by blasting it out of the side of an enormous rock wall.
For a while the place was a diner as well, but that ended in 1955. Albert himself then ended in 1957, but his wife continued to live there (in "fourteen" rooms, yet) until 1974. Now it's open for tours.
Of course, we
had
to take the tour.
Both Albert and his wife Gladys were artists as well as troglodytes. Albert, of course, did sculpture, but he also tried his hand as taxidermy (which somewhat explains the stuffed mule in the living room...). Gladys did painting and jewelry and what not, and the whole (or hole, if you prefer) house is stuffed with the end results of their little projects.
Okay, it's silly – we still liked our stop there.
On a whole 'nother note, however, was passing the site of "
Dalton Wells Internment Camp
" in the middle of nowhere, Utah desert. Apparently, Dalton Wells was where they sent the Japanese Internees during WWII who qualified as "troublemakers" and that they felt just weren't "in the middle-of-nowhere" enough in places like Manzanar.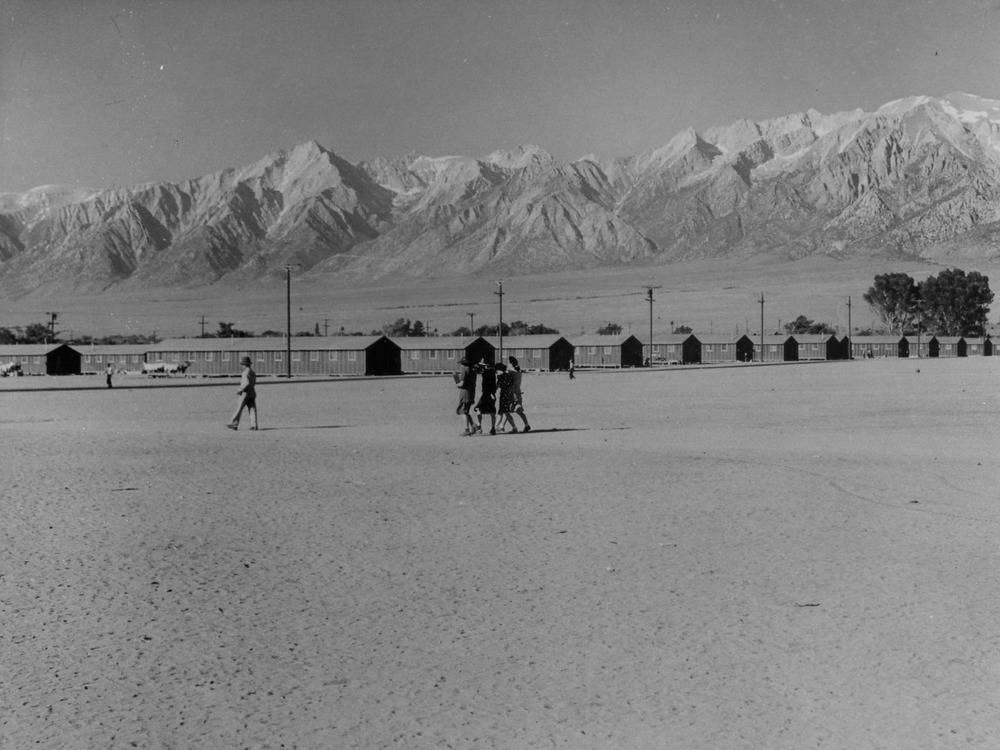 We've seen
Manzanar
– this place is worse. Nothing really survives of it besides a commemorative plaque and the well that gave the place its name and reason for being.
Soon after, we hit the 70 and started going west. At this point I figured we could reach the 15 before we had to stop for the night, so we were booming along. In spite of being a nice wide Interstate, the 70 though here winds back and forth and goes up and down, up and down, then up and down some more – quite steeply, in spots – as it passes over a seemingly endless series of long narrow canyons running north and south.
Oh, you get some great views, but after a while, it
does
begin to wear...
Finally, you climb up into the mountains again, to descend many miles later into the town of Salinas.
There, we stopped briefly for gas (I was nearly out) and a phone call (long story, that). It's only about four-ish in the afternoon and as Salinas doesn't look all that inviting as a place to stay the night – amongst other things, our restaurant choices seem to be rather limited – I peer at the map for a while and decide we can make Beaver, Utah around dinner time and my guide books state it has lots of motels (okay, six or seven).
And we'll only be about a hundred-and-fifty miles from Vegas the next day.
The 70 climbs back up into the mountains, wiggles around a whole lot, then comes down to connect with the 15. Twenty odd miles south along that and we're entering the megalopolis of Beaver – and discover even less restaurant choices than in Salinas...
(How less? We ate at a Wendy's 'cause that was the high end of what was available...)
---
---
All Linked Pictures Copyright of The Sites They're Linked To,
All Non-Linked Pictures Copyright 2002 - David William Johnson
---