"Around Arizona in Four Days"
Pre-trip
Well, once again Spring Break had rolled around and I determined to go off somewhere driving.
This was more difficult than last year. What with El Niño and the Alaskan Conveyor running (which sends
cold
storms down from Alaska) it wasn't just the L.A. area that had clouds/rain, oh no. Snow and rain were falling everywhere within about a thousand miles in the weeks (and especially the
week
) before the trip - which kinda put a crimp on sight-seeing for most areas (I had, for example, entertained thoughts of going up to Oregon this time. Hah!).
Flipping a mental coin, I decided I'd head to Arizona. I'd missed some minor sights (like the Grand Canyon) last year on my dash along
Route 66
and I figured if any place was going to be dry, it'd be there. Still, checking the
weather
the week leading up to the trip showed a strong (and increasing!) chance of snow in Williams and Flagstaff (my first two stops) for the coming week. Nervous, I invested in a set of chains for the car.
The weekend before the trip, it rained in Pasadena - hard - and snowed in the surrounding mountains - low - which made me even more nervous. This time, I was going with my friend Dee Dee and I warned her that it was likely to be cold with a good chance of snow (she's not a cold weather person). I kept reminding her of this the whole trip, especially when it got down into the 20's in Flagstaff.
Monday dawned with mostly gray skies, with just the hint of occasional solar breakthroughs in the cover as we left Pasadena for the start of...
Day One - Monday - Pasadena to Williams
The drive from Pasadena to the Cajon Pass was fast, uneventful, and pretty gray and boring. Climbing the pass, though, we started entering clouds/fog pretty heavily. However, it soon passed, and skies became, if not perfectly clear, at least infused with patches of blue.
While we drove, we noticed that the desert was almost magically green. I suppose to someone from a wetter area, it wouldn't look all
that
green. But to Southern Californian eyes...hoo-boy! El Niño had done some pretty decent watering.
And once past Barstow...Flowers! Tons of them. Driving down the 40 the desert on both sides was carpeted with wildflowers as far as you could see. Mostly yellow, but there were also purples, blues, pinks and the occasional whites intermixed and in clumps. The flowers lasted clear to Needles and beyond into Arizona.
A little before Ludlow we decided to jog over to
Route 66
and pulled off in "town." The last time Dee Dee was through here, Route 66 was the road through the area, so it was even more nostalgic for here than it was for me last year. Unfortunately, along with watering all the wildflowers, it appeared that El Niño had washed out part of the road between Ludlow and Amboy, so we had to get back on the 40. About twenty-five miles further down the road, though, we found another road that linked up with Route 66 just east of Amboy - and the blockage.
Both it and Route 66 when we got to it were dead empty - we know, because we kept stopping to take pictures of flowers and casually wandering back and forth across the road with not a car in sight. By now the sky was down to partly cloudy and it was looking to be a beautiful day.
Flower photoing & nostalgia over, we connected back up with the 40 at Mountain Springs Summit and soon we're booming through Needles, headed for the border - and Route 66 again.
The previous drive along it back in California had been spur of the moment thing, inspired by all the pretty flowers.
This
section had been in my mind all along. I knew from last year that the 40 between Needles and Seligman was boring in extreme, that Dee Dee hadn't (as I said) been in the area since Route 66
was
Route 66...
...and anyway, I wanted to stop at Oatman again for lunch, like last year.
So about 11:30, that's where we were, in Oatman, having frybread and watching the burros wander about town. The skies were clouding over again and the air was cooling (or as Dee Dee kept saying "no, it's
cold...
") as we began our climb up to Sitgreaves Pass. Once there, we stopped again and supplemented the frybread with actual sandwiches before heading on.
The miles rolled by and the day got grayer and colder as we went. We stopped briefly at
Grand Canyon Caverns
to get a photo in front of their "year" sign (and Dee Dee only briefly braves the cold), then it's back towards Williams, passing through the occasional splat of rain on the way.
Williams
is heavily overcast and in the rapidly diminishing 40's when we arrive about 4:30 that afternoon. After checking in at the Motel 6, we go for a walk up into town and over to check out the Grand Canyon Railroad station and Fray Marcos hotel. By the time we get there, a light snow is falling. Just a few flakes, but the temps now dip into the 30's.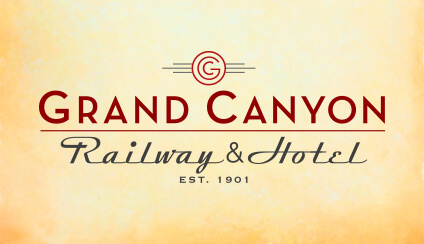 We peruse the gift shop and the hotel for a while, waiting for the day's train to come in. It arrives, in a snowfall that no longer counts as "light." Even by my rather loose standards, it's now getting pretty cold, so we head off to the restaurant I ate at last year for dinner. Along the way, I'm trying to catch snowflakes on my tongue while Dee Dee shivers and looks at me like I'm an idiot.
Hey, it's my first snowfall in two decades or so (and only the third altogether).
However, the restaurant is closed for some reason - and it's rapidly becoming my
hardest
snowfall as well, because it's now snowing faster and the wind is pretty much blowing it sideways. We quick duck into the next restaurant between us and the motel, the Parker House Restaurant - yes, the people with the rolls.
They
don't have buffalo burgers, but dinner's pretty good anyway and by the time it's over, the snow's let up a little bit. It's definitely below freezing, though, so it's back to the motel and a reasonable night's sleep.
("Reasonable" because I have yet to stay at a motel - or hotel, for that matter - where the bed wasn't as hard as a block of concrete. I don't know why that is - but it's very annoying)
---
---
All Linked Pictures Copyright of The Sites They're Linked To,
All Non-Linked Pictures Copyright 1998 - David William Johnson
---