"Gathering of Eagles" is an act of love by thousands of veterans who choose to honor the sacrifice of the fallen by guarding the memorials from those who would desecrate them on March 17th in a "peaceful" anti-war rally in Washington D.C.
It is also a call to action for every American who chooses to stand and say "No more!" to those who would spit on our veterans and ridicule their service to our nation.
We invite you to join us March 17th, as we stand together as one to ensure that the sacrifices of our fallen and the memorials that remember them are not tarnished by the ungrateful.
....................
ON TWO DIFFERENT OCCASIONS, ANTI-WAR PROTESTORS ATTACKED VIETNAM VETERANS MEMORIAL
They have tried to disgrace the names of Vietnam War Dead before...
http://www.capveterans.com/national_veterans_memorials_protection/
.............
Disabled Vietnam Veteran Vs. State of New Jersey
http://www.americans-working-together.com/jack_cunningham/id101.html
Why are the two teenage Marines in the below picture eyes closed?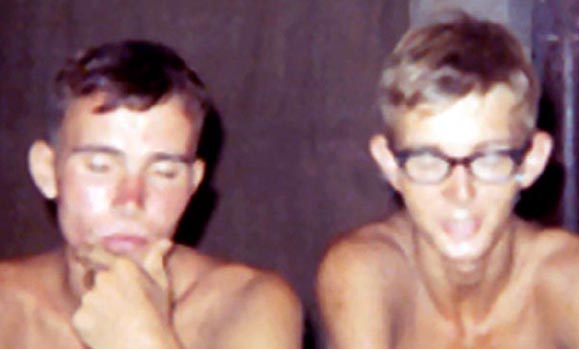 WHETHER INTENTIONAL OR NOT...
Back in April 1971, as John Kerry was appearing on television talk shows around America condemning his brother and sister Vietnam vets for being Baby-Killers and Village-Burners, he was helping cover up the Duc Duc Refugee Village Massacre.
http://www.capveterans.com/the_duc_duc_resettlement_village
JANE FONDA AND JOHN KERRY WORKING FOR AMERICA'S ENEMY TOGETHER
A MESSAGE FROM JANE FONDA ABOUT HER VIETNAM TRIP
WHAT DID JANE FONDA REALLY DO (In Short)
GOD BLESS AMERICA

Subject: A MUST READ




I received the attached article from a friend (who received it from a friend, etc.). Don't know who the author is, and it is a shame, because he/she should get credit for a great thought provoking piece of work. Regardless of your political beliefs, or how you feel about whether or not we (the U.S.) should ever have gotten in to this war with Iraq, or how you feel about the President of the United States. The bottom line is that we are committed to this war - like it or not - and we need to support the President, our troops and every effort required to defeat terrorism. The piece is a bit lengthy, but well worth the time to read it.
PLEASE PRESS THE NEXT LINK TO LEARN ABOUT A MASSACRE THAT THE AMERICAN NEWS MEDIA DID NOT COVER.

PLEASE PRESS THE PICTURE FOR A LARGER PICTURE



http://home.earthlink.net/~ducducvietnamfriends/an_unknown_massacre_in_vietnam/id8.html
I found this great PTSD article on a military base. It was in a FAMILY MAGAZINE for American troops.
PTSD does not only hit our military men and women. It impacts a great number of Americans, who never left home...
Child abuse, elderly abuse, marital abuse, street crime victims (rape), etc. are some of the biggest sufferers.
Understanding PTSD is a great way from keeping it from passing down through generations.
A "PRO SE" PTSD VIETNAM VET WINS A LEGAL MALPRACTICE CASE AGAINST A VICE-CHAIRMAN OF ATTORNEY ETHICS.
"If I had my life all over again, I'd still be honored to serve in the American Military during the Vietnam War. I'm proud to have served with such a honored group of American men and women."
Jack Cunningham, Marine Corps
Combined Action Program (CAP)
Vietnam 1970 - 71
-----------------------------------------------------------
PLEASE PRESS HERE FOR A MUST READ BY ALL PATRIOTIC AMERICANS
JACK CUNNINGHAM
United States Marine Corps
Phu Da, Vietnam
1970 - 1971
FOR THOSE OF YOU WHO BELIEVE THAT JANE FONDA IS A NATIONAL HERO, AND FOR THOSE OF YOU WHO DON'T BELIEVE SHE IS, PLEASE PRESS THE BELOW LINK:
PLEASE PRESS THE LINK TO LEARN ABOUT THE DUC DUC RESETTLEMENT VILLAGE MASSACRE

SURRENDER WAS NEVER AN OPTION

The Vietnam War Experiences of a Proud Vietnam Vet.

DO YOU HAVE A CLOSE RELATIVE BURIED IN A VETERANS CEMETERY... HOW WOULD YOU FEEL IF THIS WAS YOUR FATHER'S GRAVE?
DON'T OUR VETERANS DESERVE BETTER THAN FLOODED GRAVES.
This article from the New York Post is for everyone to read. As more truth comes out about the Vietnam War, the less the Liberal/Leftist version would be remembered as the sole source of information on the war.
Learn the story behind the below T-Shirt...
We need to get organized to stop Jane Fonda's new try at American Influence. Threats of violence only boosters the stereo-typical image, we are trying to remake with the truth... Rambo's gone for good!

Let us not be judged based on few...

THIS IS MY TOWN is a recent Country-Western hit. I like to think that America is my town. WE ARE ALL IN THIS TOGETHER.

*************************
----- Original Message -----
Check out the Viet-Myths website. We're another group working on trying to get the truth out on the Vietnam War.
Regards,
Mike Benge,
Former VN POW '68-73
Examining the Myths of the Vietnam War
A Conference,
under the auspices of The RADIX Foundation,
which took place at Simmons College,
300 The Fenway, Boston MA, 26-29 July 2004

"The Vietnam War was mis-reported by the Media, mis-recorded by the Historians, mis-taught in our schools and mis-applied in addressing policy decisions.
MMMM should replace UUUU as our recognition symbol."
Stephen Sherman
http://www.viet-myths.net/OSession01.htm
************************************************
PLEASE HELP THIS HEALTH CLINIC AND HEALTH PROJECT IN VIETNAM
DEDICATED
TO THE VICTIMS OF 9-11
(Both Living and Dead)
THE MESSAGE OF 9-11
************************
It wasn't Jane's fault. It was because her former husbands made her do it.
(SHE MUST BE TRYING TO MAKE A COMEBACK.
SHE THINKS AMERICANS ARE STUPID...)
WHAT HAPPENED IN VIETNAM ON MARCH 29, 1971 THIRTY-FOUR YEARS AGO
HOW YOU SAY IT IS MOST IMPORTANT..
YOUR OPINION: HOW YOU SAY IT... IS MORE IMPORTANT THAN WHAT YOU SAY
VIETNAM

MEDAL OF HONOR

Please Press the Picture for a Larger Version.


Please Press the Picture for a Larger Version.

(Please press Miguel's name to link to his Citation.)
These events are open to all Veterans, their Families, their Friends and all appreciative Americans...
These are the latest VFW State Service Officers. They are VFW employees, who help veterans obtain their Veteran Benefits from the Federal Department of Veterans Affairs (VA). Call your state VFW Representative. Find out what your benefits are.
Please pass on to one of the newer veterans or the older veterans...
WE ARE ALL IN THIS TOGETHER...
***********************************
Please PRESS the below link for the details of a Honorable Vietnam Veteran's PTSD Discrimination case.
HAVE YOUR GROUPS, SCHOOLS, CHURCHES, CORPORATIONS, FRIENDS, AND RELATIVES GET IN-TOUCH WITH:

PLEASE PRESS THE BANNER TO LINK



PLEASE PRESS THE BANNER TO LINK

OPERATION GRATITUDE

(SM) - Copyright © 2004

Operation Gratitude (SM)- Carolyn Blashek.

16444 Refugio Road; Encino, California 91436 USA

fax: 818-789-0563 email:

cblashek@aol.com

***************************************************************************************************************

----- Original Message -----

Sent: Monday, February 28, 2005 2:14 PM




Lizzy Lulu is 11 years old. She is like most pre-teen girls who love music, cell phones and cool clothes, but she is quite a unique young girl. Lizzy has Cystic Fibrosis and Juvenile Rheumatoid Arthritis. Like many kids with serious health problems, she has a wish, but her wishes these days are not for herself.

After hearing that the troops in Iraq need AA batteries for their hand held entertainment devices and other battery powered items, she started a campaign to send 1,000,000 AA batteries to Iraq by July 4th, 2005.

To learn more about Lizzy and her special project, please click the following link.

Please support this amazing project and be sure to pass this email along to everyone in your address book.

Thank you.

Bob Parker

Our Batteries (Lizzy Lulu's) will be donated to Operation Gratitude. They are a non-profit organization that ship "care packages" to the troops serving in Iraq and other remote parts of the world.

Below is another great opportunity to feel proud of our American Military as well as yourself. The sergeant has a simple request...

My name is Sgt. Lamar Price. I am currently with the 278th. Regimental Combat Team at Camp Caldwell Iraq. I am writing to ask you for help with a project I am trying to start here.

A few weeks ago the 278th. opened a school in the area near here. I became aware that a lot of the children did not have shoes and were going to school barefoot in 50 degree weather. I am asking people to mail one pair of children's shoes to my address in Iraq. They can be any size boys or girls. They do not have to be new just serviceable. I will then collect them and give to our patrols and convoys to pass out. My address is
Sgt. Lamar Price
RHHT278RCT PLT7
Camp Caldwell Iraq
APO AEO 09374

A number of caring Americans on my mailing lists have asked, if Sgt. Lamar Price's request is legitimate. Based on the internet sources, where I found his above request, I would proudly say yes. During the Vietnam War, CAP Marines did the same thing. (Be part of the solution in Iraq.)

Sussex, NJ

----- Original Message -----

Sent: Monday, February 28, 2005 3:16 PM

Subject: Re: Responses: My name is Sgt. Lamar Price.




Jack,
Is this on the up and up? If so I will put in my bulletin to 25000. Knights of Columbus members I represent.
Get back to me ASAP.

MIKE

POWER MEMORIAL ACADEMY

----- Original Message -----

Sent: Monday, February 28, 2005 9:17 AM

Subject: RE: Sgt. Lamar Price (from boortz.com/boortz)




yes it is true. click here:

http://boortz.com/nuze/200502/02182005.html#shoes

Net Dog

HAVE YOUR GROUPS, SCHOOLS, CHURCHES, CORPORATIONS, FRIENDS, RELATIVES GET IN-TOUCH WITH:

OPERATION GRATITUDE

(SM) - Copyright © 2004

Operation Gratitude (SM)- Carolyn Blashek.

16444 Refugio Road; Encino, California 91436 USA

fax: 818-789-0563 email:

cblashek@aol.com
The United States Military taught us many things,
but never taught us how to give-up and quit.
Adopt An American Veteran
Sent: Friday, January 14, 2005 7:29 PM

Subject: Vietnam vets to get 'true homecoming'

----- Original Message -----

This is a WorldNetDaily printer-friendly version of the article which follows.
To view this item online, visit http://www.worldnetdaily.com/news/article.asp?ARTICLE_ID=42373
Friday, January 14, 2005

---
---
Vietnam vets to get 'true homecoming'
Grand-scale, weeklong event with 100,000 to say thank you

---
Posted: January 14, 2005
1:00 a.m. Eastern


---
© 2005 WorldNetDaily.com

On the 30th anniversary of the end of the war, Vietnam veterans will be given the "homecoming celebration they never received" at a conference organizers hope will draw 100,000 people.

Vietnam veterans memorial in Washington, D.C.

"During those three decades, the brave men and women who served in that conflict have never been given the recognition they deserve for their heroic sacrifices in service to our country," the organizers, Operation Homecoming USA, say in a statement.

"Now, the time for that recognition has come."

The board of directors for the first-ever national event, scheduled for June 13-19 in Branson, Mo., include entrepreneur and former presidential candidate Ross Perot, chairman emeritus of UPS Stores Jim Amos and NFL Hall of Famer Jackie Smith.

"By honoring those who answered their country's call during a difficult time in our nation's history, the legacy of duty, honor and country will be passed on to America's sons and daughters who will be called to serve in the future," the organizers say. "It's an idea whose time has come."

The weeklong tribute will be capped off by a festival of national acts, including the Oak Ridge Boys, the Fifth Dimension, the Temptations, the Supremes, the Beach Boys, Creedance Clearwater Revisited, Ann-Margret, Mary Wilson, Tony Orlando, Les Brown's Band of Renown with Les Brown, Jr., and the Dallas Cowboy Cheerleaders.

It also will feature a flyover of every type of aircraft used in the war.

During the week, smaller-scale reunions of veterans will be organized.

Operation Homecoming USA said it "approached a broad spectrum of national and regional experts to provide oversight of this sensitive project."

The event comes after a presidential election campaign that revisted some of the war's most contentious issues. But the spotlight on John Kerry's 1972 characterization of Vietnam servicemen as war criminals -- regarded as a major reason why they were scorned -- brought out many veterans publicly to help set the record straight and defend their honor.

A promotional video on the organizers' website says, "Over 3 million proud men and women served their country. Unfortunately, in the political debate, the Vietnam veteran was left on the battlefield."

The video says the idea for the conference began as a conversation between two Missouri veterans, Gary Linderer and Steve Presley.

Speaking at a news conference captured on the video, Amos said putting the event together is "a duty born out of love, and it is the right thing to do."

"What has remained for more than 30 years has been a hole in the heart of America," he said. "Now is the time for healing. Now is the time to welcome home the only veterans group that has never been officially welcomed home in American history."

The event, Amos said, will say "Thank you to our fallen brothers and sisters on the other side of that wall. And, while its been a long time coming, to those Vietnam veterans on this side of the wall, welcome home."

---
I WENT TO SEE THE BIG BLACK WALL TODAY

GOD BLESS AMERICA TONIGHT

(turn on your speakers)

Eric Horner's song "WELCOME HOME"
Lee Greenwood as a guest singer
Local Heroes

December 20, 2004
By Andrew Borene

"I think that there is no greater gift than for a man
to be willing to risk his life for the freedom of strangers."
---
Op-Ed Contributor: Local Heroes

December 20, 2004
By ANDREW BORENE

Minneapolis - IF the Pentagon hopes to start bringing American troops home from Iraq while also increasing security there, it will have to find a way to do more with less. One approach could be expanding the Marine Corps combined-action program, an initiative that was successful in Vietnam and has shown early promise in Iraq.

The concept behind the program is that if American and foreign troops operate together, each will gain knowledge from the other as to the best way to counter an insurgency. In Vietnam, platoons were created that combined marines and Vietnamese militia members. The Americans were handpicked, chosen because they had shown particular respect for the local culture. They were expected to live in the villages they were assigned to defend, striving to "work themselves out of a job" by training their Vietnamese counterparts in police work and security operations.

The most striking success of the program was a rapid increase in actionable intelligence. Living in Vietnamese hamlets for months, the marines got a chance to get to know the locals, who in general had kept a careful neutrality in the war. This helped to humanize the American presence and reduced the passive support many civilians had been giving to Vietcong guerrillas. For many, their respect for (or fear of) the communist guerrillas waned, and they broke their silence about intelligence leads.

In the long run, it was one of the few efforts that managed to win some "hearts and minds" in Vietnam. Unfortunately, the top brass lost interest in the program in the early 1970's and, well, the rest is history.

Last year, under the leadership of Gen. James Mattis, members of the First Marine Division in western Iraq began adapting the program to aid poorly trained Iraqi National Guard and police forces. Although it is too soon to declare success, reports from the military and the news media suggest that Iraqis in the combined-action program perform better in combat, have higher morale and are considerably more reliable than their regular Iraqi military counterparts.

Expanding the program would be best accomplished by teaming coalition troops with Iraqi security troops, or even paramilitary groups as in Vietnam, and placing them in cities along the main supply routes. This would significantly bolster the coalition's ability to gauge popular sentiment and gather intelligence leads on the pursuit of enemy leaders. It would also reduce the high profile of the coalition forces.

While the situations in Vietnam and Iraq are not identical, when it comes to battling insurgents it is always vital to erase their advantages in popular support and local knowledge. A few good marines learned how to do that during Vietnam; perhaps trying it again in Iraq can bring about a different ending.

Andrew Borene, a law student at the University of Minnesota, was a first lieutenant with the Marine Expeditionary Force in Iraq. He is an adviser to Operation Truth, a veterans' advocacy group.

*******************************************************

Former CAP Marine Tim Duffie tduffie@cinci.rr.com is in contact with Marine Officers of CAP in Iraq. What CAP did in Vietnam is again working in Iraq! http://home.earthlink.net/~american_families/id5.html

Lets help the Iraqi People directly. Please learn how you can help the Iraqi People in these CAP Villages. Get involved. Let the Iraqi People learn the truth of the kindness of the American People.
If the interest to help is there, maybe something can be started with the right people helping out! During the Vietnam War, packages of needed goods were sent directly through the U.S. Mail to CAP Marines. The U.S. Navy Corpsmen could always use some family medical supplies to pass around. However, because of the War on Terrorism and packages, there might be rules in place now.
Sometimes, these villages needed schools. The CAP Marines and Navy Seabees did the work for free. However, cost of supplies to build and run the school were donated by CAP Marines' families, friends, former schoolmates, fellow-Church members, etc. I heard of one CAP Navy Corpsman, who paid for one school himself.
During the Vietnam War, few Americans ever heard of CAP Villages. Each of the American Military Branches had their own Civil Action Programs. Many Americans, who served in Vietnam, had their own personal Civil Action Programs. (The truth is here on the internet...)


TO KEEP A VILLAGE FREE LIFE Magazine


DUC DUC RESETTLEMENT VILLAGE MASSACRE
WHAT HAPPENS IF AMERICANS TROOPS PULL OUT TOO EARLY...

MASSACRES: Remember Cambodia and Vietnam.
Taken from the Vietnam War-Almanac .

General Editor; Mr. John S. Bowman

The VC sapper had set fire to a number of villages around Duc Duc; and this actually helped the United States Marines' helicopters locate the area.

At 0210 Hours, two battalions of the 38th North Vietnamese Army Regiment. reinforced by two VC Sapper battalions, attacked Duc Duc, a District Headquarters just west of An Hoa, defended by the Vietnamese 412th Regional Forces (RF)Company and the 1123rd Popular Forces (PF) Platoon with a handful of United States Army advisors.

At 0245 Hours, the 1st Marine Air Wing's Black Hammer helicopters equipped with infrared observation device and Xenon searchlight, and two HML-367 AH-1J's, Launched from Marble Mountain. The cloud ceiling of 600 to 800 feet prevented fixed-wing air support during the night.

The Viet Cong sappers (VC Terrorists) had set fire to a number of villages around Duc Duc and this actually helped the helicopters locate the area.

For the next four hours, the sea Cobras helicopter gunships expended 2,800rounds of 20mm cannon and the 64 rockets. As the North Vietnamese Army (NVA) force fell back, they used boats to cross the Thu Bon River and the Cobras sank six of them.

The Duc Duc Resettlement Village Massacre
This Letter should be shared with everyone, who helped get out the word.

Americans on the Internet won this past election over the American News Media.

Individual Americans again have a voice...

Their own voice!

Americans Working Together

Jack Cunningham

*********************************************************************************
This is anti-terrorism at its best!
This is good news! What we did in Vietnam is working in Iraq!
----- Original Message -----
The government has reneged on a contractual promise made to career military men and women.
The United States Court of Appeals for the Federal Circuit has said, "They served their country for at least 20 years with the understanding that when they retired they and their dependents would receive full free health care for life". The Court also said, "Perhaps Congress will consider using its legal power to address the moral claims raised by Schism and Reinlie on their own behalf, and indirectly for other affected retirees".

An operation, called the Brown Bag Project, is underway to remind
the Congress that they have not acted on the courts suggestion.

Click here to see the details of the Brown Bag Project plan.
Send your letters to the Congress.
Use the Tracking System to record your letters sent.
Use the Record Book to tell others what you are doing.
USA WEEKEND Magazine Had A Great Article About American Kindness Over In Iraq

It's great that these personal Civil Action Projects are being highlighted. There are more things to war than guns, bullets, bombs and terrorism...

Many times, kindness and understanding are the best weapons...

AMERICAN CIVIL ACTIONS IN VIETNAM
Change the above Marine's helmet; and he would look like he was serving in any American war. (His EYES say it all.)
GOD BLESS HIM AND HIS BROTHERS AND SISTERS, WHO ARE PROTECTING AMERICA TODAY...
He should never be labeled like the Vietnam Veterans before him.
Jack Cunningham
PTSD

Occurs after exposure to a terrifying event or ordeal in which grave physical harm occurred or was threatened.

Causes: Violent personal assaults (physical as well as emotional) such as rape, mugging, child abuse and marital abuse, natural or human-caused disasters, accidents, terrorist attacks or military combat.

Those likely to develop the condition: Rescue workers, survivors of terrorism, accidents, rape; the emotional, physical and sexual abused, as well as other crimes; immigrants fleeing violence in their home countries; survivors of earthquakes, floods, severe hurricanes; and people who witness traumatic events are among the people who may develop PTSD. Families of victims can also develop the disorder.
Please PRESS the below link for the details of a Honorable Veteran's PTSD Discrimination case.
Vietnam Veterans, and Fellow Americans: There's one more job to finish.

It's time to get Senator John Kerry's Military Records Released...

Lets set things straight... (READ BELOW)

Jack Cunningham

John Forbes Kerry Timeline

******************************************

Our Military is doing a perfect job... We haven't had a terrorist attack on U.S. soil, since 9-11. God Bless Our Men and Women in Today's American Uniform.

Kerry Says He's Not Ruling Out Another Run

http://news.yahoo.com/news?tmpl=story&u=/ap/20041117/ap_on_go_co/kerry


By MARY DALRYMPLE, Associated Press Writer

WASHINGTON - Sen. John Kerry (news - web sites), who has $45 million left from his record-breaking Democratic campaign, hinted on Tuesday that he may try again for the presidency.

On his first workday back in the Senate since losing his White House bid, Kerry remained far from the spotlight, granting interviews to hometown reporters and joining the depleted corps of Democrats as they elected the party's new Senate leaders.

In his first extensive interview since his Nov. 2 defeat, Kerry was asked by the Fox News affiliate in Boston about running again in 2008 and reminded the questioner that Ohio is still counting votes from 2004.

He then said, "It is so premature to be thinking about something that far down the road. What I've said is I'm not opening any doors, I'm not shutting any doors." Kerry added, "If there's a next time, we'll do a better job. We'll see."

Reflecting on his loss, Kerry said he was not sitting around thinking about it. "You've got to go on," he said. "Do I find it some mark of failure or distress, the answer is no."

The former presidential nominee described himself as a "fighter," and added, "I can envision a lot of years of fight ahead of me."

In an interview with WCVB-TV, Kerry said, "Fifty-thousand votes — we'd be in a different place, having a different conversation," a reference to Ohio, which decided the race.

The Democrats have no clear front-runner for the 2008 nomination. Kerry has a distinct financial advantage over any rival based on his fund raising.

Kerry had roughly $45 million left in his primary campaign fund as of mid-October and could use that as seed money for another presidential bid. In addition, he had about $7 million on hand in a legal and accounting compliance fund that he could use for legal expenses in a 2008 campaign.

Because Kerry accepted full public financing for the general election phase of this year's race, he will have to give any of that money that remains back to the government.

During his day in the Senate, Kerry's colleagues thanked him, congratulated him and wished him well.

"Every time his name was mentioned, there was enthusiastic applause. Literally, every time his name was mentioned," said Sen. Debbie Stabenow (news, bio, voting record), D-Mich.

Democrats met in a closed-door session to choose their leadership team for next year in what is certain to be an uphill struggle for the party. Not only did Democrats lose their second straight presidential election on Nov. 2, but the Republicans increased their numbers in the Senate and the House.

In January, the GOP will control 55 Senate seats to 44 for the Democrats with one Democratic-leaning independent.

Sen. Joe Lieberman (news - web sites), D-Conn., a former vice presidential candidate who lost in 2000 and a one-time presidential aspirant who fell short in the 2004 primaries, spoke from experience in offering Kerry words of support.

"He has a lot to be proud of, and I hope he'll find what I did — that it was great to have the U.S. Senate to come back to," Lieberman said.

Senators predicted that Kerry would find an expanded role as he eased back into his old job.

"Obviously, he brings some experience, and people are interested in what he has to say," said Sen. Ben Nelson (news, bio, voting record), D-Neb., pointing out that nearly half the country, if not quite enough to elect him president, voted for Kerry. President Bush (news - web sites) received 60.5 million votes to Kerry's 57.1 million.

Kerry didn't make any remarks on the Senate's pending legislation nor did he deliver any speeches at the Democrats' meetings. He met privately with Sen. Tom Daschle, D-S.D., the former Minority leader who, like Kerry, lost on Nov. 2. Kerry also thanked other Democrats one-by-one for their support.

Kerry got a two-minute standing ovation from his staff, whom he thanked for giving "your heart, your soul and even your vacation time," one aide said.

The day belonged to another Democrat, Sen. Harry Reid (news, bio, voting record) of Nevada, the party's newly elected leader. Questioned on a range of issues as he assumed the job, Reid predicted that Kerry will find a role, pointing to the four-term senator's past work on banking and foreign policy issues.

"Senator Kerry is not a shrinking violet," Reid said. "We are looking for John Kerry to find what he wants to do. We are sorry that he's not in the White House, but we're glad that he's back on Capitol Hill."

Kerry also met with his policy staff to talk about health care, energy and other legislation that might build on themes from his campaign.

Not since George McGovern lost a bid for the presidency in 1972 has a senator returned to the Senate as a defeated presidential candidate, according to the Senate Historical Office.

*******************************************************

In 2007, Honorable Vietnam Veterans Will Be Ready For KERRY Again... The next time, he runs for president, John Kerry's full military record will be exposed. Why didn't a Federal Judge order the release of his military record for this past election...? (A Federal Judge ordered Bush's military record to be released.)
----- Original Message -----
Vietnam Veterans Are Vindicated
Finally and Forever!!!

Yesterday's (ELECTION DAY) decision made by the American public was a referendum on America itself… I believe this election was easily the most critical in my lifetime of forty years… America has been fighting a cultural civil war since the late 1960's, and I've had the honor and privilege to live through it… yesterday's election had our society as we know it in the
balance…

For those of our veterans' community who served honorably and have lived with a terrible burden of charges of unsubstantiated war crimes, of
claims of dereliction of duty, of broad based, excessive drug use, and the pall of defeat that has hung over their collective heads for thirty
years… the honorable, duty bound men and women who left their families and lives behind to risk their own persons in a far away land most had never heard of; and the 58,000 plus members who never came home from the unpopular war in Southeast Asia, have been vindicated by America's citizenry once and for all.

With the resounding defeat of Senator John F. Kerry for his bid to become Commander in Chief of our Armed Forces, America has repudiated
the far Left in this country who seem to believe that the United States is the root of all evil in the world… America has decided who is contemptible… not the Hollywood elites, nor the Howard "Deaniacs"…

Michael Moore, who as a 21st century Joseph Goebbels created the propaganda film "Fahrenheit 911" and was allowed to sit at the most prestigious seat in the democratic party convention next to former President Jimmy Carter, has been dismissed by the American voters as the real "extremist" in America… NOT the average American in this nation that believe that marriage should be defined as a union between one man and one woman…

America also gave France and the other nations in Europe and the rest of the world who have refused to support the US and her allies in the War on Terror the middle finger!!! Those who will give away the security of the entire civilized world for financial gain – Germany, Russia, France, and others – will be even more minimized in the affairs of the civilized
world because of the decision made by American in yesterday's elections…

We elected a president with the largest number of affirmative votes in the history of American Politics…we have also sent a clear and concise
message to our enemies and their willing accomplices, that America has the resolve to do what's right, regardless of what the world's popular consensus might be… the better America prevailed with yesterday's decision to return President Bush…

Our enemies and their accomplices will have to face the realization that they will have to endure four more years of attempting to dig deep enough holes that our Armed Forces and our Intelligence Community cannot
locate them in…

The man who came home from Vietnam and joined the anti-war movement along with the likes of Hanoi Jane Fonda to publicly work against his
government and the servicemen and women while the war was still being waged, was not rewarded by giving him the opportunity to lead this
nation… his actions thirty years ago that he has built his entire political career on the defamation of American Servicemen was soundly
rejected by America…

The man that made his own service in Vietnam a potential rally point for much of the first half of his presidential campaign and then later dishonored his own service and the service of hundreds of thousands of fellow veterans who did their service time honorably, in most cases for YEARS not months, was told by America that this nation has NOT forgotten
his participation in smearing the good name of America's veteran community…

The man who all these years as a Senior United States Senator whose own service record was dubious at best and not expunged until the Carter Administration's Amnesty for the Vietnam era draft dodgers allowed for him to upgrade his Other Than Honorable Discharge to that of Honorable Service Discharge was told by America that he was not acceptable to be our Commander in Chief nor the single most important leader of the free world…

The man who supported the treasonous lies of the Winter Soldier Conference in Detroit and mocked the Flag Raising on Iwo Jima with an
anti-war book that trashed the service of America's involvement in Vietnam for his own political gain… at the expense of American POW's still in captivity… was told once and for all by the American public that his personal actions against our community have been made
dramatically clear. Does America believe in Michael Moore's vision of America our do they believe in President Bush's views…

The man who spent his early days in politics railing about false atrocities purportedly being levied against the Vietnamese by the lowly American servicemen, John Kerry will now be thrown onto the trash heap of history and the demons he helped create for an entire generation of American servicemen and women, have now been vanquished with his defeat…
HIS views of America's Armed Forces have been repudiated – completely and forever!!!

Americans have resoundingly decided that good will triumph over evil, that the world IS in fact, a better place without the likes of Saddam Hussein, his prison for children, his son's rape rooms and without his assistance directly and indirectly to terrorist organizations that make America and the entire world a more dangerous place…

Vietnam veterans had a significant impact on this election, and their service in Vietnam may not be an issue in American politics ever again… Yesterday, the American People have decided that it was time to finally say "Welcome Home" to those in our Armed Forces who served in Vietnam…

In a world that has been upside down for many of them for over three decades… they woke up today and found the world right side up!!!!

Welcome home brothers and sisters of Vietnam… YOUR victory yesterday (ELECTION DAY) against those who have spent their lives speaking out against your
honorable service for over three decades without apology - is better than ANY welcome home parade could ever be!!!


Jeffrey Sharp – Commander
AMVETS Post 18 – Orange County

----------------------------------------
GATHER ROUND (For The Holidays)
GOD BLESS AMERICA TONIGHT
PLEASE ADD YOUR COMMENTS TO OUR GUESTBOOK http://pub19.bravenet.com/guestbook/1607422904/
************

Someday, the Vietnam War will be the most studied war!
Robert J. Pierce
Born: November 26, 1949
Hometown: Ft. Gaines, Ga.
Killed in Action: Aug. 11, 1970
Unit: Marine Corps
Combined Action Program (CAP)
CAP 2-9-2
The Duc Duc Resettlement Village
Age: 20
Robert was not a baby-killer or a village-burner. He loved the Vietnamese People in our peasant- farming village.
While on patrol, he died rushing to the aid of another CAP Marine, who had stepped on a booby-trap.
Robert Pierce believed in the United States. And he believed in what he was doing, trying to save the Vietnamese peasants of the Duc Duc Resettlement Village from terrorists.
For Robert, it was not about politics... It was about honor, and what was right!
(Robert Pierce traded patrols with me on the morning of August 11, 1970.)
Jack Cunningham
Robert was my friend. GOD BLESS HIM... (And let him always be remembered as an American Hero.)
The Constitution of the United States of America defines treason as follows:

''Section 3. 1. Treason against the United States shall consist only in levying war against them, or in adhering to their enemies, giving them aid and comfort. No person shall be convicted of treason unless on the testimony of two witnesses to the same overt act, or on confession in open court.''

U.S. Constitution, Article III, Section 3.

Let's look at some facts.

1. The Cover Up of Military Records.

It has been widely reported for months, and not contradicted by John Kerry, that he has never signed the Form 180 required to fully release his military service file for public scrutiny. Various news stories from multiple sources over the last few months report that somewhere between 31 and more than 100 pages of his records have not been released. See ''Navy Contradicts Kerry on Release of Military Records,'' Marc Morano, CNSNews.com, September 16, 2004. See

http://www.cnsnews.com/

.

The Big Media, openly and completely complicit in the Kerry campaign, have never demanded that he do so, although the same Big Media have spent the last year parsing every word of President Bush's service records (George Bush signed Form 180 and fully released his service records years ago, while running for governor in Texas).

The obvious question is: Why does John Kerry not want to release the rest of his service records? What is in there that he does not want me, or you, or anyone else, to see?

John Kerry will obviously do anything he can to win this election. If his concealed records would help him, you can bet the farm he would publish them.

Since he keeps them covered up, so to speak, you can bet the farm that they would hurt him, and that he knows it. It's a pretty simple deduction that he knows releasing them would hurt him even worse than taking the heat for not releasing them. If releasing the records would help his campaign, he would. If releasing the records would help his campaign, he would have done so a year ago.

What, exactly, is in them? I don't know. I haven't seen them either. But whatever it is, it can't be good for his election chances.

2. Kerry's 1971 Direct Ties to North Vietnam

According to two new articles published in World Net Daily on October 26, 2004, ''Discovered Papers: Hanoi Directed Kerry,'' and on October 28, 2004, ''Another Document Ties Kerry to Hanoi,'' authenticated documents recently found in the Texas Tech University's Vietnam Archive in Lubbock, Texas, confirm that Kerry made two, and possibly three, direct contacts with Madame Nguyen Thi Binh and the North Vietnamese Delegation to the Paris Peace Talks in Paris, in he summer of 1971, where she is reported to have instructed him on how he and the Vietnam Veterans Against The War could ''serve as Hanoi's surrogates in the United States.''

See

www.WorldNetDaily.com

articles numbered 41106 and 41142.

John Kerry returned to the United States and on July 22, 1971, held a press conference publicly calling on President Nixon to accept the North Vietnamese's 7-point ''Peace Plan''--essentially calling for the surrender of the United States to North Vietnam.

The seven points John Kerry and the North Vietnamese advocated were:

1. The U.S. must agree to a date certain for total withdrawal of all U.S. and allied forces from South Vietnam. If the date was set in 1971, North Vietnam would agree to a safe withdrawal of U.S. forces and a release of all POWs.

2. The U.S. must no longer interfere in the internal affairs of South Vietnam.

3. The North and South Vietnamese will ''settle the question of Vietnamese armed forces in South Viet Nam in a spirit of national concord.''

4. The reunification of North and South Vietnam.

5. That South Vietnam would pursue a ''foreign policy of peace and neutrality.''

6. The U.S. would pay reparations for all the losses and destruction it had caused to the Vietnamese people (North and South).

7. The parties, the United States and North Vietnam, would ''find agreement on the forms of respect for and international guarantee of the accords that will be concluded.''

[I have summarized these points for the sake of brevity. Source: Liberation Press Agency, July 1, 1971, translation by Robert K. Brigham and Le Phuong Anh.]

I.e., the United States would unconditionally withdraw from South Vietnam, and would not interfere with the completely predictable takeover of South Vietnam by the North Vietnamese communists.

In this press conference, John Kerry advocated that the United States surrender to North Vietnam on the terms and conditions proposed by North Vietnam, at a time when John Kerry was a reserve officer in the United States Navy, the United States was at war with North Vietnam, and American POWs were being held and tortured by North Vietnam. This followed just three months after Kerry's famous congressional testimony in April 1971, when he falsely claimed that American troops in Vietnam, including himself, had committed war crimes and atrocities on a daily basis, with official sanction.

Men who were POWs at the time, including Senator John McCain, have since reported that John Kerry's congressional testimony and other anti-war activism was used as propaganda against them by their torturers. See ''Stolen Honor.''

This conduct by John Kerry, which appears to be thoroughly documented and undisputed, clearly appears to give ''aid and comfort'' to an enemy of the United States, in a time of war, and to be prosecutable as treason.

3. The Crime of Private Diplomacy

John Kerry's meetings with Madame Binh and the North Vietnamese Delegation appear to violate 18 US Code 953, which provides:

''Any citizen of the United States, wherever he may be, who, without authority of the United States, directly or indirectly commences or carries on any correspondence or intercourse with any foreign government or any officer or agent thereof, with intent to influence the measures or conduct of any foreign government or of any officer or agent thereof, in relation to any disputes or controversies with the United States, or to defeat the measures of the United States, shall be fined under this title or imprisoned not more than three years, or both.''

I.e., Congress by 18 USC 953 has declared it a crime for a private citizen to conduct private diplomacy adverse to the public policy and interests of the United States, without the prior authority of the U.S. Government.

And this is exactly what John Kerry appears to have done--he met with the North Vietnamese Delegation and attempted, in collaboration with an enemy of the United States, to effect the surrender of the United States to North Vietnam.

His office has denied this, and claimed that he just happened to be taking a honeymoon in Paris when he just happened to drop in on Madam Nguyen Thi Binh and the North Vietnamese Delegation for a spot of tea and strumpets, sorry, I mean crumpets, or croissants, perhaps, and a couple of weeks later he just happens to give a highly publicized anti-war press conference in America calling on President Nixon to accept all seven points of the North Vietnamese surrender demands forthwith - this explanation doesn't even pass the straight-face test!

Just how many honeymooning couples in Paris that spring just happened to drop in to see Madam Nguyen Thi Binh of the North Vietnamese Delegation to the Paris Peace Conference, do you think?

See ''Kerry's Meeting With Communists Violated U.S. Law,'' CNS News, May 20, 2004.

4. The Discharge Mysteries

In the New York Sun, October 13, 2004, in an article entitled ''Mystery Surrounds Kerry's Navy Discharge,'' Thomas Lipscomb describes how unusual circumstances surrounding John Kerry's discharge from the Navy and the reissue--the reissue--of his medals after Kerry joined the Senate on June 4, 1985, suggest that he received something other than an honorable discharge.

For brevity, I shall simply refer you to the article at

www.nysun.com/pf.php?id=3107

.

5. The First Amendment Breach

In the last few months and weeks, John Kerry and the Kerry Campaign have at least twice violated, or attempted to violate, the First Amendment rights of American citizens, the right of free political speech.

In August, 2004, Kerry's lawyers threatened to sue the Swiftboat Veterans for Truth, and any television station that carried their ads, when the Swiftboat Veterans, men who had served alongside John Kerry in Vietnam, began running te;evosopm ads expressing their opinion that John Kerry was ''Unfit for Command.''

In October, 2004, Kerry's lawyers again threatened Sinclair Broadcasting Group, Inc., with lawsuits and retaliation if it ran the documentary, ''Stolen Honor: Wounds That Never Heal,'' which highlights the testimony of former POWs who describe how their imprisonment was lengthened, their torture was intensified, and their physical and emotional pain was aggravated, by the aid and comfort John Kerry's anti-war activism gave to the enemy in the early 1970s.

The freedom of speech is the very second right guaranteed by the First Amendment to the United States Constitution, following only the freedom of religion. Indeed, modern liberalism kicked itself off with the ''Free Speech Movement'' at Sproul Plaza at UC Berkeley in the 1960s with loud and often profane demands that nobody interfere with its First Amendment right to speak freely and say anything!

It has come full circle, and the Free Speechers of yesterday are now doing all they can to suppress the free speech of anyone who disagrees with them today. John Kerry's efforts to suppress the freedom of his political opponents to speak freely and publicly, while not precisely an act of ''treason,'' is clearly an act in violation of the United States Constitution, in violation of the First Amendment, and in violation of John Kerry's Senatorial oath to ''protect and defend the Constitution of the United States.''

This is, in my opinion, a wholly despicable act, an act beneath contempt, an act that betrays John Kerry's utter and complete disregard of the Constitution which John Kerry has twice sworn to protect and defend, an act that betrays John Kerry's utter and complete disregard of the Constitution he will again swear to protect and defend if he is elected president, an illegal act by John Kerry, a presidential aspirant, a senator, and a lawyer, who of all people should know better.

America cannot afford a president who holds the First Amendment of the Constitution in such deep contempt that he will violate it at will to get elected. If he does not respect the First Amendment while campaigning for office, I fear the disregard in which he and his administration may hold it, and any other amendment, if, or while, he holds office.

John Kerry has not been tried for treason. He has not been convicted. He may never be tried, and if he were tried, he might not be convicted. I cannot predict the future. But he hasn't even been elected, and these circumstances are already the beginning of the first great scandal of a Kerry presidency: Kerrygate.

The Democratic Party cannot afford to elect a Democrat as President who has committed treason, or who has given aid and comfort to an enemy of the United States, or who has acted with open disregard of the First Amendment in the conduct of his presidential campaign; a man who may be subject to removal from the presidency after he takes office, without impeachment, but simply by a judicial determination that he is disqualified from the presidency by the U.S. Constitution, Article III Section 3, and by the U.S. Constitution, Amendment 14 Section 3.

The Democratic Party cannot afford to elect this man, not if the Democratic Party wants to remain a credible, respected, and cohesive force in American life and politics. Not if it wants to survive this election, or a Kerry presidency.

The euphoria of the election will quickly fade in the litigious aftermath of the voting discrepancies, real and imaginary, and then the lawsuits contesting John Kerry's eligibility to be president at all will come. This will begin one of the most heated and contentious legal and political battles in American history. And the blood will be on the hands of the Democratic Party which has nominated and elected a man who appears to have committed treason, to have given aid and comfort to any enemy of the United States in a time of war, to the presidency.

And if Kerry is removed from office, then the Presidency will fall on the shoulders of John Edwards, a one-term senator from South Carolina who would not be re-elected to the Senate if he ran again, a trial lawyer who has made himself rich by suing doctors, a man with no military experience, no international diplomatic experience, no national political experience before this election, a man whom even John Kerry has called unqualified to be president!

And what if this legal challenge to the legitimacy of a Kerry presidency occurs at a time of great danger to the United States? In the midst of a war on terrorism? If it disrupts the ability of the administration to conduct that war? What if the election of such a candidate is, itself, an act of giving aid and comfort to an enemy of the United States?

These are serious questions, and serious issues, about which I see no public discussion, certainly not in the New York Times, the Los Angeles Times, the Washington Post, the San Francisco Chronicle, or on ABC, CBS, CNN, NBC, MSNBC, or even Fox News.

We are on the verge of an election. John Kerry is still covering up some of his own service records, and whatever is in them, and the American people deserve to know what he doesn't want us to know. Where is the ''Peoples' Right to Know'' now? We need to know, before we vote. We don't like cover-ups. We have called them Watergate. Iran-Contragate. Whitewatergate. Monicagate. They have brought down some presidents, and humbled others. We may call the next one Kerrygate.

And John Kerry and the Democrats will have no one to blame but themselves.
About the Writer:
Raymond Kraft is a lawyer and writer living and working in Northern California. Raymond receives e-mail at
rskraft@vfr.net
I Admit That John Kerry Has Answers for Each And Every American. (Please Press Here To Learn For Yourself.)
HEAR JOHN KERRY CONFESS TO WAR CRIMES
HELP Vietnam Vets for the Truth, LLC
VIDEO: FROM THE CHILDREN OF VIETNAM VETERANS

(Please understand that after pressing the below link, this video will take a couple of moments to load. Please be prepared for a number of different emotions to surface. For Vietnam Veterans, the video may actually bring tears. It's a beautiful video; and I THANK those Vietnam Veteran children, who made the video.)

The Vettz Band is one of Charlie Daniels' opening bands. I highly recommend that each proud, Vietnam Veteran, family members and friends listen to the Vettz song "GOD BLESS AMERICA TONIGHT." It's free to hear at the link just below.

Thank you!

Jack
IT'S ABOUT TIME THE AVERAGE-AMERICAN HAS A SAY IN HOLLYWOOD

SURRENDER WAS NOT AN OPTION
THE HIGH-WATER MARK OF THE 9/30/2004 PRESIDENTIAL DEBATE
"Without question, we need to disarm Saddam Hussein. He is a brutal, murderous dictator, leading an oppressive regime ... He presents a particularly grievous threat because he is so consistently prone to miscalculation ... And now he is miscalculating America's response to his continued deceit and his consistent grasp for weapons of mass destruction ... So the threat of Saddam Hussein with weapons of mass destruction is real" - Sen. John F. Kerry (D, MA), Jan. 23. 2003
The word about John Kerry must be spread on the internet, because the American News Media is completely behind his lies of 2004; just like the American News Media was completely behind his lies in 1971.

Please pass the word about John Kerry. If you read some thing on the internet that moves you about this traitor, please print it off so non-internet Americans will learn the truth.
Today, many Liberal-Democrat Leaders are condemning President Bush on the war, saying that he misled America. Please read the below "past quotes" from President Bush's most powerful Liberal-Democrat critics...
FORKED TONGUES - SO NOW EVERY ONE OF THESE SAME DEMOCRATS SAY PRESIDENT BUSH LIED--THAT THERE NEVER WERE ANY WEAPONS OF MASS DESTRUCTION AND HE TOOK US TO WAR UNNECESSARILY ?
GREAT ARTICLE ON POST TRAUMATIC STRESS DISORDER (PTSD)
Jack Cunningham (Sussex, NJ) and George Dros (New York State) are sitting at a table in a Duc Duc Resettlement Village peasant hut near the market place. Our eyes were shut, because of complete exhaustion. It was July 1970. At the time this picture was taken, the Americans in the Duc Duc Resettlement Village were not sure whether the CAP Unit would be pulled out of the village or whether it would be wiped out. The last three months, we had been experiencing some heavy combat. Intelligence reports were coming in daily that the Communists wanted to punish the village, while the Americans were still there.

By wiping out the Americans in CAP 2-9-2, the communist terrorists hoped to leave an example to other CAP Villages. With alerts at the highest level, night ambush responsibilities were 100% watch throughout the night. With two long patrols a day going outside the village, it didn't leave much time for the eight or so Americans of the CAP Team to sleep.

Around the day this picture was taken, an intelligence report came in from Marine Division Headquarters in Da Nang that the high Communist Command wanted to speed up President Nixon's troop pullout from Vietnam. They wanted to embarrass the Americans on a wide-scale and influence the American People into pressuring a faster troop pullout. The communist plan called for wiping out the Fifth Marines at the An Hoa Combat Base. It was going to involve thousands of Communist Forces. The Duc Duc Resettlement Village was on the large Marine Base's perimeter and was said to be the main route for the Communist attack.

Our orders that night in July 1970 was to set up in the most well-protected position of our village. Our Cap Unit was expected to hold off the Communist drive off as long as possible. We were expected to serve as a warning for the Fifth Marines at the An Hoa Combat Base.

In March 30, 1971, a large number of regular communist army forces, along with terrorists (VC) burned much of the Duc Duc Resettlement Village down. Over 250 men, women and children were killed, wounded and missing. The slaughter was left out of American television news reports. WHY...

The Vietnam War - Almanac by Mr. John S. Bowman

Jack and George were part of the last CAP Team that served in the village.

AROUND MARCH/APRIL 1971, WHAT WAS GOING ON IN AMERICA?

Please find out on your own what was John Kerry doing?

April 1971 was the month that John Kerry appeared before the United States Congress and called George and I BABY-KILLERS and VILLAGE BURNERS...

********************************************************************************
MORE ON CBS-GATE / RATHERGATE
Sent: Wednesday, September 08, 2004 8:52 AM

By Barbara J. Stock

Over 30 years ago they put away their medals and their uniforms. They buried their anger and bitterness and moved on with their lives--and they waited.

Revisionists are trying to change history, claiming the returning Viet Nam veterans didn't suffer all that much when they returned home. All that talk of being labeled animals has been exaggerated over the years. But the veterans know better. They were there.

On the radio last week, one man related that he had unpacked the uniform that he wore home from Viet Nam all those years ago. It had not seen the light of day for over 30 years. He showed it to his children and grandchildren and, for the first time, spoke of the day that he returned home from war and was spat on, cursed at, and literally had to run a gauntlet of protesters who threw human waste and rotten fruit on him and his fellow vets. With the words "baby killers" ringing in his ears he was warned by laughing policemen not to retaliate or he would be arrested. So he ran. The able-bodied helped the wounded as they do on any battlefield because those on crutches or in wheelchairs were not spared the profanity and bags full of feces that were thrown at them by the raging anti-war protesters.

This now middle-aged vet went on to tell his family that he had hid in the bathroom at the airport for over two hours, bewildered and afraid. He wondered if he had landed in some foreign land where Americans were hated. Finally, he cleaned up the uniform he was still proud to wear as best he could and made his way to his plane, where he suffered more insults from the passengers. When he got home, he packed up his medals and his dirty uniform, just as it was, and he knew that one day, he would take it out again and he would have his say. That day has come.

One POW stated that he had never put a face to the name until he heard the words "Genghis Khan" pronounced only as John Kerry does and suffered his first flashback to the time he was being tormented by Kerry's words in a North Vietnamese prison camp.

They buried their anger and the bitterness --and they waited. Most of them didn't know who or what would be the signal to make their move, but they knew they would recognize it when it happened.

On July 29, 2004, it happened. John Forbes Kerry came to the podium at the Democratic Convention and uttered three words that made many Viet Nam vets skin crawl: "Reporting for Duty!" At last the time had come for these long-suffering veterans.

The past was staring back at these wrongly disgraced vets from their television sets. The face it bore was that of John Kerry, the man who had shredded their honor without a thought and climbed over the bodies of their fallen friends to launch a political career. Kerry had stripped them of their dignity the day he sat before Congress in his fatigues and portrayed them as "baby killers" and "murderers." Kerry did the unspeakable. He had publicly turned on his fellow vets while they were still in harm's way and American prisoners were still in the hands of the enemy. Kerry accused them all of being out-of-control animals, killing, raping, and pillaging Viet Nam at will. The anti-war movement--the protesters--had their hero and he was a Viet Nam War veteran, an officer, a medal winner, a wounded warrior: John Forbes Kerry.

Many Viet Nam vets buried the memories of their less-than-welcome homecoming, and John Kerry moved off the national scene. The feelings of betrayal had faded, but they were never resolved. The unprecedented injustice inflicted on the Viet Nam vets has always lain just under the surface, waiting for a chance to be uncovered. The war had stolen their youth and innocence and John Kerry stole their dignity and rightful place of honor in history.

Like an unlanced boil, the anger festered but there was nothing that could ease the pain. These vets didn't ask for "forgiveness" because they had done nothing wrong in serving their country. They never asked to be treated as heroes, just good soldiers. All they have ever wanted was the respect due all the men and women who have worn the uniform of this country. Being allowed to march in a few parades wasn't enough. A long over-due memorial was not enough. The Viet Nam Veterans moveable wall only brought back the suffering as they searched for the names of their fallen friends whose memory had been defiled and disgraced by people who considered them rampaging killers instead of men who died with honor for their country.

Now before them stands this man who would be president--this man who holds his service in Viet Nam up as a badge of honor now that it suits his purposes. This man Kerry brags about his medals and his tiny wounds and demands the respect they were denied, yet he offers no apologies for what he did to them. "I will be a great leader!" Kerry proclaims, because of his brief and self-proclaimed valiant service while wearing a uniform--the very same uniform that they wore and were spat upon because of it.

All across America, soiled uniforms and memories of being shamed and humiliated have resurfaced and Vietnam vets demand their rightful place in history. John Kerry seems bewildered by the reaction of his "fellow vets." He has become defensive and angry because now his service and honor are being questioned. Kerry seems oblivious to the pain he caused three decades ago when he stole all honor and dignity from those same "fellow vets" for personal gain. Now he wants to use them again, for the same reason.

All across America, Viet Nam vets are smiling. At last, perhaps they can bury their demons. These angry vets are demanding that this man who sentenced them to being shunned as criminals, tell the world that he was wrong and that he is sorry for what he did to them. Kerry must admit that he lied about them.

For many, it would still not be enough. Satisfaction and hopefully peace will come when Viet Nam vets see and hear John F. Kerry give his concession speech the night of November 2, 2004 with the knowledge that it was their votes that helped defeat him. There are approximately 2.5 million Viet Nam veterans in America and they have not forgotten.

Kerry denied them their rightful place as heroes and they will deny him his dream of the presidency. Angry Viet Nam veterans, silent for so long, will finally have their say. Payment in full will be delivered to John Kerry on November 2, 2004...

http://www.opinioneditorials.com/freedomwriters/bstock_20040902.html

-------------------------------------------------------------------------------------
Attack on Duc Duc Information for HML-167

And HML-367 For date 710329

HML-167 was a US Marine Corps unit in Vietnam HML-367

was a US Marine Corps unit in Vietnam

Primary service involved, US Marine Corps

Quang Nam Province, I Corps, South Vietnam

Location, Duc Duc

Description: At 0210H two battalions of the 38th NVA Regt

reinforced by two VC sapper battalions, attacked Duc Duc, a

District Headquarters just west of An Hoa, defended by the

412th RF Company and the 1123d PF Platoon with a handful

of US Army advisors. At 0254H the 1st MAW's Black Hammer

helicopter patrol, which consisted of a HML-167 UH-1E,

equipped with infrared observation device and a Xenon

searchlight, and two HML-367 AH-1J's, launched from Marble

Mountain. The cloud ceiling of 600 to 800 feet prevented

fixed-wing air support during the night. The VC sapper had set

fire to a number of villages around Duc Duc and this actually

helped the helicopters locate the area. For the next fours hours

the Sea Cobras expended 2,800 rounds of 20mm cannon and

64 rockets. As the NVA force fell back, they used boats to

cross the Thu Bon River and the Cobras sank six of them

while killing at least four NVA.

Comments. CPT McDonald, Thomas C, flight leader. LTC

Reese, Clifford E, AH-1J co pilot and gunner.

The source for this information was USMC H 1970-1971

P: 231

(Da Nang was about 20 miles northeast of Duc Duc. The flames must have been pretty bad, for the helicopter pilots to see it from Da Nang.)

Back in 1971, how could something like the Duc Duc Resettlement Village Massacre NOT be covered by the American News Media. Just think, if the American News Media carried this story instead of Kerry's CRAP, where would Vietnam be politically and FREEDOM WISE today...

This is why the Communist Country of Vietnam considers John Kerry a hero for communism... He has his own wing in a Hanoi Communist Patriots Museum.

Communist Vietnamese honor John Kerry, the war protestor, as a hero in their victory over the United States in the Vietnam War -- Part II.

On Memorial Day, May 31, 2004, Vietnam Vets for the Truth broke an extraordinary story about a photograph hanging in the Vietnamese Communist War Remnants Museum (formerly known as the "War Crimes Museum") in Ho Chi Minh City (Saigon). The photograph, displayed in a room dedicated to foreign activists who contributed to the Communist victory over America in the Vietnam War, shows Senator John Kerry being greeted by Comrade Do Muoi, General Secretary of the Communist Party of Vietnam. Jeffrey M. Epstein of Vietnam Vets for the Truth acquired the photograph during the Memorial Day weekend in response to a general request for photographs and records detailing Kerry's activities on behalf of the enemy.
Please let America hear this video. Please tell your friends about it. http://www.kerryoniraq.com

This video is not about John Kerry's Vietnam War record or what he did soon after his return from Vietnam. This video is about his more current lies...

John Kerry was for the War with Iraq. During the Democrat primary, Howard Dean (Who was openly against the war) was kicking Kerry's arse in one state after another. John Kerry FLIP-FLOPPED to be openly anti-war. Soon after flip-flopping to be Anti-War, Kerry took the lead over Howard Dean. Hear it all on the video.

Now, John Kerry's back supporting the war... Please enough is enough. The Democrats made a big mistake by pushing John Kerry to the front of their line. He's not a good Democrat! He's totally for himself...

----------------------------------------------------------------------------------------------------

The Vettz Band is one of Charlie Daniels' opening bands. I highly recommend that each proud, Vietnam Veteran, family members and friends listen to the Vettz song "GOD BLESS AMERICA TONIGHT."

Thank you!

Jack
Want to see a REAL documentary (not a Michael Moore make-believe) ? This one is John Kerry...then and now..... actual news footage..in his own words. I urge you to pass this on to your family, friends and e-mail lists, especially any undecided or potential Kerry voters. If nothing else, it will be fun listening to them try to defend his flip-flops. This would be funny, if it weren't such a serious matter.
I highly recommend that every visitor to this website, please visit the below link. You will need your speakers on in order to hear a brief video.
Join Jack's Mailing List
Examining the Myths of the Vietnam War
Contact: Stephen Sherman

713-683-9076

Please pass the following press release to our fellow Veterans. Also, if you are discouraged from coming to Boston for lack of accommodations, we have dormitory rooms available through our website for conference attendees. S.G.S.

For Immediate Release:

Was Kerry Correct About Vietnam?

Are There Lessons for Iraq?

Conference of Vietnam Veterans and Scholars

to Reexamine Realities of War and Expose Common Myths

at Boston's Simmons College, 25-29 July
 

From July 26-29, an unprecedented conference featuring Viet Nam veterans who have authored books about the
                           war and other scholars and educators will take place at Boston's Simmons College, just a few short miles from the Democratic National Convention.
 

As Senator John Kerry becomes the first Vietnam veteran to be nominated for President, it is important for the American people to understand what "Vietnam" was really about and to dispel some
                           of the common misconceptions about why we went to war, what we did, what went wrong, and why it mattered.  
 

As other prominent anti-Vietnam activists have noted, John Kerry was the most effective American war protester.  His efforts as spokesman for the "Vietnam Veterans Against the War" helped
                           turn Americans against both the war and returning veterans, and his 1971 Senate testimony contributed to the decision by Congress
                           two years later to enact legislation prohibiting the U.S. military from further combat operations to defend the non-Communist
                           countries of Indochina.  
 

Three decades have passed since
                           the last U.S. combat unit withdrew from Vietnam, and the veterans who have organized this conference believe the
                           Kerry candidacy provides an important opportunity for the American people to reexamine the war as well as the way America treated its
                            Vietnam veterans when they came home. 
 

Collectively the panelists have
                           written nearly a score of books and published numerous articles about the war.
 

Seventeen sessions will address
                           a wide range of subjects, including:
                  

·        Why and how did America get
                            involved in Vietnam?  Were we trying to reimpose French colonialism, to block democracy
                           because we feared Ho Chi Minh would win a free election, or confusing Vietnamese nationalism with international Communism?
·        How popular was the initial commitment
                           with Congress and the public?  Did American presidents take the country to war
                           without the support of Congress or the people?  Was that support obtained by telling
                           "lies"?  How do most veterans feel about their service—are they
                           proud or ashamed of what they did?
·        Were most American servicemen in Vietnam "war criminals" who behaved like
                           "Genghis Khan" and drug addicts who were "stoned twenty-four hours a day"?
·       
                           Were
                           we wasting American lives trying to prop up a "fascist dictatorship" that imprisoned its critics in "tiger
                           cages," or were we trying to protect people who wanted freedom from Communist oppression?  
·        What were the human consequences of our decisions both in terms of human
                           lives and human rights?
·        Why did we lose?  Were our forces
                           decisively beaten on the field of battle by the Viet Cong, or were there political factors involved?
·        What lessons did Congress draw
                           from the experience and how has it influenced
                            subsequent legislative behavior?  Did the Church-Pike hearings and the Iran-Contra
                           inquiry contribute to the "risk-avoidance" culture some believe contributed to the failure of the Intelligence
                           Communist to prevent the 9/11 attacks?  What was the impact of post-Vietnam demands
                           by Congress to have greater control over military operations and intelligence activities?
·       
                            How successfully did Vietnam veterans make the transition back to civilian life after the war?  Did
                           they wind up as drug addicts and go to prison in disproportionate numbers for violent crimes? 
                           Did any actually succeed in life?
·       
                           How
                           have our perceptions of the war affected subsequent U.S. policy and public opinion? 
                           Did our abandonment of Indochina affect the attitudes and behavior of our nation's enemies?
·        How is the war being taught in
                           our schools and colleges?
·        Are there meaningful parallels
                           between what happened in Vietnam and the current situation in Iraq?
 

A full list of participants, description of sessions, and
                           times can be found at www.Viet-Myths.net . A limited number of
                           dormitory rooms for attendees are available through this
                            website.
 

Further information from Steve Sherman at 713-683-9076 or
                           email at sherman1@flash.net. The conference website is www.Viet-Myths.net 
-30-

-----------------------------------------------------------------------------------------------------

Here's a web page on Military.com Forums( http://www.military.com ) that you may be interested in reading:

http://forums.military.com/1/OpenTopic?q=Y&a=tpc&s=78919038&f=69719858&m=425107252


CapMarine50
Member

Registered: Thu, 04 April 2002
Posts: 1865


THANKS! "Pass the Word"

---

THANKS! Please mention the Washington DC September 12, 2004 Rally in your signature.

The more Internet-Signatures highlighting the rally, the better the word will get out... "Please Pass the Word."

Take part in this peaceful and honorable Vietnam Veteran Event. It is open to family, friends and all appreciative Americans...
Jack Cunningham

-----------------------------------------------------------------------------------------------------------
The Vietnam War In The Movies
WHO IS A VIETNAM VETERAN

I am your neighbor. I am your mailman. I'm your local policeman. I'm your local fireman. I'm homeless. I'm messed up! I'm an attorney. I'm a doctor. I'm a chief executive. I'm any man, every man. I'm every American! I'm a Vietnam Veteran, and damn proud of it!
We're legion - and some of us have forgotten our pride. We left these shores thinking various thoughts. Some of us were looking for adventure and excitement. Some of us were "running away" from things at home. Many of us were hoping to grow up.
Some of us never had the opportunity. Others of us squandered that chance. And most of us accomplished our individual goals. We are proud Americans, regardless of the outcome that politicians
dictated for Vietnam.
WELCOME HOME, BROTHERS!
A U.S. AIR FORCE COMBAT VET ( 'NAM '65-66 )
Summer 2004 Honorable Vietnam Veteran Marches are open to every veteran, their families, their friends and all apprecitive Americans. Our goal is to hold the national march in Washington DC some time during the summer, once all legal arrangements are made.

It is highly recommended that regional marches be organized and held throughout the United States once their own legal arrangements can be made.

These Marches Purpose Is To Clarify To America That Honorable Vietnam Veterans Do Not Support John Kerry's Run For President Of The United States of America. Also these marches will silently but clearly demonstrate to John Kerry... that honorable Vietnam Veterans and other Americans condemn his past negative portrayal of Vietnam Veterans.