Paul's Online Journal
Sunday, August 21, 2005
Malaise
Joyce and the kids are in Ohio visiting family. I have been here by myself since Thursday night. I very much look forward to their return tomorrow evening. Although I suddenly have the spare time I have been missing, their absence has knocked me so far out of my rhythm that I feel almost physically ill.
I understand that Caleb is mildly ill and therefore fussy and Joyce is near exhaustion. There is some hope that today will be better for her.
But I can read! I am reading, but find Dennett's Freedom Evolves to be slow going. And I also can play Baroque music at a healthy volume for hours on end. I can also watch martial arts movies. Last night it was House of Flying Daggers, which is actually a very well crafted and beautifully shot film by any standard.
That, and it is another hot and humid weekend. I am ready for fall, and today bought two long-sleeved shirts. if I had to have a favorite month (I don't) - I would designate it to be September.
Sunday, August 14, 2005
Heat
I want to believe that this was the last nasty hot sticky day of the season, but only a fool would lend credence to my opinion on climatology. Anyway, we spent about 4 hours at the county fair, and I am shattered. Erin's favorite spot was the firefighter's tent, and she would not leave until she had seen a fire alarm.
Caleb walks quite ably now,and insists on being put down regularly so he can scout about. We have a new video camera and are recording it. Also, a phone call from Dad this week during his layover at Dulles.
Recent e-mails from Kristin (a box of baby boy clothes is on the way to her), and nephew D.C., who is in the Air Force. Currently reading Dennet's Freedom Evolves when the opportunity arises. I have often thought that thinking about consciousness and free will was inexcusably fuzzy, and it seems to me that Dennett is on the right track to clear that up.
I am almost back to a regular exercise routine. I am very far from where I need to be, but I visited the podiatrist last week and my orthotics situation will soon be fine and I will run regularly again.
Sunday, July 17, 2005
Explosion
There have been many thunderstorms this week. Friday we came home to find that Lightning had blown apart a tree in out next door neighbor's yard. I found fragments more than 100 feet from the tree.
Today was the most aggressively humid day I can remember in the last two summers, but no rumbles.
Early tomorrow Joyce leaves for Ann Arbor for a day or two. I try not to think about what this implies for me.
Wednesday, July 13, 2005
Review
A Strong Guiding Principle(one notch below a Firm Conclusion) is that reviews of live music suck (last word said with an ascending melisma, please). Almost all.
Caleb can walk, but by and large chooses not to. This reprieve he's given us from rapid mobility can't last much longer.
Monday, June 27, 2005
Formats
Well, let's hear it for Norway.
Thursday, June 23, 2005
slooh
A great idea. I'm tempted to sign up.
My penultimate day at the lab today, and brews afterward at the Ram's Head with three of the guys. Joyce came by later with the young 'uns and we had dinner upstairs. Erin was heartbroken that we arrived home too late to catch fireflies - the slow-glowing species that flies close to the ground only comes out early everning, and then hand the show off tho the flickerers high in the trees.
I've tried Neooffice/J on Panther and it is good stuff. I've yet to try it on Tiger.
Should we always take experts seriously?
Saturday, June 18, 2005
Weather
On the 15th I enjoyed a date with my best girl to see Robert Fripp in Annapolis. C. babysat for us. We ran into J.B. and D.S. at the show. When we arrived none of Fripp's equipment was on stage - just a microphone and a Powerbook. So, he had his habitual chat with the audience until his equipment arrived from the airport about an hour later. He seemed to be in a very jovial mood.
I don't review music anymore,. especially Fripp's. This was only my second all-Soundscapes show anyway, so I'm hardly qualified to render an opinion.
Perfect weather these last three days. Today was a fairly typical Saturday, much of it spent in close proximity to Caleb. There was a child's birthday party in Ellicott City. I am usually a bit uncomfortable at these events and end up playing with the children.
Later to downtown Silver Spring for an early supper, a trip to the bookstore, and then ice cream. A 70s cover band was providing the noise pollution this time.
Tuesday, June 14, 2005
Censorship
Freedom. Democracy. Human Rights.
This is getting exciting. If it only works marginally, it could lead to an boom in solar sail propulsion. A ground floor to get in on?
I just realized I may have to, in good conscience, sell my SpaceDev stock. It's the second best investment I ever made (the best was WFMI), and I don't think it;s out of gas by any means.
Fripp is coming. there will be no gig review this time. About 2 years ago I decided I no longer wanted to write gig reviews.
Sunday, June 5, 2005
Cut
Caleb had his first haircut yesterday, and we agree that he looks good. This was at a little Haircuttery on University Blvd. In Kensington. I had mine at the same time.
Today was perfect June weather, and we made our first trip to the county outdoor pool. After an initial sour reaction, Joyce got Caleb loving the water and splashing happily in the baby pool.
My official last day at APL is the 24th of this month.
Friday, May 20, 2005
Acceptance
Yesterday I accepted the job offer from Swales Aerospace. I start there 13 June. I am cleared for takeoff from Comfort Zone International.
My Group Supervisor was stunned when I told him. Why was he surprised?
We expect Caleb to take his first steps any day now.
Monday, May 16, 2005
Bipedalism
Caleb stood on his own yesterday for a count of 10. It's about distraction - if he's focused on something else, he can stand until he starts trying too hard.
The big birthday party was yesterday. Joyce knocked herself out getting ready for it. The house and backyard were full of young children and their parents for about 4 hours, and afterwards we were both beat.
Tuesday, May 10, 2005
Measurements
I took the morning off work. First, there was Caleb's 12 month examination. He is a little longer and heftier than average, and has a very big head. Except for a mild cold, he sounded and looked good to Doctor B. The sesamoid bone in his hand has not grown much. We were advised we could take him off the iron supplements, and to start weaning him from the bottle. Then, there was the Prevnar and chicken pox vaccinations.
After the Pediatrician's I went to a little lab near Laurel hospital for a drug screening.
Tuesday, May 10, 2005
Offer
Backtracking a few days - on the 5th we piled everyone into a car and drove down to Durham. This process took all day and well into the evening. In the morning we went over to the coffee shop and from there to my sister's house. The house was full of children and laptops and tasty baked goods. I participated by very carefully loading one layer of a wedding cake into a car. I met one nephew's wife and kids for the first time, and his brother's wife for only the second time. Little Joseph was also there - almost the same age as Caleb.
Then in the evening of the 6th, Rebekah's wedding in the arboretum on the campus of UNC-Chapel Hill. The weather cleared just in time to enable this, and I was pleased that it was in the open air. From thence to a church and a dessert reception featuring Sarah V's marvelous tiramisu. Erin spent nearly the whole time jumping off the stage.
Then in the morning we stopped by the coffee shop once more and I played chess with young Jake; a very bright and agreeable fellow. Then, home. Car trips are tough with these two, especially Erin, who seems to go from developmental crisis to developmental crisis. You can't ask a four-year old to be rational, so you muddle through.
Sunday was largely spent on putting up a privacy lattice around the deck. I completed about two thirds of the job. Then we had a little celebration of Caleb's birthday. Next Sunday is the big party with many daycare and preschool friends.
Yesterday afternoon - an overnighted job offer lay on the front porch when I arrived home. When am I going to get the time to consider if this is what I really want?
Caleb goes to the doctor today for his 12 month checkup. We're all going.
Monday, May 2, 2005
Trains
Saturday evening was largely spent at Union Station, which is sometimes used as a train station. I mostly walked about in it with Caleb while the ladies went to hear Mara sing at a nearby Catholic church. Dinner at the Center Cafe with Joan E. and Mary Lou. Somehow we managed to drive in and out without getting lost.
Yesterday was a near perfect first of May, if a tad cool. More flowers were planted, mulch was spread about, salmon was grilled, and more plans were made for the kid's birthday party. Unfortunately, I had a headache nearly all day. Late in the afternoon I lay on the sofa snuggled up with Erin and contemplated a tall oak about 50 feet beyond our back fence.
The birthday party is now planned for more than a week after the date in question, and involves much preparation and at least one Ikea spree. A pile of lattice work lumber is now lying flat on the driveway and invites my attention.
Erin has learned the word "frustrated," and seems to know what it means...
I haven't been ordering many new CDs lately, as there isn't room for them, but today Yellow Shark arrived. It;s gratifying to know that at the end of his life FZ finally found an ensemble that could play his most challenging music the way he wanted it.
I like randomness and hazard.
Monday, April 25, 2005
Door
Hector is gone now. He was a very old cat and suffered from an untreatable malady that was causing him considerable pain, so we had him put down. Now Mia is only cat is is therefore on a diet. We can leave the door open - Mia won't stray more than a few feet from the house.
I didn't work this past weekend. Ther was so much to do at home - barely scratched the surface - and I keep telling myself I can catch up on regular time. For many of us, the five day work week is something of an abstraction, but other times I feel entitled to it. Entitlement is nearly always delusional.
Sunday, April 24, 2005
Page
Caleb naps after a rough morning of bumping his head and piching his fingers. He stood on his own for a couple of seconds today.
I keep getting these "Excess traffic" notices for this little website. Finally, I went over to Earthlink to analyze what pages were getting all these hits. It turns out it was my old Goedel, Escher, Bach page, which I have hardly touched in 3 years. I haven't even read the new edition (yet). In fact, my reading has suffered greatly in the last 4 years. Anything can be done if you make it a high enough priority, but I have added two little priorities to my life ince 2001 that can not be supplanted and will not be ignored.
Busy days coming up. Relative visiting next weekend, and soon thereafter we visit relatives. Then, the birthday parties.
Yesterday I explained to Erin about her two Grandma Carrs. I think she understood when I explained that Grandpa Carr is my daddy, but Grandma Carr is not my mommy. I showed her a picture of Mom and Dad from the 1980s (or earlier?), and told her that the lady in the picture was also her Grandma, but that she got very sick and died. She asked for more explanation of how this could happen, and I'm not sure I was able to satisfy her.
Monday, April 18, 2005
Warmth
I had plans to go into work yesterday, but cancelled them. I stayed and dug in the dirt with Erin. I found this work very tiring - but I already knew I was out of shape.
Phone call from Dad last night. I told him we plant to go to R.A.'s wedding next month. We need to tell R.A.., and I need to book a hotel.
Thursday, March 24, 2005
Overcast
Afer all these years, I'm still moved by Let the Power Fall. I don't think I've listened to any recording more, and I still don't know it.
Weather continues to be dull and chilling, and Spring seems to be delayed, although I do see a daffodil or two.
Two invitations arrived recently. The first seems a no-brainer, the second a bit more difficult to pull off. However, when Joyce returns from her conference (4 presentations), we'll be able to think about things like this. Birthdays are coming up for both of our little nightowls. We both desperately want some time off.
Another invitation is expected quite soon, and this one with potential long term repercussions.
Tuesday, March 15, 2005
Incisors
Caleb now has at least four teeth, and crawls with some skill. He usually heads straight for the little DVD player or low shelves that have items on then that need to be pulled off.
Everyone is back to good health now, although Caleb's antibiotic doses continue. Even :Lucy is in good spirits and I have promised her more exercise.
Heard from the ohio Abmas - they liked the DVD I made for them. This took a fair bit of time to put together because there was so much material to chose from.
Wednesday, March 9, 2005
Freeze
Yesterday I stayed home with Caleb while Joyce got her paper submitted. Snow fell, the wind blew, and then blew harder. During a 90 minute conference call I managed to change Caleb's diaper and feed him lunch, and 2 hours later I went to fetch Erin at preschool. Ww ran into one of our group secretaries in the grocery store.
The pediatrician confirmed the ear infection, and now there is pink medicine twice a day.
Another phone call yesterday that may turn out to have some import for the future. Or none.
Monday, March 7, 2005
Slug
I went into work this morning and was swamped with unhappiness and disgruntlement. I wanted to stay and address every aspect of it, but I had to come home as Joyce needed the afternoon at work.
Both Caleb and I are sick. The difference is that he's not defeated by his illness and I am gladly surrendering to mine. He is becoming very advanced at scooting and can now lift himself up with his legs straight and his hands on the ground. He seems to understand what crawling demands of him, but wants to try a couple of other things first. Erin's exploration of crawling was much more direct and simple.
E-mails from Steven and Dad. A USB microphone from Logitech and CDs from Hypnos. The deliveryman wanted to chat, and I hope I wasn't too dismissive.
The local public TV stations are raising money. When they are in this mode, they do all they can to persuade me that I don't want them to remain on the air.
Friday, March 4, 2005
Late
Very cold for March. There's ice all over our driveway.
Stayed at work late, and am going in early tomorrow. Yesterday the PI came down into the pit to dispense a few words of encouragement.
A birthday card from John and Barbara. Very nice.
Caleb has pinkeye, poor little thing. He's in good spirits nonetheless.
Sunday, February 27, 2005
Mouth
Dad called. I was supposed to call him as his birthday and 12th wedding anniversary just passed. I find out from him the RJA is engaged, with a wedding planned in May.
Snow tomorrow. Possibly a day or part of day spent with the kids at home. Those two can wear me out, but they're also a delight. Caleb is close to his first intelligible words.
Saturday, February 26, 2005
Heliocentric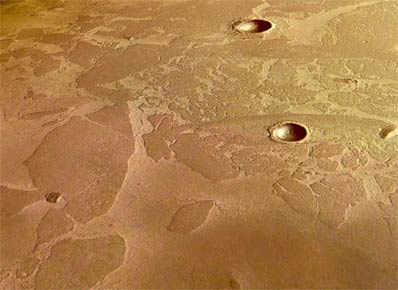 This afternoon Erin and I made another snowman out of the wet, icy snow that lingers in our front yard from last Thursday's little storm. This one was a bit bigger than the last. Joyce is working hard on her paper for PAA. I briefly studied one of her tables and saw one thing I expected and one thing I didn't.
I didn't know there was a Heliocentric Worlds, Vol. 3, but now I do, and I'm about to get a copy.
I'm hanging in there. There was a long talk with Joyce last night. I have a realistic plan and have begun to set it in motion. In the meantime, feelers are going out.
Saturday, February 26, 2005
Crash
Panic, fear, delusion. That is what I see outside, and inside a looming sense that my career is a failure and can not be salvaged, and I am grieving for it. Joyce is very supportive, but I have no clear sense of what to do now. I do have some hope that the future I can not see will make itself known.
The last time I felt this bad was in 1999 when my first wife left me. Within a year I was much happier than I had ever been with her. Perhaps a painful crisis is what it takes to move me to the next place.
And then, back to what's really important.
Tuesday, February 22, 2005
Crawl
Caleb is almost crawling. He'll go up on all fours, lunges a little, and then drop back down into a scoot.
Lucy is in good spirits considering. Soon we'll be walking down by the river again.
Monday, February 21, 2005
I now have Skype (pdcarr) working with a cheap headset, and Lucy has 20 fewer teeth. No, that's not an exaggeration. More than $600 ago, Lucy had 20 more teeth, poor old thing. She's now loaded up with anitbiotics and pain meds. The vet says she's otherwise healthy for a dog her age.
A relatively calm day at work. I went in with the notion of that I would stay relatively tucked in emotionally. Nothing overtly illegal happened or was decided upon.
Sunday, February 20, 2005
Run
It got worse today, and Joyce saw I was angry and frustrated, so offered to let me go running. This is the first time I have hit the road in months. My feet hurt - I need new shoes - but I'm glad I went. There was so much pent-up emotion that it didn't feel hard except for the big hill.
Saturday, February 19, 2005
Idle
Cold and windy, and a simple. mostly idle Saturday. As usual, lots of parenting, but this is about to get more demanding - Caleb (21 pounds) is very nearly crawling, and already understands at least some of the advantages of mobility. He's about one month behind Erin in this development, but we understand there is wide variation.
I cooked haddock Almondine for dinner, and it came our fairly well. Joyce steamed two artichokes.
I've claimed down a bit, but I am still angry and suffer from headaches. I need a haircut, an oil change, and much more exercise.
Friday, February 18, 2005
Perspective
My work stress is over the allowable threshhold tonight. I have had all the disrespect and dysfunction I can tolerate, and all signs are that it's going to get worse.
It seems I may have allowed my perspective to be crushed. If so, I'll have to take the blame for that. Where I go from here depends at least in part on my ability to get it back.
Wednesday, February 16, 2005
Teething
Caleb's teething has made him a bit grumpy at times of late, although his usual cheerful nature still manages to shine through. Today we take him in for a well baby appointment. I predict he'll weigh in at 22 pounds.
I've discovered a huge new gap in my CD collection: Rashaan Roland Kirk. I've been listening to Rip, Rig and Panic lately in the car, and it's terrific. Having his Elvinness and Jaki Byard on it is just a bonus.