L E A D L E G I O N A R I E S

Mike Demana's Gaming Pages
Projects
| | | | | | | | |
| --- | --- | --- | --- | --- | --- | --- | --- |
| Archive 10 | Archive 8 | Archive 7 | Archive 6 | Archive 5 | Archive 4 | Archive 3 | Archive 1 |
| Jan. 2011-Sept.2011 | July-Dec. 2010 | Dec. 2009-July 2010 | June 2009-Dec. 2009 | Nov. 2008-July 2009 | Aug. 2008-Nov. 2008 | Feb. 2008-Aug. 2008 | Jan.07-Sept.07 |
| 28mm Native Ameicans | 15mm Satyrs | 15mm Old West | 15mm Thracian DBA army | 15mm camps & strongolds | 25mm Britons | 20mm modern Africa | 25mm Picts |
| 28mm Pulp | 25mm Dal Riatan Scots | 25mm Post-Holocaust | 25mm Science Fiction | 25mm Britons | 25mm Hunters | 15mm Colonials | 15mm HOTT & strongholds |
| | 15mm Old West | 15mm HOTT Fantasy | 20mm Modern Africa | 25mm terrain & buildings | 25mm Post-Apocalyptic | 25mm Peasants | 15mm Seven Years War |
| Archive 9 | 25mm Native Americans | 15mm Pecheneg DBA army | 15mm HOTT Fantasy | 25mm Science Fiction | 20mm Modern Africa | 25mm Vikings | 20mm Modern Africa |
| Aug. 2011 - May 2012 | | 15mm SLM Squirrels | 15mm SLM Fauns | 15mm Wood Elves | 25mm Iron Age broch | | 15mm Colonials |
| 28mm Native Americans | | 20mm Modern Africa | 15mm Pirates | | | Archive 2 | 15mm DBA camps |
| 15mm Egyptians | | 15mm camps & strongholds | 15mm camps & strongholds | | | Nov.07-Feb.06 | |
| 15mm Burgundians | | 15mm Colonials | 25mm Lord of the Rings | | | 15mm Fantasy Dogs | |
| 15mm Satyrs | | | | | | 25mm Vikings | |
(Click on the links above for lots more pictures and descriptions of my projects...)
Current Projects
Feb. 2, 2013: Raccoon Army Completed
So, I didn't get around to doing regular updates, but I did keep up my painting schedule. So, in what seems like a surprisingly short time, the last of the Raccoon army is done. In addition to the two bases below, the army will have six more bases of troops -- a nice mix of sword, spear and axe armed troops. They've been a fun army to paint, with the variety of poses and styles. I've kind of pictured them as dressed like pirates to a certain degree, with head scarves, large colorful jackets in an assortment of stripes and solid-colors.

I've saved a half dozen or so raccoons unpainted in case I decide to create another fantasy element to go along with the army. It is my intention to have one unit -- like the Ents with the squirrels -- that is a creature or some other cool troop type. For the raccoons, I found some pre-painted plastic figures called "Dire Badgers," whose coloring matches the army fairly well. I touched them up a bit, and will call them "Giant Mutant Forest Coons" instead! They look pretty good for pre-painted plastics, in my opinion. All I had to do was add some dry brush highlighting and an overall black wash to give them more depth.

So, now that I have this army done, I will start playtesting my rules. I want to make sure it plays well before I plunge ahead with the next army (Splintered Light Miniatures mice). In the meantime, I'm going to start painting some 28mm Dark Ages figures that I picked up recently. We know somebody who is selling Foundry 28mm miniatures for $1 a foot figure -- they're mostly from a "widow's sale" (someone who passed away and their wife was selling the collection). I picked up about $40+ worth -- mostly Anglo-Saxon warriors, along with some figures to use as Scots-Irish and a handful of peasants. Anyway, I've been typing away at a set of campaign rules to play what is essentially linked scenarios using Song of Blades and Heroes skirmish rules. I want to have five national types in the campaign -- Picts, Vikings, Britons, Saxons, and Irish -- to represent the fighting going on in the far north of Britain. I already have plenty of Vikings and Picts, and have a good start on Britons and Irish. However, I had zero painted Saxons, and no real Ango-Saxon figs to use for them. So, I bought 25 figs and have the first 10 primed on the painting desk right now.

So, expect to see a shift in what I'm working on for a little while. Oh, and I'll post pictures of the raccoons in the next day or so (as soon as I finish flocking and dullcoating the last two bases...!)

Jan. 12, 2013: A New Woodland Army
20mm Splintered Light raccoons -- the first of my second army to be based up for my experimental fantasy battle rules


The Squirrels are done, and I've begun a new woodland army for my fantasy miniatures project: Raccoons! I picked these up by mail from Splintered Light Miniatures in December when I decided to begin this project. I needed an opponent for the Squirrels, and browsed the SLM website. The pictures of the raccoons were just too cool, and they edged out buying a rat army. Some of the packs of six contain a different pose for every fig, others have two each of three different poses. I'd seen them painted up, too, at David McBride's booth at Origins and Cold Wars. So, I knew they would look great once completed.

I did my usual Google Image research to obtain source photos for the coloring on raccoons. I decided to replicate their look this way. I painted them a base light gray color. Then I dry brushed white over it, followed by a black dry brush. I try to stroke the brush in different directions for the two different colors so that one doesn't merely paint over the other. When I looked at pictures of raccoons, they had an overall gray color, but with visible white and black hairs. I then painted solid white over most of the face, followed by the black band across their eyes. This is also when I did the black striping on the tail. I think they turned out great. I probably should have cut the exposure time on the photos...there is too much of a bright glare on them, I think.

The fish standard above is the one that comes in the command pack. I really like how it looks, but decided I didn't want to have every singe unit in the army have a bass on a stick as their banner. So, I dug through my collection of unpainted stuff and found the plastic cobra head in the other unit. I actually used an ordinary spear armed raccoon and snipped off his spearhead and pinned and glued the cobra head to it. I love the clothing that Splinted Light has sculpted onto these guys. It is almost "ragged pirate chic" -- or at least that is how I'm envisioning it. The caps are great, so of course they get brightly colored stripes on them.


I finished up the squirrels by painting the three "hero" or leader figures that will be part of each army in my rules. They are based on much smaller hexagons and attach themselves to whatever unit the player chooses once they are played onto the table. Incidentally, I decided to get double use out of the leader figures and also use them for my fantasy gladiator game that I had been working on last year. It is very close to playtesting phase. I decided to incorporate large chunks of West Wind Productions "Gladiator Wars" rules. So, the individual gladiator rules will be kind of a mesh between the ones I'd written and these. So, all those individual figures I painted up for the Lead Painters League last year may see the tabletop in two different game systems.


The last stand I based up actually uses figures that were already painted. These two ents are from Black Raven Foundry. I love their treemen -- very animated and they have lots of character. I figured ents would make perfect allies to squirrels, so I plopped a squirrel highlander down onto their base as their "military advisor" from the squirrel army. Each army that I paint up for these rules will have a fantasy unit or two to spice it up. I decided upon a stand of ents for the squirrels. The Raccoons will have "Giant Mutant Forest Coons" -- prepainted "Dire Badger" plastic figures from Wizards of the Coast that I picked up somewhere. Speaking of picking up, the squirrel on the ent base may look slightly different because he was actually painted by Paul Potter. We did a trade awhile back and I received him and one other painted highland squirrel in exchange for....hmmm, I have no idea!




Anyway, I 'm really excited about the project...well, both projects -- the fantasy miniatures battle one and the gladiator one! I kind of feel guilty that I have put the 28mm Pulp one on hold. However, I am sure I'll get back into it sooner or later. Besides, I have all the figures ready for it...I just need to build the temples that the archeologists will be investigating. I am rolling several ideas around in my head how to do that, but haven't plopped down the money for materials, yet. In the meantime, I have two stands of Raccoon swords finished and in the flocking stage. The Giant Mutant Forest coons are being based up, and touched up, as well. Look for more updates soon, hopefully!

Dec. 15, 2012: Striking off in a new direction


20mm Splintered Light squirrel army based up for my experimental fantasy battle rules

Four months between updates is not what I would hope for on this page. However, school work always seems to come first (hmm...wonder why?), and no matter how caught up I get with lesson plans and grading, there always seems to be

one more thing

that I could be doing! I've decided that I will probably never reach that mythical place where there is nothing I could be working on for my students. So, bearing that in mind, I've decided I will take at least 4 days out a week to paint an hour or more. I've kept this up fairly well for the last 3 weeks or so. Here are the results of the intervening time between now and my last update:

First off, what have I been doing? More than a month ago, I finished some British infantry for my French & Indian War games. I'll save those for the bottom of the update. Honestly, I am not really sure what made me strike off in a new direction. Apparently, it has me enthusiastic enough to crank out a number of batches of miniatures, though. So, what are they? Well, as you can see from the pictures, they are Splintered Light Miniatures squirrels. Now, when I first started buying and painting up these minis, they were labeled as 15mm. Now, on their website, they are listed as 20mm. They are a bit heftier than your average 15mm figure, so I won't argue. I still don't think they look bad in a game next to 15's, so I wouldn't let that scare you away from buying any. Anyway, when I first began purchasing David McBride's gorgeous line of miniatures, I was painting and basing them up as armies for Hordes of the Things (HOTT) rules. We don't play much of HOTT anymore, though. Nor do we do much of the parent rules set, De Bellis Antiquitatis (DBA). I think it is a true case of burnout. We played the game pretty much since it came out...what? More than 20 years ago!





Two units of squirrel archers based on 45mm hexagons for my new system



The thing was, I still love Splintered Light's animal miniatures! So, how to get a chance to use them on the tabletop again? Well, as you read below, I planned on using individual ones as gladiators for my soon-to-be-playtested game. But I wanted an army size game, too. A year or so ago, I first played a boardgame called

Manoeuvre

, a Napoleonic type one-on-one battlefield game. It is played on a square grid and has armies of 8 units (eight different armies come included in the game).

It was a neat little system, and I purchased it and introduced it to the guys. They liked it too, and a number of them have gone out and purchased it, as well. However, since it is a one-on-one game, we really don't play it all that often. I like the "engine" -- Manoeuvre's mechanics for command and control, combat, etc. So, I began to tinker with the idea of adapting it to a fantasy miniatures battle game. We knew we liked the game, so chances were the rules I cooked up would retain that element of fun and ease of play.






Another two units of squirrel archers based on 45mm hexagons for my new system



So, I began writing, tinkering, brainstorming, and changing. My first idea was to take it off the square grid. Another rules set played long ago whose mechanics for movement I thought were genius was the aerial game, Crimson Skies. I adapted its "gridless" hexagon system to my game (umm...still, as yet, unnamed!). Units would be based on 45mm hexagons. The table will NOT have a hex grid, though. When a unit wants to move, blank 45mm hexagons are laid out to form its path. Then it is placed atop the final hexagon. Hex movement without an ugly hexagon grid on the tabletop! I liked that troops would be based as "units" -- which will typically be 4-5 figures on a single 45mm hexagon. They look good in a bunch like that, and allow me to arrange them so they look nice -- grouped around a standard bearer, or whatever.



20mm Splintered Light Miniatures swords with converted standard bearer



The next big change was to take Manoeuvre's two step unit status to three. In the board game, units are either full strength, reduced strength or destroyed. I added in an intermediate step of reduced strength. I did that because my plan all along was to take out one of the main ways a reduced strength unit can be recovered up to full strength. In the board game, each unit has 5 cards that correspond to it in the army deck of cards. To attack with the unit, you need to play the appropriate card. However, Manoeuvre allows you to play a card to recover the unit, too. That was one aspect of the game I felt dragged it out too much. If both players are conservative, the game could easily drag out from an hour to almost two. Plus, it was frustrating to pound away at a unit, only to see up pop back up to full strength time and again. So, in my game, units will be able to recover levels of reduced strength only through the play of Leader cards. Each army will have 3 leaders that can join a unit and allow the player to roll to recover a level of damage.



Another unit of Splintered Light Miniatures swords with converted standard bearer



Anyway, enough about the game -- let's talk painting! I have loved SLM's squirrels since I first saw them introduced. I bought my army's worth of them just as HOTT was on the downswing in our group. I painted up a couple batches of archers, but fortunately never based them. I decided they would be my test army for these rules. I know I am taking a risk basing them up for a game I'm not even sure people will enjoy and want to play. However, I want the visual aspect of the game to be seen by propspective players -- what an army will look like based up for these rules. It will be easy enough to toss a HOTT stand onto a 45mm hexagon, but I figure if these rules take off I don't want everything on sabot bases.



Squirrel spears and acorn standard from Splintered Light Miniatures



I based up all the squirrel archers I'd painted. Then, I started in on the spear and sword units. I did four to a stand for the archers, envisioning them as lighter, skirmisher type troops. The spears and swords would be the army's heavy foot, so I did five to a stand. I really like the way they turned out. I put the two "Acorn Standard" figures with the spears. For the sword units, I modified two figures as flag bearers. I drilled out their shield hand with a pin vice, stuck a needle through for the standard. I did each up differently, too. One has an almost Roman-style standard, while the other is separated into three small horizontal penants. I didn't do as good of a job lining the penants up, though, and think that it could look better.



Another unit of squirrel spears and acorn standard from Splintered Light Miniatures



I saved the squirrel highlanders for last. I'd been collecting the 3 highlander poses which come with a miscellaneous hero pack to try to get enough for a unit or two. Splintered Light eventually released a highlander pack, but the poses are pretty different than the previous ones. They have odd squirrel mustaches, and seem bulkier and less cleanly cast than the original ones. Plus, they are bare-headed -- not wearing the little bonnet that I liked so well on SLM's original squirrel highlanders. I decided to mix them in together on the bases, though. The variety will only make it look better. I think the two bases of highlanders turned out great. I was wondering if my eyes and hands were still good enough to do tartans and checks this tiny. I am fairly pleased with the results, even though I know there a painters out there who could do much, much better. So, when it is all said and done, I should have about 11 stands for this army. I envision armies being anywhere from 8-12 stands, depending on a point system I am creating for the rules. The final stand (still in progress), will have a couple ents being directed into battle by a squirrel chieftain. As you can see from the army grouping photo at the beginning of this update, they look great on the tabletop. Once I have a second army painted up (either mice or raccoons), I'll start testing out the rules.



Awesome squirrel highlanders from Splintered Light Miniatures -- I love these figs, especially the older ones with the highland bonnets!



The final photos with this update are of the 28mm British infantry for my French & Indian War skirmishes. The rank and file are all from Old Glory, and I am not 100% enthused with them. The figs were given to me free, though, so I had a hard time resisting using them. I think the slight difference in poses that Old Glory does work better for army size games than for skirmish ones like mine. However, the officer is from Foundry. I think he is perfect. I bought him in the flea market at Drums Along the Maumee in Toledo this past May. There is a guy who shows up every time with tons of Foundry which he sells for a buck a fig. That is an awesome deal. I may try to contact him ahead of time before the next show and see if he can bring more that fits my period.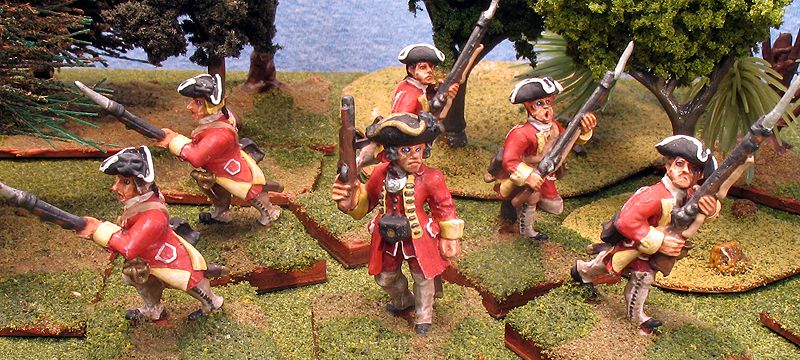 28mm British infantry for my French & Indian War skirmishes -- officer is from Foundry, the rest are Old Glory



Now that I am painting regularly, again, hopefully I will update this page more often! Until then, I hope your own projects are going well....!

Aug. 13, 2012: First French troops




"Keep a careful eye out for Mohawks, mes amis..."



Although I like how these 28mm French line infantry for my Native American wars project turned out, I am not as crazy about the photos. I need to work a bit more on my technique of popping them onto a scenic photograph. I've been doing this with my Pulp figures, but took a break from it during the Lead Painters League. That type of photo manipulation was not allowed. All scenery had to be real, so I'm out of practice at this skill. I thought I was getting pretty good at it then, so I just need to relearn some methods, most likely.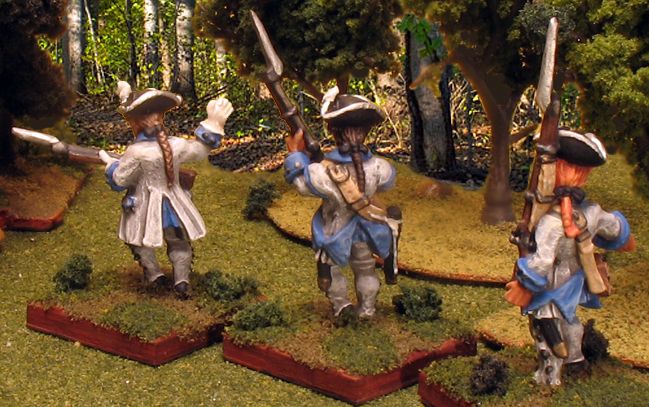 "Alors! Follow me..."



Anyway, I did a batch of six because that has been the number of figures per command I've been running in my multi-player convention games. It is a decent sized skirmish force for the rules, and keeps the games moving along. Too many more and other players can end up waiting a long time for a particularly slow player to make his decisions and roll for his actions. That is one drawback of the system I'm using. I have to work to keep the force sizes down so that players don't spend big chunks of time not involved. Of course, the Song of Drums & Shakos system usually keeps opponents involved with the opposed die roll mechanics for shooting and melee. And players seem to have a good time in my games, so I guess I'm doing a decent job at sizing up player forces correctly.





"Are you Algonquin or Iroquois?"



I painted them a light gray first, then did a white dry brush over their uniforms. Actually, it was kind of tricky at times layering the different dry brush colors. I did the gray/white first, then the flesh next, and finally the blue. That is one thing I've learned that is vastly different about painting 28mm and 15mm figures. There are a LOT more things you dry brush on a 28mm fig. For example, I even dry-brushed white over the buff colored straps to bring out the highlights. And the hair of all the figures received a highlight color, as well. I think I'm learning on how to better do eyes, too. I need to ensure the are smaller to avoid the "googly eyes" effect. For example, the guy on the far left in the line of three above is just about perfect, in my opinion. The one on the right is getting a bit too big, I think. It wasn't so bad that I painted over it, but if I could have made the whites of the eyes a smaller slit, I would have been happier.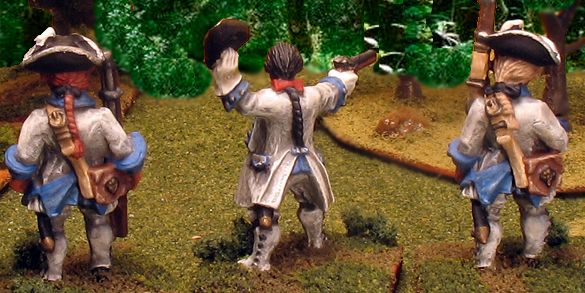 So, what's next? I have some scenery tokens to paint up that I'll be using in these games. I have about a dozen tree stumps, some rock piles and boulders -- most from my favorite terrain manufactuer, Acheson Creations. I'll use these to mark figures who have gone prone to take cover from shooting, as opposed to those "knocked down" by enemy attacks. My friend Mike Stelzer found some at Drums Along the Maumee and bought them for me (suggesting to use them that way), and I added to the collection at Origins, this summer. So, I'm finally getting around to painting them up. I don't imagine that they'll take a long time to do, as it will be all dry brushing, for the most part. So, look for some more pictures of them relatively soon (at least compared to my other updates...!).

July 31, 2012: Back from my adventure

So, at least I have a good excuse why I haven't updated this in over a month, this time. I spent the end of June and most of July in the Caucasus Mountain nations of Armenia and Georgia. I was gone for a month, and kept up a blog while I was overseas. Here's the link for it: My Travellerspoint Blog for Georgia and Armenia

But I'm back...and what's more, I actually started painting again! I have a batch of 6 French & Indian War regular French infantry on my desk. They are part of a batch of 20 or so that I picked up at the flea market at Drums Along the Maumee for $1 a fig. I believe these are Front Rank miniatures, which are nice quality, so it was a good find. The reason I've jumped them ahead of what I had been planning on painting is I want to use them in the games I'm planning on running at Advance the Colors 2012 in September. I've decided to start working a bit more seriously on producing my adaption of "Song of Drums & Shakos" for French & Indian War. I'm tinkering with rules for regulars and rangers, so want to test them out. I figure if I get some painted, I'll want to use them. And that'll speed me along.

So, pics of them should be coming within a week or so. There's a lot of detail on them, being soldiers from an era often called "The Lace Wars." What's more, I resisted the temptation of going back to one of my old periods. I was reading an update from one of my gaming friends in Florida, and he's starting a modern Africa project (sound familiar?). Check out Tony's page on his "Mandigo Wars" here: Mandingo Wars - modern Africa . Another link to check out is my Sunday night gaming friend, Keith, and his blog. He's been doing a good job updating our gaming. Here's the link: Keith's Retirement

June 12, 2012: Signs of Life...

I'd recently run out of the Plano boxes in which I store my miniatures. When I went to get more, I found the price had skyrocketed to almost twice as expensive. When I complained about it to my friends, Zeke stepped in and offered to donate some of his surplus ones. I picked four of them up at his house today. While I was there, we had a nice, long chat about our gaming projects, experiences at conventions, and so on. I think this finally got the blood flowing again for me. Tonight, I will start the prepwork on the boxes -- I coat the bottoms with magnetic paint. Actually, the paint is metallic -- not magnetic. It allows my magnetic bases to stick to the bottoms of the trays. I usually sandpaper the bottom to give the paint more of a rough surface to stick to. I coat it twice and it generally seems to adhere pretty well to the plastic bottom.

This will allow me to properly put away my last several months' worth of painted figures. Well, except for the Splintered Light animal gladiators. I still have not 100% decided whether I will put them in the normal Plano boxes or not. The 1" hexagons they are based on don't fit as well in the boxes, so I may need to come up with another idea. We'll see.

Tomorrow should be fun, too. I'm heading off to the "Retired Guys' Game Day." Two of our regular Sunday night crew recently retired and decided to add an extra day to their weekly gaming schedule. A third is out of work at the moment, so they've been meeting on Wednesday afternoons. Since I'm off for the summer as a teacher, I should be able to squeeze in a few sessions with them, and tomorrow's the first. I think we're going to try out Aerodrome 2.0 -- the World War II set. I talked Keith into buying it at Little Wars because I think Check Your Six is a wee bit more complex than I'd hoped for. Who knows? Maybe we'll enjoy this more, maybe not. The rules were only $20 and we are familiar with the system having played its World War I version. Hopefully, I'll take some photos and post it up on the Game Nights section of this site. Lord knows I have not been very good about updating that section...!

June 9, 2012: Burnout!

So, I guess it was bound to happen. Pair the grueling Lead Painters League schedule with busy times teaching and you end up with a massive case of burnout. I have not touched a paintbrush since that morning when I finished "Frog Gigging Gone Wrong" below. What's even less inspiring is that I accidentally dropped the raft and all the figures in the days after I finished the. Now, they all require some touchup and repair. There is nothing to kill motivation more than having to redo something that took a lot out of you!

I decided to go ahead and do an archive of my Projects and Game Nights pages. They were starting to take a long time to load with all the photos. And the Game Nights page had not been archived for about a year and a half! So, both were due. was very happy with the way I finished up the league. I closed out with 3 straight victories to end up 4-6. In a group with so much talent, I consider that an honor and a success.

May 22, 2012: Round 10 in the Lead Painters League
I was very happy with the way I finished up the league. I closed out with 3 straight victories to end up 4-6. In a group with so much talent, I consider that an honor and a success.

Round 10: Frog Gigging Gone Wrong



Okay, so this was the marathon painting session to rule them all! I did not finish painting the raft and the miniatures and send off the photo until 4:30 am. I beat the deadline by a few hours, but there was no way I was going to go to bed until it was complete, photographed and the pic sent off. This was my "alternate idea" rather than doing the sculpy 25mm canoes for a Native American entry.

The raft has the core of an Ainsty Castings resin raft (actually two fused together), but is 80% scratch built. The mast, rebuilt tillers, steering arm, cargo, rigging, etc., was all done with various craft wood or string pieces. The mast is a plastic flag pole from one of those little 3"x5" flags you can buy in stores. I carved it up to make it look nice and irregular. The sail itself is a piece of styrene plastic melted by holding it over my stovetop. I drilled out the little holes and threaded string through their for the rigging. The rigging is winched into craft store wooden spools. The barrel and crates are various resin pieces I picked up.

I had to order another pack of Splintered Light Miniatures frogs to have enough to do this entry. I had enough Jungle Rats on hand to crew the raft, but I wanted I only had 4 frogs, so needed more. David McBride kindly shipped them out post-haste to me and even generously comped me the shipping for the "advertising" I've been doing with all my entries using his figs in the League. I thought they turned out nicely, especially since I decided to do a variety of patterns of spots and markings on them. After doing this diorama, I want to do a game where the players are attacked by these guys surfacing all around them. The water is two types of fabric -- one is a dark, "jungly" green and black, while the other is a blue sheer fabric over top. I cut slits in both and popped the frogs up through the bottom. The effect was to make them look like they were surfacing all around the raft to ambush it. I really like how it turned out, and received lots of nice comments on the Lead Adventure Forum. The league champion even called it "brilliant" -- so I have to happy with the reception it received. In fact, I think it has a lot to do with my winning that round. I was matched up against an amazing entry with two ships and a boarding action going on. If you're interested, you can check it out here:
http://www.lead-adventure.de/index.php?topic=41417.0

The jungle rats were done like the other ones I'd completed earlier in the League. I did a variety of color patterns for them, but kept with the same basic equipment scheme. I was really happy with how they turned out, too. I am looking forward to running games using all these Splintered Light figs I've painted up for the league! All in all, my experience in the League was a great time. It was a LOT of work, and I will "stock up" more before I do this again. However, it was definitely an enjoyable experience.

May 11, 2012: Rounds 7-9 in the Lead Painters League
So, I definitely was on a surge in the later parts of the league. I think some of it was because I was finally facing opponents who were NOT in the top 1/3 of the league -- opponents more like myself. I came in to round 7 with a 1-5 record, and would go into round 10 at 3-6. Here's how it happened:

Round 7: Senegalese Surrounded



This was my low point in the league. I was simply overwhelmed with school and could not get the Splintered Light Miniatures animals done for this round (they made it in Round 8 below). So, I substituted in these Senegalese who I had decided NOT to use at the beginning of the competition, and to hold them as a fallback entry. I was hoping to be matched up against one of the other winless or one-win entrants who were clustered at the bottom of the standings. Not to be, of course.

Although I like the staging and colors in the photograph, I admit these are not the best-painted figures I've ever done. In fact, they likely deserved to lose. I have made a concerted effort since painting these to make the eyes on my 28mm figures smaller. If they are too big, they look unrealisticly "googly-eyed." Compare these guys' eyes with that of the Native American chief in Round 9 below. That is what I am shooting for from this point forward. I lost the voting 407-67, and was now 1-6. This would be my nadir. I am glad I did not get depressed and quit. As from here, I would surge upward to finish out the league with 3 consecutive wins.

Round 8: Skin-Walkers Raid (15mm)



It was with this entry, that I figured out what my best angle was to be for success in this league: Splintered Light Miniatures animals from the Druid's Children 15mm line. Many of the people on the Lead Adventurers Forum were unfamiliar with this range of figures. So, not only would my paint jobs be helping me win, the excellent miniatures themselves would be an asset. This where the idea for an alternative Round 10 "Marine" theme entry (instead of the Native American canoes) was born.

A Skin Walker is a native American term for a creature that has features of animals -- coyotes, wolves, etc. -- but walks upright like a man. I learned the term from a song by Native American musician Robert Mirabal on his excellent "Music from a Painted Cave" CD. Since that is essentially what SLM animals are, I decided to have them making a raid on a Native American palisaded village. The grizzly bear with axe has just bashed in a breach in the uprights and his companions (Wolverine, Coyote, Prairie Dog and Wildcat) are getting raid to charge in. The panicked Indians are fleeing in the background.

I absolutely love the coyote, and hope SLM makes more from this line. I like how Splintered Light gives each animal a distinctive equipment style. The Aztec Prairie dogs are fantastic. I like the Wildcat Romans, too. Anyway, as always, I look up Google Images of each type of animals to research how best to paint their fur coloring. The subtle markings tend to make the completed fig look more realistic. For example, the hands and feet of the prairie dog blend to black. That, and things like the banded patterning of fur on the gray-black wildcat work in way almost beneath the level of consciousness to make you think, "Wow, that does look like that animal!" Anyway, the voters must have liked the staging the paint job, as I won this round 419-49. I was now 2-6 and on my way up!



Round 9: Scalp-pole Dance






I had been saving to paint up these figures for the Round 10 "Marine" theme. However, I decided that I would not have time to scratch-build the two canoes from Sculpy like I had planned. So, I went with an alternate idea, which freed these guys up for Round 9. I definitely feel that I have gotten pretty good at painting 28mm Native Americans. I went all out on the beadwork and decorations, too, knowing that there were no push-over opponents in this league. It is a good thing I did, too, because my opponent was no slouch and entered some nice looking miniatures.

I love the chieftain in this photo, though. His beadwork is elaborate and covers nearly every part of his costume. I made his headdress of eagle feathers -- rather than simply dry-brushing them gray-white. The shot bags on all six Indians were decorated in great detail. I gave them all individual tattoos -- even though they don't necessarily show up too well in the picture. All in all, I was pleased with this entry, which I won by a final score of 267-171. My record was 3-6 going into the final round.

April 21, 2012: More entries in the Lead Painters League
I guess it is time to catch people up with pictures of my recent entries in the Lead Painters League. Up to the current round, which today, it looks like my record will be 1-6. I wasn't expecting to burn up the league, nor was I even expecting to be winning at 50%. However, I was actually hoping to do a bit better. I think a lot of it has to do with matchups, though. Here is the combined record of my opponents through last round: 27-14-1. Only one of my opponents (the one in the current round) has a losing record. So, I feel I've been given a hard row to hoe, so to speak. The matchups are supposedly random...which, I guess can bear be borne out by my experience. There is generally a bell curve in any random sampling. I'm just on the wrong end of it...!


Round 4: Hungry Games

This was the first entry where I began to get some serious votes. I was matched up against the guy who was leading the League at that time, so of course I did not win. But I pulled in about 40% of the votes, which I considered a victory. The figures are from Splintered Light Miniatures' excellent "Druid's Children" line. I wanted something to do with them besides make Hordes of the Things armies with them -- especially considering we don't play the game much anymore. I came up with the idea of using them as gladiators in a kind of fantasy gladiator world.

The inspiration for the Druid's Children line are the Redwall young adult novels written by Brian Jacques. I have read only the first one in the series. In the story, an army or rats invades the forest which is peacefully ruled by the mice of Redwall manor. Different animals line up on each side in the battle, which naturally is won by the good guys of the Abbey. My fantasy gladiator world postulates that Cluny's rat horde wins the battle and takes control of the forest. I figure they would enslave the other animals and keep them in a perpetual state of near starvation. One way for animals to get more food is to volunteer to fight in the "Hungry Games" -- gladiatorial contests staged by the rats for their amusements. Thus, animals of all different sorts would volunteer, so you'd have beaver against skunk, bear against wolverine, and so on.

This is my "next" project (in line after the Pulp one), so stay tuned for more updates.

Round 5: Misty Mountain Goblins (15mm)



So, I would NOT have expected these guys to be my first victory of the League. However, it was my first matchup against a painter who did not have a winning record, so maybe that was the key. Now, I do think the photo really does a good job of bringing out the detail I put on these 15mm figures. I think the dry brushing effect turned out really nice. I used a black base coat, gave them a leathery skin dry brush, and finally did a highlight of a light dun color. Tolkein describes his goblins as having a "sallow' complexion, which if you look in the dictionary, means yellowy or jaundiced. I know the gaming community has bequeathed green skin upon orcs, but since this round had a "Worlds of J.R.R. Tolkein" theme, I went with the original. Besides, I prefer that for my orcs, anyway! This was also the very first batch of figures I painted up for the League that were not planned to be used as part of an active project. So, I'm not sure what I'll do with these guys...which is why I put them on metal washers. If and when I do use them, it will likely require some sort of rebasing.

Round 6: Frontier Defense



I think my photography let me down here. When I finished painting these figs, I was really happy with how they came out. The best part was the women's dresses, I thought. My photo does not really do them justice, though, and instead highlights the faces. I admit, my drybrushing technique does not give the smooth, blended look that my more experienced opponents in the league are able to achieve. So, these frontier women look rough and hard-bitten -- which may not be inaccurate, but doesn't really look nice and pretty. Plus, the photo brings out the flaws and misteps in my technique more than the best parts. For example, the highlighting on the woman in the yellow dress is fairly nicely done. However, she is on the fringe of the photo. Front and center is the less expertly done blue highlighting on the woman aiming the musket. What's more, there is more decoration on the hem of the women's dresses which I cut off with the wall! All in all, it was a rushed job on the photograph. The result was that I loss this round fairly handily against my first opponent to have a losing record. I take the blame, though. At this point, my record was 1-5.

April 6, 2012: Some of my entries in the Lead Painters League
So, here are some pictures of my recent entries in the Lead Painters League. If you remember, for an entry to count as "New" and get the bonus points, pictures of it must not have appeared on a published website before. That is why you haven't seen pics of what I've been working on lately. We are now at the midpoint of the 10 round league. As I expected, I am being regularly trounced by some amazing painters. My record is 1-4 at this point. Humorously enough, I think my sole victory was probably with one of my weaker entries! There is a fairly wide variety of skill in the league, and my best entries all seem to be matched against strong painters.



Round 1: Svetlana's Smuggling Ring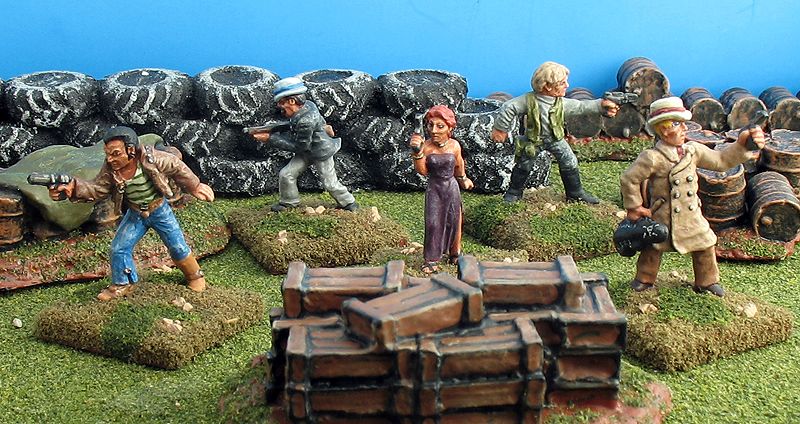 This was one of the three "theme" rounds. The theme is "Old Metal" -- or miniatures that were produced in 1991 or earlier. I decided to paint up something I can use for my Pulp games. The idea is it is an international smuggling ring that the other factions run up against from time to time. The figures were from a variety of sources -- TSR, Grenadier and Ral Partha. I particularly like how Svetlana herself came out. Her face painted up great, and shows there was plenty of skill in sculpting back then, too. I also like the guy on the left with the Elvis sideburns. He is actually a Ral Partha "Shadowrun" figure. I shaved off the pointed ears to make him human.



Round 2: Pygmy Headhunters of the South Seas




These are Splintered Light Miniatures "Cave Imps" that I thought would be great swarms of pygmy savages to attack the other factions when they get too close to an important artifact. There 15mm figures have a lot of character and were a blast to paint up. Lots of tiny detail, and I think they came out great. They didn't win their round, partially because it wasn't till after most folks had voted that they discovered in my comment on the post that they were 15mm. They still might not have beaten their opponent, but they sure would have garnered more votes, I feel. From that point on, I put (15mm) in the title so voters would know. Most entries in the league tend to be 28mm figs.

For their skin tone, I gave these guys a dark brown base coat followed by Iron Win Metals "Asia" drybrush. There was one final highlight of ruddy flesh. All of the tattoes were done in black first, then the chosen color painted in with the attempt to leave a thin line of black to make the color stand out. I may enter a second batch of these for Round 9...I haven't 100% decided what to paint up for that round, yet.


Round 3: Courier de Bois


I really thought these guys were going to notch me my first win. However, I found out in this round that pairings are not done by a Swiss Chess or similar format. They were done completely random, and I drew another excellent painter as an opponent. This has been a constant so far. By the end of the 4th round, I had faced the 1st place, 3rd place, 11th place and 17th place (out of 48 entrants). I did not whine about it on the forum, though (what? out of character...?). I said the politically correct things like a rookie in the league can't complain when he faces the heart of an opposing team's lineup.

I think these five figures are some of the best I've ever painted. I put in LOTS of time and work on the detail. I think they show a lot of personality -- especially the buckskin clad one on the left, and the guy in the dull red. I like the color combinations and variety of individual looks. I'm happy with the beadwork on their equipment, too. My favorite is the blue guy's ammo pouch.

Round 4: "Hungry Games" Animal Gladiators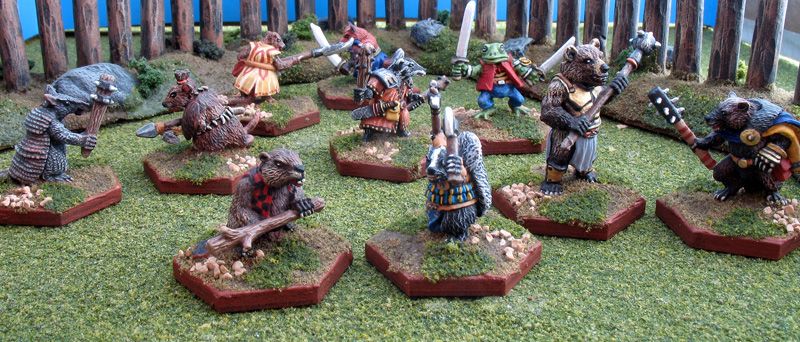 This is a taste of my next project. It is funny to think that I'm painting up figures for one project when I haven't run a single game from my current Pulp project, yet! Oh, well -- such is the life of a gamer addicted to "lead!" The idea is that each player will control a team of 1-3 gladiators in games. The miniatures are based on hex bases, so that I can differentiate facing. I'll flock and terrain larger hexes for the arena, which will be the ruined Redwall Abbey from the young adult novel of that name. The idea is that the rats win the battle, and take over the forest. They enslave the other animals and use them as gladiators for their entertainment.

As always, these Splintered Light Miniatures figures have loads of personality. I have a hard time picking out my favorite from the batch. It doesn't show up as well as in person, but the shading on the Wolverine at far right turned out awesome. So did the Badger in the middle in the dull red tunic. The jungle rat at left sparring with the Armadillo also turned out nicely. I am planning on doing another batch of these for Round 7. In fact, I just cleaned them up and will be priming them later this afternoon. I started to feel better about my performance in this round. I was matched up against the League leader, but I was getting about 40% of the votes. I was also getting a lot of praise for the figs, and someone even brought up that I'd faced a murderer's row of opponents, so far. Anyway, I have always loved this line of figures, and I like the opportunity to do something with them besides make HOTT armies out of them (which we don't play much, anymore). Thus, the new project. I also have pretty much finished a set of rules to go along with the project.
Feb. 18, 2012: Entering the Lead Painters League!
One of the reasons you haven't seen any updates here for the last month is I have decided to enter the Lead Painters League. What's that? Well, it is a painting contest on the Lead Adventurer Forum. You submit a picture of your newly-painted team of 5 figures or more and it is matched up against another person's. You accumulate points in each of the 10 rounds based on wins, losses, numbers of votes, theme bonus, etc. Check out the thread from the last contest, here.

One of the rules of the league is that all figures must be previously unpublished. That one almost nixed my entry, as EVERYTHING on this site is invalidated. However, the appeal of stacking my paint jobs up against other painters is coaxing me to enter. The effect on my Lead Legionaries site is that I won't be able to publish figures of my figures until they've competed. So, no photo updates on what I've painted until after they've had their go. However, I WILL publish a weekly link once the contest starts, in case you want to vote for or against me! Then, after that week's round is done, I'll put up my photos of them here.

As you can imagine, this is more incentive for me to get my butt painting! The rules stipulate you must submit your first three rounds' photos at the start of the contest. So, here's what I'm thinking of entering:

Round 1 (Theme Round - "Old Metal"): All figures must have been produced in 1991 or before. Luckily, I bought up a bunch at last year's Cold Wars for my pulp project. So, I'm assembling an "International Smuggling Ring" group using some old Ral Partha, Grenadier and TSR figures. They are finished as of today, except for the bases.

Round 2: Pygmy Headhunters of the South Seas. I've painted up 10 of the 15mm Splintered Light Miniatures cave imps as, well, pygmy headhunters! They turned out really campy and cool, with tattooes, decorated weapons, and "Heat Miser" hairdos. I still have to finish their bases.

Round 3: Courier de Bois. About 1/3 of the way done are five 28mm French & Indian War courier de bois. I think one is a Foundry figure, but the rest are from Conquest Miniatures.

Round 4: Senegalese Colonial Soldiers. These are intended as the muscle for the French archeological party. They're done, except for the flocking on their bases. Not the most exciting figures...probably a losing entry (heck, seeing some of the competition, ALL of my figs may be losing entries...!).

Other planned entries include 15mm Splintered Light Miniatures animals painted up as gladiators for a new project I've dreamd up. I'll paint more Conquest Miniatures native Americans, and who knows? Maybe I'll get around to painting those Arthurian British ancients that have been sitting in my closet for years! Anyway, I'd appreciate if you check out my figures once the contest begins. No complusion on voting -- but I think you'll enjoy perusing the contest threads...
For more Projects entries, check out Archive #1 - #10 below...!
| | | | | | | | |
| --- | --- | --- | --- | --- | --- | --- | --- |
| Archive 10 | Archive 8 | Archive 7 | Archive 6 | Archive 5 | Archive 4 | Archive 3 | Archive 1 |
| Jan. 2011-Sept.2011 | July-Dec. 2010 | Dec. 2009-July 2010 | June 2009-Dec. 2009 | Nov. 2008-July 2009 | Aug. 2008-Nov. 2008 | Feb. 2008-Aug. 2008 | Jan.07-Sept.07 |
| 28mm Native Ameicans | 15mm Satyrs | 15mm Old West | 15mm Thracian DBA army | 15mm camps & strongolds | 25mm Britons | 20mm modern Africa | 25mm Picts |
| 28mm Pulp | 25mm Dal Riatan Scots | 25mm Post-Holocaust | 25mm Science Fiction | 25mm Britons | 25mm Hunters | 15mm Colonials | 15mm HOTT & strongholds |
| | 15mm Old West | 15mm HOTT Fantasy | 20mm Modern Africa | 25mm terrain & buildings | 25mm Post-Apocalyptic | 25mm Peasants | 15mm Seven Years War |
| Archive 9 | 25mm Native Americans | 15mm Pecheneg DBA army | 15mm HOTT Fantasy | 25mm Science Fiction | 20mm Modern Africa | 25mm Vikings | 20mm Modern Africa |
| Aug. 2011 - May 2012 | | 15mm SLM Squirrels | 15mm SLM Fauns | 15mm Wood Elves | 25mm Iron Age broch | | 15mm Colonials |
| 28mm Native Americans | | 20mm Modern Africa | 15mm Pirates | | | Archive 2 | 15mm DBA camps |
| 15mm Egyptians | | 15mm camps & strongholds | 15mm camps & strongholds | | | Nov.07-Feb.06 | |
| 15mm Burgundians | | 15mm Colonials | 25mm Lord of the Rings | | | 15mm Fantasy Dogs | |
| 15mm Satyrs | | | | | | 25mm Vikings | |
(Click on the links above for lots more pictures and descriptions of my projects...)