HOW TO START A MOONLIGHTING BIZ in the SINGLES WORLD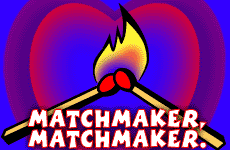 <![if !supportEmptyParas]> <![endif]>
SINGLES-related businesses can be very lucrative. Party Giving at local cafes can produce a thousand dollars every night you have your group meet. Private Matchmaking is $1,000 for every male client you sign up. SINGLES SEMINARS teach the RUTHLESS RULES OF LOVE in church basements or living rooms, or hotel convention rooms when they get the attendance.. They rake in the big dough as the 18-40 single age woman will spend for this info! Big market sector! They're easy businesses to do, no cash outlay, no equipment except a digital camera for the gal's photos and maybe a 'do it yourself website,' like those I do. I teach you in detail how to do all of the above and do so free at  LUCK IN LOVE DOT COM   and how to do the web tech at WEBTECH SEMINAR. And voila, in a few hours a week, you end up earning many thousands of dollars.
<![if !supportEmptyParas]> <![endif]>
How can so little work pay so much money? The main reason is that the passions beating in the hearts of the 18-40 single female make it a big, high spending market segment, a lively group, ready to put the dollar on the line to find true love. In California, the fine weather and proclivity for eating salad and tofu and nuts and raw fruits makes the season of adolescence last way longer. The clients for the love market are hot until age sixty! Especially the men. So it's a big, passionate, urgent market sector! In New York and other chillier cities, or places where seniors eat bacon and dry up, you find a more conservative set, so all the posters and ads must be very conservatively worded and 'toney' in style. A pal of mine started one group "Sophisticated Ladies and Younger men," and  in California, that worked bigtime. Doubt it would work in any other cities. "VEGAN Singles" or "NEW AGE SINGLES" with a REJUVENATION DIET lecturer at the party. (Holistic doctors do it for free to get biz.

Your 'preparation' AGENDA might be to start small, build slowly, gaining a super NAME LIST with extensive shaking hands, introducing yourself and networking. At your own parties and having a guest book sign in! Get EMAILS as you can build without cost that way for years. No mail outs. But I know first hand that you cannot sally forth into the world without something you are PEDDLING ! There's nothing to talk about! So Do the easiest business first. Create a singles party done once a month at a local café!

When you see how easy it is to bring in fifty to seventy people to a singles party…… half of whom (THE MALES) pay a hefty l0$ to come to the party, you are building mailing lists, email lists. You are a matchmaker
Your life will change at this point. You are going to become the DUTCH UNCLE to a lot of demented GIRLS who need your advice. They will be your stock in trade, the more beautiful, the better. The more money you make. The more good you can do for the planet. You are going to get these beauties into DOING CHARITY for DARFUR, for the CLOONEY ORG, for BIAFRA. Or create your own charity which is easier than you think, raise money, salary yourself 36k a year.  In fact, right now, besides a SINGLES business, do that yourself.
<![if !supportEmptyParas]> <![endif]>
When you are matchmaking, you do single women a huge favor. You will be introducing them to the most upscale men in town, CEOS who pay you 1k for ten dates with ten different women. (By the way, you need a digital camera to make a good headshot photo of each girl) These you show to  your male clients who are men with power, connections and clout. And you find ten girls for them, they will marry one of them. And you'll be going to their Christmas parties for years to come!
<![if !supportEmptyParas]> <![endif]>
Stage two: The more men are out there raving about your service, saying that they met their wife through you, the more upscale CEO clients you will get. Next, make a separate list of the beautiful girls with whom you have a rapport. Enough of this 'SINGLES PARTIES" stuff,' Now, you will create a MATCHMAKING service for well heeled single men to find wives.
<![if !supportEmptyParas]> <![endif]>
MATCHMAKING will be lucrative. The girls do not pay. Men do. You see, CEO's work til l0 pm. go home to have a martini and relax ... alone. They don't have a time or place or way to meet intelligent, gracious, beautiful women. So that's where the MATCHMAKER comes in. Benni Dionne, NEW YORK CITY's best matchmaker, charges $1,000 to provide the busy executive with 10 dates of the male client's choice. They are chosen from digital photographs. Other matchmakers in the field charge $1,200 for a year's worth of dates. I've heard of prices of up to 25, so don't worry. This is still bon marche!
<![if !supportEmptyParas]> <![endif]>
Benni finds these beautiful girls by partying around NEW YORK, eating out a lot, and going to gyms, health food stores where she spots thousands of beauties. She's outgoing, goes right up the girl and tells them what she does, how she could get them dates, and how all she needed was a digital head shot, a portrait. She soon collected thousands of digital photos with phones, bios, preferences…. I wish that she'd make a website to train them first, as I DID.  As women seem to cling to barhoppin' hotties, the Keith Urban type, and just don't have the cash or clout to put 'em in REHAB so they end up having kids fatherless with huge custody battles.
If you understand the black woman, there's a whole area of enterprise.  Black men are lively, social, all of 'em hotties & have no trouble finding their own women, by the dozen, sequential monogamies, pashas all. Smart Black girls are wary frequently want a white husband. Nowadays, that can happen.  Each SINGLES TYCOON has to feel her way through the Asian, Black, White question and determine what works. I know from watching Benni at work, that BEAUTY works, SLIM works. YOUTH works. Those girls get married regardless of their skin color.
<![if !supportEmptyParas]> <![endif]>
Benni is basically working with rich square men who want dates. They are not always old and rich. Some are  young, but some what square. These fellows are shy at times, can't attract beautiful women or initiate friendships as they  are very soignée, Patrician and picking up girls isn't cool in their world. Others are rich, old, shy, uptight and stuffy so they will not pick up girls at country western bars. Or even at HOTEL BARS. Especially not THERE! Benni is their dream.
<![if !supportEmptyParas]> <![endif]>
They like the way Benni has the girl meet him at the RITZ or PARK AVENUE Chic cafes, in the bar area, for a pre-dinner drink. Benni's POWERS of persuasion are also called into play when she has to talk the beauteous gals into this date --saying' he's a doctor, he's kind, he's well mannered, etc." and then, when that doesn't work, "he's worth ten million, you dumb sap. You could do an OPRAH and become a charity doyenne and change the world. You sleep with that cocker spaniel of yours, how hard is it to have TEN MILLION lying next to the dog!"
<![if !supportEmptyParas]> <![endif]>
So think of SINGLES PARTIES as a ladder, parties that provides you with thousands of clients for the MATCHMAKING.
<![if !supportEmptyParas]> <![endif]>
Benni Dionne makes a second living from trainings, seminars. She gave a few lectures at the LEARNING ANNEX, on "HOW TO MARRY A MILLIONAIRE" but she didn't go and do ROMANCE WORKSHOPS AND SEMINARS. (I would have but she's not me.) But I watched another person, the male 'producer' or 'handler'  of Dr. Pat Allen do that. He ran her church basement group for a year, then got her a radio show, a top publisher for her book "GETTING TO I DO". (Buy it used at abebooks.com) And those church basement groups continue ten or twenty years later and the money still rolls in from all those enterprises built about teaching the RUTHLESS RULES.
<![if !supportEmptyParas]> <![endif]>
If you want to start a group like it, finding a good female family therapist or better, a Jungian psychologist is the starter kit for this business.  Jungian  is a deeply philosophic head trip and rather sexist but it is a school of psychiatry and it was started by Carl Jung. They believe in macho men and feminine gals. You will have your work cut out for you to find one in a small town. A few Jungians exist in NYC, L.A. Because of the appelitive JUNGIAN, THEY 'takes' themselves real seriously. They often are full out SHRINKS, and won't do this kind of low rent seminar.  MAYBE if you're lucky you'll find one who will….but not to worry, among the family psychologists in your town, many are unconsciously JUNGIANS. They are not WOMAN's libbers. They believe in love and marriage. Babies!
<![if !supportEmptyParas]> <![endif]>
STARTING with parties, mailing lists, email only, no expenses….and matchmaking is a smart thing as it moves crowds of people thru your doors, they get to know you, trust you. When you are ready to have your first LOVE GURU SEMINAR, they'll all show up! I noted that Dr. Pat had l0 men to 100 women. I couldn't figure out what the guys were doing there as the work was pointed at women. NOW, matchmaking well, that is the dark side.....as it's a meat market. On some subtle levels. YOU HAVE portrait PHOTOS ---digital photos of gorgeous gals, you show them to the guys, there may be a bio. "I love St Bart's, sunsets on the terrace with margaritas, I love Tarantino movies.. (Never ask a girl to reveal actors she hankers for ever) "Vacations at a lake with trout". And from such fragile hints, guys actually pick a woman from the field. (Use that trout line, it really works on CEO's)
<![if !supportEmptyParas]> <![endif]>
Benni gets her scrapbook all fixed, then she goes to the Guy, He picks ten. Benni then goes to the gal, then, shows HIS PICTURE and sees if the girl still wants the date.
<![if !supportEmptyParas]> <![endif]>
It's a dinner date. NOW my way of doing it would be 3 lunch dates before dinner. But I am not in this biz and i never give her my ideas. She wouldn't see the value in this but I like the slow approach. THREE LUNCH DATES where the guy is courtly, smart, witty. I don't care how OLD he is, a woman can fall in love! DINNER dates frankly scare women. It's like a transaction.
<![if !supportEmptyParas]> <![endif]>
So as quick as you can find your shrink, do the SEMINAR. I saw Dr Pat Allen's seminars, workshops whatever. She didn't call them anything by the way. I call them SUCCESS IN LOVE seminar or RUTHLESS RULES OF ROMANCE TRAINING. Or LOVEAHOLICS ANONYMOUS. Names are important. The catchier they are, the more people remember to remember you….after they first hear your group spoken of.   You will deliver a product of worth. I can vouch for the fact SUCCESS IN LOVE SEMINARS would be useful to any girl with dating problems. I know, as a onetime college genius, at a college that took straight A's, -- how STUPID even the so-called smart girl can be when it comes to love.
<![if !supportEmptyParas]> <![endif]>
I know firsthand how much help gals need. And what huge mistakes they can make WITHOUT that help. That's how I wrote 150 classrooms for the LUCK IN LOVE website!.
<![if !supportEmptyParas]> <![endif]>
I know that if you do the teaching, the group work, matchmaking, seminars and parties for a while, you're ready to court the radio stations and produce a local radio show with your LOVE GURU getting made into a media star. AND THAT is a million dollar business. (Rent the DOLLY PARTON JAMES WOODS movie so that you can see how almost any gal can take like a duck to radio!)

THEN, do the BOOK. YOU need an original concept. "HE's JUST NOT THAT INTO  YOU" book was an original concept and one that I feel is truthful and hard hitting. You can lead a man to water but you can't make him drink. Men do back off of relationships with beautiful girls if they're just not that into you. There's no telling what spooks him but you can't change it. The book told the truth and was a big hit. Oprah had the writer on the air, a blonde guy, staff writer at SEX AND THE CITY. Then they did a movie with Drew Barrymore based on it.

Your shrink can write it, she probably tapes or types.  If you can't edit, I can edit. My specialty is writing, making things very readable….. You get the NATIONAL LITERARY MARKETPLACE at the local library, get names and addresses of agents in NYC. By that time, your SHRINK will have Oprah wanting to put you on the show, know you, you'd have a book and a million bucks. Say, what city are you in? Cuz only a big city would support a growth plan like this! Write me at astrology at earth link dot net

NOW, if you fancy being the "love guru", yourself, you should go for a psych degree during yrs you do this. What you earn in MATCHMAKING will pay tuition, books. By the time you've got a radio show, and a million bucks from the business, you also have a PHD.....and can do love therapy yourself at $150 an hour. Marriage counseling and all.
<![if !supportLineBreakNewLine]>
<![endif]>
You have to get the great books on love, marriage, family life, ROMANCE and HUMAN RELATIONSHIPS: "Getting the Love You want" by Dr Harville Hendrix. (Oprah's love guy before PHIL) "Getting to I DO" by Dr. Pat Allen. "THE RULES." Unknown author. Videos etc, books by Dr. Barbara De Angelis, Harville Hendrix, Dr. Laura Schlesinger's books, the Men are from Mars, Women are from VENUS books.and anything by Dr. Phil., and oh yes, Dr. Irene Kassorla if you can find them used on ABE BOOKS. HOW TO USE ABES * my secrets on getting books for pennies.. BTW, after you read in this field, I would love feedback on other titles so that I can add them here. Anita
<![if !supportEmptyParas]> <![endif]>
I AM INTERESTED, TEACH ME HOW TO MAKE THE BIG MONEY DOING THIS
<![if !supportEmptyParas]> <![endif]>
BACK TO THE GUERILLA CAPITALISM IDEAS FOR COTTAGE INDUSTRIES WEBSITE
<![if !supportEmptyParas]> <![endif]>
BACK TO THE LUCK IN LOVE WEBSITE