New for June 2013

Paying for It -

softcover edition




The Playboy

-

new, reformatted, revised & updated edition


by Chester Brown


The Playboy

and

Paying for It

are, finally, simultaneously in print. Out of print for many years,

The Playboy

, which first appeared in 1990 in the pages of
Yummy Fur
#21-23, has now been reissued in a reformatted softcover to coincide with the release of the softcover edition of

Paying for It

. This new release of

The Playboy

includes twenty pages of notes prepared especially for this edition; the softcover edition of

Paying for It

is also updated, with ten pages of new notes not included in the hardcover that deal primarily with reactions to and receptions of its initial hardcover publication. It is the Official Copacetic Position™ that it is not possible to fully appreciate

Paying for It

without reading

The Playboy

as well. So, for those interested in delving into the relationship between consumer culture and sexual practices, these two volumes offer as close up and personal a look as any we've ever seen. Chester Brown is a gifted and forthright cartoonist who has been as forthright in presenting his personal life as any other cartoonist.


Paying for It -
re
tail price - $19.95
copacetic price - $17.77
The Playboy -
re
tail price - $16.95
copacetic price - $14.44
Supermag
by Jim Rugg
Supermag is a 56 page full color (with some black & white, where called for) magazine, saddle-stapled to a heavy duty glossy cardstock wraparound cover. It boldly sports endorsement quotes on the front cover as well as back – by a wide-ranging mix including an art director, a publisher, a comics artist and
a couple of designers,
that points to the equally wide-ranging variety of works contained therein – in such a way that their appearance is organically incorporated into the cover's design in the manner in which readers normally expect to see a magazine's contents displayed. This bold assertion of the work's quality in place of the normative listing of its contents brings to mind Norman Mailer's landmark collection,

Advertisements for Myself

, which, like

Supermag

, is a miscellany showing off the author's creative strengths, also published at a similar point in his career.

Supermag

contains comics, illustrations, poster and cover reproductions which taken together demonstrate a startling mastery of styles and skill sets. The majority of the work has been previously published in books, magazines and comics ranging from micro small press to mega mainstream media. There are several never-before-published works included as well making this a must for even those rabid Rugg completists who have managed to get their hands on the rest. There's something for everyone here, and for some, everything.

re
tail price - $9.95
copacetic price - $8.88


NoBrow #8
by various
Another amazing 2-in-1 volume of comics and illustration. This time around the theme is hysteria and it's the biggest issue yet (a sign of the times?) It is another sumptuously designed and printed volume in which each page is a pleasure. Featuring covers by Max and Karine Bernadou, comics by – among others – Luke Pearson, Dustin Harbin, Jose Domingo, Philippa Rice, Zack Soto and the aforementioned Ms. Bernadou, and illustrations by Rebecca Dart, Sam Chivers, Kenard Pak, Jim Rugg, and many, many others, this is a book to savor one page at a time. Feast your eyes on these pics of a few select spreads.

re
tail price - $24.95
copacetic price - $22.22
Mere


by C.F.
Surprise! A new C.F. from PictureBox.

Mere

collects nine zines and a NYTimes piece, all from 2012. In black and white and full color, printed on a variety of color paper stocks!

re
tail price - $19.95
copacetic price - $17.77



Sky in Stereo #2


by Mardou
The second issue in this captivating series about navigating the mixed-up years of late adolescence as they segue into early adulthood has arrived. As we have written previously, Mardou has the rare gift of making pen and ink people come alive on the page. Her stories turn the pockets of days inside out and dig through the detritus to search for their emotional content, which she then arranges, just so.
Knowing just which moments to share, and when and where to place them in the narrative,
her deceptively simple and straightforward representations
capture key moments on the page, connecting them with the readers' own reality through shared actions and environments. This 48 page issue can be considered the "title track" of the series, revealing the sky in stereo for all to see and, in imagination, hear, in a trick of sound and vision made possible through the magic of comics.
re
tail price - $6.00
copacetic price - $5.40



Copra #7
by Michel FIffe
This issue features "Personal Files." Fiffe states that this is a story he has "been meaning to do... since the first issue. A quieter, reflective beat in the middle of chaos."

re
tail price - $5.00
copacetic price - $4.50



The Hic & Hoc Illustrated Journal of Humor, Volume One: The United States


edited by Lauren Barnett & Nathan Bulmer
This perfectbound sixty page anthology of fun comics includes the work of many great independent cartoonists, delivering laughs in the form of shorts strips of one to four pages in length. Starting off with an amazing cover by the ever versatile Joseph Lambert, the pages within reveal the work of Noah Van Sciver, Anne Edmond, Dustin Harbin, Jane Mai, Sam Spina, Sam Henderson, Box Brown, Juli Wertz, Matt Weigle, as well as by editors Barnett and Bulmer – and

plenty

more!

re
tail price - $10.00
copacetic price - $9.00



Blammo #8


by Noah Van Sciver
It was a long time coming, but

Blammo #8

is worth the wait. This issue packs a lot into its 44 pages. It feels like there's not a square centimeter wasted. Opening the cover we start things off with a letters page and then an intro short, "Dog on Wheels.' "Expectations" follows; an eleven page slice of life drama with a twist. Things get crazy for the next for pages, in "Charles the Chicken Gets Tough!" A nine page funnies fable, "The Wolf and the Fox" leads into "She's Losing It," another fable of sorts... the violent sort. Which brings us to "Punks v. Lizards" a celebration of comic book violence, Van Sciver style. A double page downer, "Dive Into That Black River," is quickly followed by a 1/2-page guest comic by Matthew Thurber, a couple more mini "Dog on Wheels" strips and then the author roundup/plug page, and then the book closes on a meta-one-pager about

Blammo

readers (sort of). Yes, you get a lot for your fiver in

Blammo

!

re
tail price - $5.00
copacetic price - $4.50

We Will Remain
by Andrew White
The most formally ambitious issue yet in the Retrofit Comics series published by Box Brown, Andrew White's

We Will Remain

contains five shorts works which together serve to showcase White's native abilities as well as demonstrating that he has absorbed some of the key lessons of Frank Santoro's comics correspondence course. Recommended for those who appreciate the work of David Mazzucchelli and Dash Shaw, as well as Santoro,

We WIll Remain

starts off with a dramatic shift from the micro to the macro as the small scale personal work "The Deep End" gives way to the cosmic conundrum of "Travel" before heading into a trio of formal experiments, "As Leaves Change Color", "Out of Focus" and "We Will Remain", all of which deal with the challenge of connecting personal memory to impersonal place through the mediation of a historical consciousness forged in unique combinations of words and pictures.

re
tail price - $6.00
copacetic price - $5.40



Grixly 25
by Nate McDonough
This time out, Mr. McDonough gives us a single, book-length tale, the story of... Hamster Man!

re
tail price - $2.00
copacetic price - $2.00
The Strange Tale of Panorama Island
by Suehiro Maruo
Much delayed, but now at last released here in the USA,

The Strange Tale of Panorama Island

is an adaptation of a novella by Edogawa Rampo (actually a

nom de plume

of Hirai Taro, and a rough transliteration of the Japanese pronunciation of Edgar Allan Poe) – widely considered the godfather of Japanese detective fiction – that runs to 272 pages. It was originally serialized in Japanese in

Comic Beam

from 2007 to 2008, and so, despite its delay, is relatively fresh. This edition presents a translation by Ryan Sands and Kyoko Nitta in a book beautifully designed by Evan Hayden - who also provided the English lettering. Maruo and Rampo's

Panorama Island

is a morbid mashup of Poe's "Masque of the Red Death" and "The Fall of the House of Usher" as filtered through his "Murders of the Rue Morge" and Fellini's

Toby Dammit

(which, intriguingly, is itself an adaptation of Poe's "Never Bet the Devil Your Head") as well as

Satyricon

and

Roma,

blending all together in a creepily lush ode to decadence. In these pages, death is the alchemical key that transforms fiction into fact. Maruo's spectacular artwork is well suited for this period piece set immediately after the close of the Taisho era in late 1920s Japan
involving a wealthy industrialist, death, impersonation, hedonism and, above all, secrets and mysteries – Suehiro Maruo's forte.
Strong Art Deco derived design elements mix with elaborate compositions which finally culminate in a tour de force presentation of the realized dream of the titular Panorama Island.

re
tail price - $24.95
copacetic price - $23.75


Good Dog


by Graham Chaffee
A nostalgic tale of days gone by (early/mid-1950s, by our reckoning), told through the eyes of a dog might sound like a risky proposition, liable to veer off the rails into rank sentimentality at the slightest emotional lurch, but we are here to tell you that Mr. Chaffee totally pulls it off.

Good Dog

is a rare treat, a thoroughly enjoyable read from cover to cover. Great characters – canine and human – in an appealing industrial town setting and rollicking adventure combine to create a classic tale with more than one moral. And this full size, hardcover volume is a deal to boot!
The story and art are universal in their appeal and fully capable of holding the interest and attention of younger readers, but there are more than a few hearty expletives that make an appearance in these pages that will render it unfit for the children's area of the library and must be taken into account before placing this book in the hands of any delicate readers. Regardless, recommended!
re
tail price - $16.95
copacetic price - $15.00

Today Is the Last Day of the Rest of Your Life
by Ulli Lust
A massive 450 page graphic novel from Germany written and drawn by a 40-something Austrian. The recipient of several major European awards, including the Revelation Award at the 2011 Angoulême Festival, Today Is the Last Day was originally published as

Heute Ist Der Letzte Tag Vom Rest Dienes Leben

by Avant-Verlag, Berlin, Germany in 2009. It is presented here in an edition edited and translated by - surprise! - Kim Thompson (who else?). Set in 1984, Ulli Lust's tale chronicles the eventful journey the then 17 year-old author takes with her best friend from her home in Vienna to the island of Sicily. Sex & drugs & rock 'n' roll and more are here for the reader's enjoyment. Take a moment to savor this generous PDF preview provided by Fantagraphics. This work has accumulated much critical acclaim in Europe, but we'll leave you with this quote from someone whose opinion we know you'll respect:

"Ulli Lust really nails my favorite part of storytelling. Bumming cigarettes, learning how to hitchhike – the small details that create great character."

– Jaime Hernandez

re
tail price - $34.95
copacetic price - $29.75

Bazooka Joe and His Gang: 60th Anniversary Collection
by The Topps Company, Inc.
Featuring a preface by Talley Morse, an introduction by Nancy Morse and Kirk Taylor, essays by Len Brown, R. Sikoryak, and Bhob Stewart, and an afterword by Jay Lynch,

Bazooka Joe and his Gang

is a celebration of 60 years of chewing gum fun that fills 220 pages with fabulous full color reproductions selected by ace Bazooka Joe collector, Jeff Shepherd from his own collection. Includes a bonus package containing trading card format reproductions of the first four Bazooka Joe comics; the first time these comics have been reprinted in sixty years!

re
tail price - $19.95
copacetic price - $17.77
Barnaby, Volume 1
by Crockett Johnson
Many years in the making, the first volume of what has been called, by no less an authority than Chris Ware, "the last great comic strip" that has yet to be collected is at last available. Every effort has been made to produce an edition that is worthy of the material it presents. This splendiferous volume – designed by Daniel Clowes, no less – starts off with a rhapsodic foreword by Chris Ware that is followed by an introductory essay by Jeet Heer that leads into 270 pages of impeccably reproduced Crockett Johnson art representing the first 20 months of Barnaby that originally ran from 20 April 1942 through the end of 1943 (and you can check out the first 20 pages in this PDF preview). This is then followed by a 35 page appendix written and assembled by Philip Nel, that begins with an afterword by Nel detailing the origin of Barnaby and which includes "A Mash Note to Crockett Johnson" by Dorothy Parker among other contemporaneous appreciations, photos and illustrations. Bravo!

re
tail price - $34.95
copacetic price - $29.75





Occupy Comics #1


by Alan Moore, Joshua Fialkov, Joseph Infurnari, David Lloyd, J.M. DeMatteis and many others
This is a fairly engaging comic book. It opens up with a six page piece about the 1892 Homestead Strike (here in Pittsburgh, for those of you not old enough to remember...) and also includes the first ten pages of a very interesting illustrated essay by Alan Moore about the inherent counter-cultural aspects of comics that is continued in the soon to be released second issue. Thie inside front cover states, "All profits past hard costs will be donated to Occupy protesters."

re
tail price - $3.50
copacetic price - $3.50



Apex Treasury of Underground Comics / Best of Bijou


edited by Don Donahue and Susan Goodrick


Warehouse find!

We just got our hands on some copies of this looong out-of-print, 30+ year-old edition of the definitive underground comics collection: the 2-in-1 volume containing

The Apex Treasury of Underground Comics

backed

with The Best of Bijou Funnies

. 352 pages of classic undergrounds by R. Crumb, Justin Green, Art Spiegelman, Spain, and many, many more! While these copies are over thirty years old, they are new, uncirculated copies, straight out of the box. There is no better introduction to the classic era (1965-1975) of underground comics.
While supplies last... Take a minute and check out

this detailed listing of the entire contents

, courtesy of the Grand Comics Database (

GCD

) and you'll see why we're so excited to have this one back in stock.
copacetic price - $23.75
SUMMER READS




Daily Rituals


by Mason Currey
Read about it here: http://online.wsj.com/article/SB10001424127887323978104578333021972684466.html

re
tail price - $
24.95
copacetic price - $22.75



Pacific


by Tom Drury
Read about here: http://www.nytimes.com/2013/05/19/books/review/tom-drurys-pacific.html

re
tail price - $
25.00
copacetic price - $22.75
Let's Explore Diabetes with Owls

by David Sedaris
It's the new David Sedaris, so you probably don't need to know anything else, but you can read more about it, here:
http://www.guardian.co.uk/books/2013/apr/27/explore-diabetes-owls-david-sedaris

re
tail price - $
25.99
copacetic price - $23.35
David Foster Wallace: The Last Interview


Contains DFW's last interview, along with five others.
Read about it here: http://quarterlyconversation.com/david-foster-wallace-the-last-interview

re
tail price - $
15.95
copacetic price - $14.75




The Other Typist


by Suzanne Rindell
This one has already generated 266 reader reviews on goodreads.com in the first month of its release, so it certainly has people talking...
Read more: http://www.goodreads.com/book/show/16158600-the-other-typist

re
tail price - $25.95
copacetic price - $23.35



The Ocean at the End of the Lane: A Novel


by Neil Gaiman

Read more about it here: http://www.csmonitor.com/Books/Book-Reviews/2013/0617/The-Ocean-at-the-End-of-the-Lane-Neil-Gaiman-garners-mostly-positive-reviews

re
tail price - $
25.99
copacetic price - $23.35



Ways of Going Home


by Alejandro Zambra
Read more about it here: http://www.nytimes.com/2013/03/31/books/review/ways-of-going-home-by-alejandro-zambra.html?pagewanted=all&_r=0

re
tail price - $
23.00
copacetic price - $20.00



Who Owns the Future


by Jaron Lanier
Read more about it here: http://www.guardian.co.uk/books/2013/feb/27/who-owns-future-lanier-review

re
tail price - $
28.00
copacetic price - $25.00
Items from our June 2013 listings may now be purchased online at our eComerce site,
HERE.
New for May 2013
Marble Season
by Gilbert Hernandez
What's this? Another new graphic novel by Gilbert Hernandez, a mere month after

Julio's Day

? Believe it or not, yes! Billed as a "semi-autobiographical" tale,

Marble Season

takes readers back to the 1960s for a look at a pop culture immersed California childhood based in part – or at least strongly informed by – Beto's (and, of course, that of his siblings) tender years. Pop tunes on radio and record, TV shows, and, of course, comic books are here, along with neighborhood kids and their marbles. This book is also notable in being the first book by either Hernandez hermano published by D & Q (although it is not the first to be released by a Canadian publisher, that honor going to the first four issues of

Mr. X

, published, and then collected, by Vortex, nearly thirty years ago). In creating

Marble Season

, Gilbert has worked with subtlety and care to capture a wide spectrum of childhood dynamics: how one interaction leads to another, often seemingly unrelated, which in turn leads to another in a haphazard fashion to which there is no apparent rhyme nor reason, yet which irrevocably forms the adult the child grows into. While

Marble Season

is very much a boys' tale,
there are plenty of girls in evidence, and
even as there is no denying that the girls of

Marble Season

are seen primarily in their relation to boys,
Gilbert is a master of feminine nuance, and in his revelatory lines on paper, as much significance can be conveyed in a girl's
fleeting
glance as in a boy's
epic
battle.

re
tail price - $21.99
copacetic price - $19.75

The Big Feminist But: Comics About Women, Men and the Ifs, Ands & Buts of Feminism
edited by Shannon O'Leary and Joan Reilly
This is a comics anthology that quite successfully marries
education and entertainment in the nearly three dozen pieces – all original! – conveyed by its one hundred and ninety-six 8" x 11" pages. Each of the stories in this volume address the issue of feminism from its own unique perspective, providing the reader with a well-rounded view that is by turns incisive and kaleidoscopic. There are some really great comics here by many a Copacetic fave, including Gabrielle Bell, Sarah Oleksyk, Jeffrey Brown, Corinne Mucha, Ron Rege (who is working here in his new "utopian" manner), Justin Hall, Jesse Reklaw and Andrice Arp, as well as surprising new discoveries such as Virginia Paine, Shaenon Garrity, Ulli Lust & Kai Pfeiffer. Co-editor Joan Reilly gave a presentation at

Drawing Power

here in Pittsburgh, so anyone whose interest was piqued but was unable to pick up a copy at the time, may do so now.
re
tail price - $20.00
copacetic price - $17.77



Redbird #2


by Dan Zettwoch
Wow, talk about a long time coming! Who would have guessed when

Redbird

#1 was published way back in 2006 (?) that we would still be waiting for the second issue nearly seven years later? Well, the wait is over at long last, and we're here to tell you that

Redbird

#2 is another one-of-a-kind hand-crafted comic book that delivers the patented Zettwoch Experience™. As the cover states, this is a "Midsouthwest Travelogue" featuring bridges, chicken, museums and more. It details a trip taken by Dan and his wife, in which they delve deep into the Americana of the midsouthwest. There's no point in wasting time trying to describe all that awaits in

Redbird

#2, as the quanitity available is quite limited, requiring all interested in so doing to make haste to insure the procurement of this handmade wonder.

re
tail price - $
3.00
copacetic price - $3.00



Ready to Die - CD


by Iggy and the Stooges
Miraculously, after two decades of less than stellar recordings, Iggy has managed a return to form here on this album, produced at age 65 and released close on the heels of his 66th birthday. This is doubtless due in no small measure to the return of James Williamson on the heels of the multi-year reunion of Iggy with the (almost) original Stooges line-up. The presence of the Ron and Scott Asheton was not enough to save

The Weirdness

. Ready to Die is another story, however. Backed by James Williamson on multiple-tracked guitars, Scott Asheton on Drums, Mike Watt on Bass and Steve Mackay on Sax (of which there is plenty) as well as a number of guest appearances, including one by Scott Thurston, Iggy delivers up his best new material

and

performances in over two decades on this ten track album. Anyone so inclined can check out the recent live performance courtesy of NPR (The Stooges and NPR? Who knew?)

copacetic price - $12.97





David Bowie Is: The V & A Museum Exhibition Catalogue


by Camille Paglia, Jon Savage, et al
Hardcore Bowie fans will get a lot of mileage out of this massive hardcover exhibition catalogue of the exhibit currently on display at London's Victoria & Albert Museum. Fashionistas too may rejoice in the startling breadth of Bowie's concert costumes. Of interest to any and all students of late twentieth century culture will be the excellent essays that are interspersed throughout the luxurious display Bowiana, most notably that by Camille Paglia. In Ms. Paglia Bowie has found an intellect that is not only equal to the task of unpacking the multilevelled – and multi-valent – complexities of his work, but also
possessed of the requisite cultural sophistication to assign each to it's proper place and context in the history of art and culture, and correctly connect him to his influences, precursors and acolytes.

The NY Times

offers a brief video tour / interview with the exhibition's co-curator Victoria Broackes that can be accessed from this review of the exhibit.
re
tail price - $
55.00
copacetic price - $48.75





Copra #6


by Michel Fiffe
The latest issue of the full color comic book written, drawn and published

monthly

by the amazing Mr. Fiffe is now on the new arrivals table!

re
tail price - $
5.00
copacetic price - $5.00
Donald Duck: The Old Castle's Secret & Other Tales
by Carl Barks
What more can be said about the genius of Carl Barks? It towers over the landscape of comics history like the statue of Duckburg's founder, Cornelius Coot (erected by Uncle Scrooge in "Statuesque Spendthrifts" from
Walt Disney's Comics and Stories

#138; collected in A Christmas for Shacktown),
towers over that fair city. The title tale of this latest volume in the 15 year project to collect the entirety of Barks's Disney oeuvre, "The Old Castle's Secret" is a classic book-length tale of eerie mystery that was originally presented in

Four Color

#189, published in the summer of 1948, that provides the first fleshed out iteration of Uncle Scrooge (get a headstart on this tale by checking out this 20 page PDF preview). Also on hand in this volume is the equally classic "Sheriff of Bullet Valley" from

Four Color

#199 along with eleven

Walt Disney Comics and Stories

ten-pagers, each and every one a gem. In addition, this volume is especially noteworthy for including the first

ever

English language reprint of the

original

1948 version of "Darkest Africa" which was published as the twentieth issue in the
"giveaway"
series,

March of Comics

. Only the 1982 version, redrawn by Dutch artists Daan Jippes and Dick Vlottes, that had been altered at the request of American editors to tone down the degree of racial caricature present in the original has seen print in the intervening 65 years. While present in only a handful of panels, the images of African natives that are on display here are harshly stereotypical and will doubtless be offensive to many – especially those of the cannibals, that, mercifully, appear in only two panels. That said, as always in the highly moral Barksian universe, the narrative portrayal of these same African natives shows them in a relatively positive light. Barks shows one group of natives sending news via the "jungle telegraph" of the talking drums
, providing long distance communication that would otherwise be unavailable to Donald and his nephews
(preceding
James Gleick's characterization of the talking drums as
the oldest form of telecommunication in
his latest book,
The Information

, by over six decades)
. Even the frightening cannibals are merely pawns in the evil machinations of the villainous Professor McFiendy, a character that Barks uses to demonstrate the illusory nature of the respectability conferred merely by education and position, showing here – as he has elsewhere – that such "respectability" in no way assures behavior deserved of the respect supposedly so conferred; a corollary in the true moral of the tale, which is that real respect can only be earned by responsible behavior.

re
tail price - $28.99
copacetic price - $25.00



Nexus Omnibus, Volume 2


by Steve Rude and Mike Baron
This 424 page full color softcover collects the entirety of 14 consecutive issues – #12 - #25 – of the one and only Nexus, arguably the best classic science fiction heroic fantasy comic book series of the last thirty years. These are the issues where the Nexus backstory is built up and up-to-then-secret origin is revealed. Also introduced in these pages are General Loomis and his daughters, who came to be known as the Loomis sisters and went on to play a large part in the long running Nexus saga, which continues to this day. With one or two exceptions, all the Nexus stories are pencilled by Rude, who is relaly on a roll here. Also included are the numerous "Tales of Clonezone" back-up short stories scripted by Baron, most of which have art by Mark Nelson. Anyone who enjoys heroic fantasy, should give Nexus a try, and these value priced omnibus editions are the best way to do so.

re
tail price - $24.99
copacetic price - $22.22




Peter Bagge's Other Stuff


by Peter Bagge, Daniel Clowes, Robert Crumb, Adrian Tomine, et al
Long suffering Pete Bagge fans who pine for the good ol' pre-Libertarian days of Mr. Bagge's deeply incisive satirical wit can put away their handkerchiefs and weep no more as this collection delivers all the difficult-to-get-a-hold-of odds-n-sods in one tidy package! Be sure to take a gander at this healthy PDF preview that includes the table of contents, so you can know exactly what you're getting here.

re
tail price - $19.99
copacetic price - $17.77




'Taint the Meat... It's the Humanity! and Other Stories


by Jack Davis and Al Feldstein
Here they are every single one Jack Davis classic from the incomparably influential EC series Tales from the Crypt. 24 in all! Also included are two afterwords, by Ted White and S.C. Ringgenberg. No need to wait, you can dig right in with this musty 26-page PDF preview!

re
tail price - $28.99
copacetic price - $25.00
50 Girls 50 and Other Stories
by Al Williamson, Frank Frazetta, Roy G. Krenkel, Angelo Torres and Al Feldstein
More EC classics are on hand here, with 34 classic tales by Al WIlliamson, with a little help from his friends, Frank Frazetta, Roy G Krenkel, and Angelo Torres. A strong majority of these are science fiction stories from the classic series

Weird Fantasy, Weird Science

and their offspring,

Weird Science-Fantasy

(as well as one from the post-code

Incredible Science Fiction

) - among them three adaptations of Ray Bradbury stories, including the classic "I, Rocket" – but also included in their number are a handful of equally classic crime and horror masterpieces from

Shock SuspenStories, Crime SuspenStories, Tales form the Crypt

and

Vault of Horror

as well. Copious bonus material is on hand as well. Jump on board and take off now with this 22-page PDF preview.

re
tail price - $28.99
copacetic price - $25.00





Year One


by Ramsey Beyer


Year One

's 130 pages provide a series of vignettes that illustrate the story of her first year as a Philadelphian. It is a tale of making comics, watching movies, drinking coffee, driving, making long distance calls, and making new friends.

re
tail price - $
14.00
copacetic price - $12.00





You're All Just Jealous of My Jetpack


by Tom Gauld
This horizontally formatted hardcover collects several years worth of Tom Gauld's weekly strip from

The Guardian UK

. Clean, crisp lines deliver understated humor, part Edward Gorey, part Jason; plenty of fun, in a droll sort of way... Can't quite picture it? No worries; just check out these five preview strips and then you will be in the know.

re
tail price - $
19.95
copacetic price - $17.77




Hilda and the Bird Parade


by Luke Pearson
This deluxe oversize hardcover volume is the latest installment of the Hildafolk series, the hoped for follow up to the highly praised

Hilda and the Midnight Giant

.

re
tail price - $24.00
copacetic price - $19.95



Science Fiction
by Joe Ollmann
Will wonders never cease? Already, another full length graphic novel from the fertile imagination of Joe Ollmann, who here returns to the fold of Conundrum Press with this far out tale of UFOs and alien abduction, as related by a high school science teacher to his long time girlfriend, that works to add a new dimension to the science fiction label.

re
tail price - $18.00
copacetic price - $15.95





The Library


by Chihoi


The Library

is the first English langauge collection of the work of Hong Kong-based artist, Chihoi Lee, known in the comics world simply as Chihoi. His work has been published in Hong Kong since 1997, and in Europe starting in 2001, but only now in North America. The Library is a 184 hardcover that collects eight black and white stories. Rendered in a variety of styles employing, variously, pen and ink, ink brush and pencil, each story delivers an emotional punch.

re
tail price - $20.00
copacetic price - $17.77



Capacity #8


by Theo Ellsworth
Dare we believe our eyes? Yes! A new issue of Capacity is here, delivering page after page – 44 in all – of new pen & ink creations that transport readers into Theo Ellsworth's personal inner universe. Inspired graphomania that will turn your mind inside out in no time, Capacity #8 offers its readers a simultaneous unpacking of the reading experience as it occurs, making this issue a work of meta-comics. Employing his highly personal visual vocabulary, fabricated in the Thought Cloud Factory forges, and matching it with his own unique storytelling process, Mr. Ellsworth provides in these pages a voyage through the mind's eye that is also a hermeneutics of reading. Enjoy the trip!

re
tail price - $7.00
copacetic price - $6.30





A33


by Josh Burggraf
More voages to far out realms of in doodle-driven, full color, SF stylings from the prolific Mr. Burggraf.

re
tail price - $7.00
copacetic price - $7.00


Jerusalem
by Nick Bertozzi and Boaz Yakin
Jerusalem may be the first city to have two graphic novels named after it. Sub-titled, "A Family Portrait," this one is a multi-generational saga drawn by Nick Bertozzi based on a script by Boaz Yakin that was "inspired by stories told to him by his father." Perhaps more

Persepolis

than

Palestine

,

Jerusalem

focuses on the founding of the Jewish homeland in Israel in the years following the Second World War.

re
tail price - $24.99
copacetic price - $22.22



The Heart of Thomas


by Moto Hagio
Taking place in the semi-fantastic setting of "a German boys' boarding school sometime in the mid-20th Century",

The Heart of Thomas

is a complex tale of love between boys that starts right off with the suicide of the titular character.
This massive 524 page shojo epic from one of the founding mothers of the genre was originally serialized in the pages of

Shojo Comics

over the entirety of 1974, and then went on to be collected in a successful series of trade paperbacks that were the recipients of widespread interest and acclaim. Arguably the first fully realized, multi-levelled, novel length work in the shojo genre,

The Heart of Thomas

had a transformative impact on the form. It now finally receives it's first authorized English translation (by Matt Thorn) in this hefty hardcover edition from Fantagraphics.
re
tail price - $39.99
copacetic price - $35.00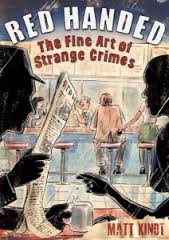 Red Handed


by Matt Kindt
Publisher, First Second sez: "Matt Kindt's fascinating homage to classic detective fiction... owes as much to Paul Auster as Dashiell Hammett."

re
tail price - $26.99
copacetic price - $24.25




Nothing Can Possibly Go Wrong


by Faith Erin Hicks and Prudence Shen
Artist of

Friends with Boys

, Faith Erin Hicks, joins caffiene addicted, robot loving writer, Prudence Shen on her rookie outing to create this action-packed tale of high school zaniness involving politics, cheerleaders and robots.

re
tail price - $16.99
copacetic price - $15.25




Army of God: Joseph Kony's War in Central Africa


by Tim Hamilton and David Axe
Written by feelance reporter, David Axe, and illustrated by Brooklyn-based comics artist and illustrator, Tim Hamilton,

Army of God

provides a graphic account – in both senses of the word – of the devastation wrought by "the most dangerous guerilla leader in modern African history," Joseph Kony.

re
tail price - $14.99
copacetic price - $13.75
Weird Horror & Daring Adventures: The Joe Kubert Archives, Volume 1


by Joe Kubert
This 230 page hardcover collects 33 pre-code classics by the one-and-only Joe Kubert – all in full color! Discover a whole other side to the artist most widely known for his work on

Sgt. Rock

and

Tarzan

, in page after page of hard hitting, well drawn and superbly laid out pages of comics that that straddle the gap between the work of Alex Toth and Steve Ditko (and surely influenced the latter). Don't delay your gratification; dive right into this 22-page PDF preview to see what we're talking about.

re
tail price - $39.99
copacetic price - $33.99
The Jack Kirby Omnibus, Volume Two
by Jack Kirby
This second Jack Kirby omnibus volume is a wallopin' 624 pages of full color comics! BUT, not all of them are drawn by Kirby. The first volume of

Super Powers

was plotted by Kirby and based on his own story idea, but only the fifth and final issue was actually written and drawn by Jack himself – and it's a doozy!
In order not to befuddle readers by providing only the final issue in isolation, DC has made the decision to present the preceding four issues so that readers can fully appreciate the stunning climax. SO, out of these 624 pages, 92 are NOT by Kirby, leaving a mere 532 pages of pulse pounding Kirby pencils that include the odds and ends of Kirby's later 1970s work for DC – including Atlas, Kobra, revivals of the Golden Age characters Manhunter and Sandman (characters that were first drawn by Kirby thirty years earlier in the pages of

Adventure Comics

), and... The Dingbats of Danger Street! – as well as both

Super Powers

series form the mid-1980s, the second of which is entirely drawn by Jack. And, in a twist, the book starts out with over 100 pages of Kirby's pre-code (1952-54) work on

Black Magic

, co-authored by Joe Simon, that was reprinted by DC in the 1970s and so eligible for inclusion here. And, as if that's not enough, we're offering an introductory special on this to entice readers everywhere to throw caution to the wind and plump for this high-powered package of wide ranging comics from the King of Comics, Jack Kirby. How can you pass it up?
re
tail price - $39.99
copacetic
special
price - $29.99
Items from our May 2013 listings may now be purchased online at our eComerce site,
HERE.
New for April 2013

Julio's Day
by Gilbert Hernandez
Gilbert's long awaited return to the multi-generational saga form that he made his own in Palomar is here, and we are happy to report that it is a book that is as rewarding as it was long in coming. In

Julio's Day

we are given a 20th century spanning tale of five generations of the Reyes clan that centers on the titular Julio and precisely matches the arc of his life. Taking place in a nameless rural town that is presumably located somewhere in southern California,

Julio's Day

takes its readers through five wars and generation-defining events like the Great Depression and The Sixties as they are experienced at the fringes.

Julio's Day

is most notable, however, for what is happening below the surface of the twentieth century, at the fringes as well as at the center: the evolution of personal, private, public and political attitudes towards the physical expression of love between men, from tragically repressed inversion, through stoically denied homosexuality and finally to openly celebrated gay identity. Gilbert ingeniously leverages the unique power of comics' visual language to at first deny, then elide, and finally allow the reader to witness sexual activity in a manner that
is analogous to the gradual shift in attitude of the American public towards this integral part of the spectrum of human behavior, as, through the course of the century, it developed from hiding to seeing.

re
tail price - $19.9
9
copacetic price - $15.99






Black Paths


by David B.
Here we have the latest work to be translated into English by the supremely talented and always interesting Pierre-François Beauchard – better known to comics readers as David B.

Black Paths

takes us to a unique moment in 20th century history: when poets ruled. In the chaos that arose with the collapse of the Austro-Hungarian empire at the close of the "war to end all wars" – aka World War One – a dispute arose on the border between the
apparently irreconciblable
Kingdoms of, on the one hand, Italy and, on the other, Serbs, Croats and Slovenes, that centered on the port city of Fiume (now known as Rijeka). So, British and French moved troops in to prevent a military escalation, but, still, no one was "in charge." Into this vacuum moved the Italian poet and provocateur, Gabriele D'Annunzio, who declared himself de facto ruler of the "Free City of Fiume" and managed to pull it off for 15 months, from September of 1919 until his eventual expulsion from power during the "Bloody Christmas" of 1920. These 15 months of "free" Fiume are the backdrop for the action of

Black Paths

, and it is clearly a setting that plays well to David B.'s strengths. Definitively European in content and d
istinctly masculine in tone,
Black Paths

is a full color (colors by Hubert) 128 page work that vividly brings to life this bygone era of casual violence filled with militaristic gangs of ex-soldiers bent on plunder, politicians bent on intrigue and, amidst it all, lovers bent on romance. At the center of the maelstrom of thugs, oddballs, misfits and poets are the writer, Lauriano, who is haunted by his experiences in the trenches during the war, and the singer Mina, who found herself caught up in the whirlwind of events: their relationship is the thread that binds the patchwork quilt of a story together. As always, David B.'s artwork is the star attraction as he once again works his visual magic, blending realism, editorial illustration and imaginative grotesquerie into a unique concoction that is here heightened by Hubert's richly varied palette of saturated colors. Anyone looking for a delicious taste of "the continent" need look no further.

re
tail price - $24.95
copacetic price - $22.22




Very Casual


by Michael DeForge
Here at last under one cover are the widely scattered (and often hard to find) short pieces that DeForge has produced over the last few years, all to wide acclaim, as well as the now-out-of-print stand alone comics,

Spotting Deer

and

Incinerator

. Michael DeForge is well on his way to forging a genuinely original body of comics work that focuses on the expressive relationship between line and the human form, and explores the porous border between perception and delineation, always pushing the limits of the capacity of pen and ink to express attitudes towards flesh and blood (and gore and ooze) and sex and death, as in deceptively simple cartoons he captures complex concepts.

Very Casual

is the most substantial collection of his work yet published, and as such immediately assumes the mantle of being the go to book for anyone interested in his work. As always, Koyama Press does a fine job in both printing and presentation. All works are here as they originally appeared (with some minor reformatting) in both black and white and full color. Fifteen pieces in all, including our personal favorite, "Riders" from the first issue of

Study Group Magazine

. 152 pages total.

re
tail price - $15.00
copacetic price - $13.75

The Adventures of Jodelle
by Guy Peellaert
Anyone wanting to get a feel for the "60s" art scene in Europe and how it intersected with the pop/camp axis emerging in the US, need look no further that this spectacular retrospective edition of Guy Peellaert's one-of-a-kind comics masterwork,

The Adventures of Jodelle

. Landing at an intersection of the lines emerging from Jack Kirby and Stan Lee's epic collaborations of the FF and Thor, the pop art of Roy Lichtenstein and Andy Warhol, and Jean Luc Godard's take on American culture,

The Adventures of Jodelle

was an instant smash on the continent that reverberated to the shores of the US as well, with its influence here most largely felt in poster and advertising art. While its impact on American comic books was limited – Vaughn Bodé and Steranko were likely fans, along with a few in the underground comics world – it made a major impact on the shape of the following two decades of European comics, influencing both the SF stylings of Moebius and the lush feminine forms of Milo Manara. Influence aside, this is a work bursting with energy and vision, and this massive, oversize hardcover edition that comes complete with an 80-page "visual supplement" that serves both to contextualize the work and follow Peellaert's career presents it to full effect, as this pdf preview and flickr slideshow make amply clear.

re
tail price - $
45.00
copacetic price - $39.75
Memory
edited by Jeremy Baum
This 186 page anthology of comics and illustration based (to varying degrees) on the theme of human memory is the brainchild of Pittsburgh-based artist and publisher, Jeremy Baum. Made possible by a successful Kickstarter campaign, this project was steadily piloted through the self-publishing obstacle course by Captain Baum, who made the trip from conception to publication in very good time.

Memory

contains full color, duotone and black & white work of 50 creators from Pittsburgh and beyond and is notable for containing the work of many international contributors, including Jelena Dordevic (Serbia), Nicolò Pellizon & Daniele Giardini (Italy), Diego Tripodi & Diego Simone (Argentina), Tim Molloy (Australia), Sara Skogsberg (Sweden) and César Sebastián Diaz (Spain). Numbering among the contributors as well are household names (well, among hardcore indy-comics households, anyway) such as Eric "Tales to Demolish" Haven, Hans "Chrome Fetus" Rickheit. Pittsburgh is very much in the house in

Memory

, represented most notably by Jim Rugg, who provided the cover illustration, along with too many to mention here, including Shawn Atkins, Jessica Heberle, Nick Marino, Nate McDonough, Steph Neary, Tom Scioli, Nils Skeletonballs, Julie Sokolow (whose 10-page contribution is the most formally inventive of the collection and a real stand out), Brenna Sydel, Copacetic's own Bill Boichel, and, of course, Jeremy Baum himself, whose 14 page collaboration with Morgan Ritchie-Baum, "Creation Story", a tale of SF-tinged occult mysticism executed in detailed pen & ink with pantone colors, is the collection's longest. The work in

Memory

really runs the gamut in style and story, ranging from oblique and abstract to straightforward and traditional. Visit the Kickstarter page for more info, and be sure to check out the 9 updates, which provide additional information as well as tons of artwork by the contributors. In addition, the contributor listing at the back of the book includes URLs for each, so readers can easily further engage in the work of any and all involved in this project.



re
tail price - $18.00
copacetic price - $15.00



Journal


by Julie Delporte
Koyama Press presents the first English language translation of Canadian cartoonist diarist, Julie Delporte. 184 pages of full color diary-form comics delineate her life from February 2011 through October 2012. Koyoama states that "Delporte's organic and immediate drawings ... utilize an uncanny sense of colour and composition to illustrate their intimate, diarist narratives. Cataloguing an emotional breakup, an artist's residency at CCS and the anxieties and joys of everyday life..."

re
tail price - $20.00
copacetic price - $17.77




New School


by Dash Shaw
Three years in the making, Dash Shaw's latest formally inventive epic is here - but only five copies worth. One of the boxes of

New School

that was shipped to us direct from China for Dash's appearance at Drawing Power has arrived after the fact, and so we're putting the copies it contained up here. We will receive more copies along with everyone else in June, but five of you will able to read it now! Read our full review of

New School

and then take a few minutes to scope out this 18 page PDF preview (which only provides the barest foretaste of what is to come).

re
tail price - $39.99
copacetic price - $35.99



3 New Stories


by Dash Shaw
A companion piece to Dash's

New School

, this 32 page full color comic book is printed on flat white stock, that employs the same formally innovative, layered approach to coloring that adds new depths to the comics page. The opening story, "Object Lesson" is a true contemporary cautionary fable, entirely unlike those rehashes posing as such published by Vertigo and the like. A reader might at first think they had stumbled into a new tale designed to thrizzle by Michael Kupperman, as the story opens on a character dressed like Sherlock Holmes arriving home to his family and declaring, "I've been laid off," (cue laffs) but this impression evaporates as readers quickly realize that they are being confronted with some of the most trenchant irony ever employed in comics and the story heads into a heart of darkness where America eats its young (and old). The 2012 Eisner Award nominations have only just been made, but we are already prepared to nominate "Object Lesson" for the best short story of 2013. Recommended!

re
tail price - $3.99
copacetic price - $3.50



New Jobs


by Dash Shaw
No, your eyes aren't playing tricks on you: this is indeed the third new "New" work by Dash Shaw to be released this month. The first was a graphic novel, the second a standard comic book, and this one is a small handmade mini-comic published by Tom Kaczynski's Uncivlized Books, printed in an edition of 500 copies. The story here involves a couple living in Bed-Stuy are going to have a child. To support the child, they need to get new jobs. The woman gets a job as an organizer for a rich doctor; the man as a writer for a design firm that "designs" political candidates. 32 pages of New York circa right now! 4.25 x 5.5 inches, b&w, multi-color paper

re
tail price - $5.00
copacetic price - $5.00



The Half Men


by Kevin Huizenga
Hot off the press and fresh out of the box - a brand new, self-published, Kevin Huizenga comic book!

The Half Men

includes his previously published contributions to

NoBrow #6

("Second Attempt", a story no one but Kevin H could have ever even thought of) and

Kramers Ergot #8

("The Half Men", in which he "covers" – i.e., redraws/reinterprets – a story of the same name that originally appeared in

Mysteries of Unexplored Worlds #8

, originally published in 1956) as well as the new work "Bona, chapter 1", which is a redrawing (and at least partial rewriting) of the first 16 pages of

Kona #1

, originally published in 1962. See old comics in a new way. 33 pages of comics in all.

re
tail price - $4.00
copacetic price - $4.00
Pittsburgh Port Authority Comix
by Paulette Poullet, Nils Balls & Nate McDonough
Now,

this

one has it all: it's artful, educational, political, entertaining – and cheap! In other words, even though it might not
look like one at first glance,

Pittsburgh Port Authority Comix

is everything a comi
c book should be. The
brainchild of
Paulette Poullet, this comic casts a caustic eye at the experience of riding the bus in Pittsburgh, PA via a series of vignettes and rider profiles by Ms. Poullet and Mr. McDonough, as well as providing, courtesy of contributor Nils Balls, a look "under the hood" of PATransit, the authority that operates the bus service in the Pittsburgh metropolitan area (i.e., Allegheny County), wherein readers can begin to get an idea of the problems that will have to be faced. And,

PPAC

offers a bit of a polemic as well, revealing the ill conceived squandering of funds in the service of promoting gambling at the expense of serving students. Here's a work that stands to raise the awareness as well as the spirit of Pittsburgh bus passengers.

re
tail price - $1.00
copacetic price - $1.00



The Passion of Gengoroh Tagame: The Master of Gay Erotic Manga


by Gengoroh Tagame
produced, designed & edited by Anne Ishii, Chip Kidd & Graham Kolbeins
It is difficult to view the work of Gengoroh Tagame as other than pornography, but it is worth the effort. Yes, there are (extremely) graphic images of sexual activity depicted in these pages, and plenty of it, including – but certainly not limited to – graphic S & M imagery, but there is more to this work that what at first meets the eye. These are nuanced comics by an internationally recognized manga master that, on the one hand, provide a highly charged reading experience, while, on the other, offer up interpretive insights when parsed by those who choose to engage the work in this capacity. Starting out with a light-hearted send-up of the psychic cop genre in "Hairy Oracle", the stories range from the bucolic humor of "Country Doctor" (is that Archie?) to the historicized Samurai drama of "Exorcism" to what is clearly the core of Tagame's passion, the violent S & M fantasies of "Arena", "Standing Ovations" and "Missing" which double as critiques of the nexus of international politics, the media and the military that strive to delineate the ideology undergirding the highly militarized global capitalism of our times, albeit in terms that many may experience difficulty in decoding. A common thread running through all the works is the erotic charge carried by humiliation. Any long time comics reader who dares to venture forth into these pages will likely be given pause when confronted with page after page of muscle-bound men beating the crap out of each other in the context of gay erotica. Needless to say, this item is only available for purchase by those aged 21 and older.
re
tail price - $
29.95
copacetic price - $27.50
So Long, Silver Screen


by Blutch
Originally published in France as

Pour en finir avec le cinéma

,

So Long, Silver Screen

is, amazingly, the first full-length work by Blutch to be translated into English. Blutch began his professional comics career 25 years ago and has published over a dozen books, all to wide acclaim, so it is hard to greet this volume with anything other than, "It's about time!" Our thanks – and doubtless that of many others – goes out to PictureBox for at last bringing this artist to the English speaking world. Blutch is a gifted tale spinner and delineator, whose legendary comics work has inspired and influenced many artists, notably Craig Thompson, who, by way of introducing him to American audiences, has interviewed Blutch,

here

.

So Long, Silver Screen

combines a knowledge of European visual art and literary culture with a love of movies to forge a meditation on the place of cinéma in our lives. This is a work that is, unsurprisingly, highly French in character, and so will, naturally, be especially enjoyed by Franophiles, and likely disdained by Francophobes. We feel confident that those who enjoy fine comics and whose leanings are neither one way or another on the issue of

la culture française

will be swayed by the uniformly high quality of this fine volume.

re
tail price - $
22.95
copacetic price - $20.00

Mobile Suit Gundam, The Origin: 1 – Activation
by Yoshikazu Yasuhiko
This 444 page manga is the first volume in what is billed as "the definitive account" of the origin of this "epoch-making" anime. Originally published in Japan in 2002, this version "
expands on the classic narrative" of the anime. The contents of this hardcover volume are printed on heavy coated stock, including a half dozen color sections. Also inclued are three short essays by Ryusuke Hikawa, Shinichiro Inoue and Hideaki Anno.

re
tail price - $29.95
copacetic price - $26.95




Mobile Suit Gundam: Awakening, Escalation, Confrontation


by Yoshiyuki Tomino
Anyone wanting to go Gundam crazy can really go to town by additionally diving into this omnibus volume of the Gundam trilogy of novels (NOT manga, these are prose science fiction novels). Translated by manga master and all-around Japan expert, Frederik Schodt.

re
tail price - $15.95
copacetic price - $14.44

Going Clear: Scientology, Hollywood and the Prison of Belief


by Lawrence Wright
A propulsive, engaging read that will answer many of the questions curious readers may have about the history and tenets of Scientology, its basis in Dianetics, and, especially, the life and times of Scientology's founder and the author of

Dianetics

, L. Ron Hubbard, which is where the book is strongest (and craziest!).

Going Clear

is far from the last word on Scientology, however, for with every question it answers it raises another, and it is a bit on the breezy side, to be sure, but interested readers will find themselves engrossed and will discover that they have every reason to be thankful for what it does provide, as Scientology is legendary for giving those who attempt to dig into it a (very) hard time, as this book details among its many revelations. And then, after reading this book, watch

Wild Palms

.

re
tail price - $28.95
copacetic price - $25.00
Items from our April 2013 listings may now be purchased online at our eComerce site,
HERE.