###
(A Meeting for Peace in Venezuela)
By Brian Landever
Brian Landever and Dada Maheshvarananda
As the Venezuelan Minister of Defense firmly placed his hands on my shoulder for my desired photo op, I found myself filled with pride. I am certainly not the type to commonly have such sentiments in the company of anyone that represents forceful means, but the worthiness of the people-first system that the high general stands to defend made it hard to avoid elation in his close presence. It is the preference for the latter of these two ideas: defense over aggression, which had been increasing my delight throughout the day at Chief General Raúl Isaías Baduel's international peace conference. Staring at the crowd throughout the two day event beginning on the 27th of April in the military academy of Caracas was a quote which characterized the intention of the seemingly contradictory situation.
"When they asked me about a weapon able to resist the power of the atomic bomb, I suggested the best of all: Peace."
-Antoine de Saint-Exupéry
It was clear that Baduel had brought together peace activists, intellectuals, professionals, spiritual and religious leaders, artists, and many young members of his armed forces to explore the art of overcoming a lust for violence and the bigger cannon, replacing it with the exploration of the different lanes along the road of peace.
The events began in private on Thursday evening with a dinner held in the Eurobuilding Hotel's Chef's Choice Dining Hall. Symbolizing what was to come in the following days, the conference speakers gathered to dine with Minister Baduel and his wife, Cruz Maria Baduel.
The following morning, it was apparent to me that they had built their introductory levels of familiarity and respect for one another. Throughout the morning's ecumenical service, which began the public events, they were happily greeting one another, making light conversation.
Entering the church, a large open-air, 500-seat stadium with a pulpit and live orchestra below, the speakers and spiritual groups walked together between two lines of unarmed soldiers and hundreds of guests towards the front where they took their seats next to one another.
Lieutenant Coronel Monsignor Raúl Ascanio Chirinos opened the service in a traditional Catholic manner, speaking from the pulpit placed below a large stained glass mural of Simon Bolivar, and beside a live orchestra. He then initiated the proceedings not with a twenty-one gun salute, but with the release of a white dove. Following him was a speaker from nearly every spiritual group within Venezuela. They each explained how their spiritual path contributes to peaceful coexistence with others, and provided a taste of their prayers before the audience. The two hour service presented speakers from the evangelical Church Renacer, the World Muslim League of Venezuela, the Synagogue Tiferet Israel of The East, Ananda Marga, the Sri Chaitanya Sridhar Govinda Seva Ashram of Caracas, Venezuela, and the Asociacion Civil Cultural Seguidores of IFA.
A private breakfast commenced after the service for the all the speakers of the conference as well as those of the morning's service. This was hosted by the Chief General, and was held in his private meeting room, a well decorated room with a full wall of pictures of Simón Bolivar. He welcomed his guests, and acknowledged the presence of several Jewish Nazi concentration camp survivors. At the head table, the Catholic priest, Jewish rabbi, and Muslim imam sat together.
The conference began that afternoon in the Defense Ministry Auditorium, an approximate 700-seat auditorium which was filled at least at 90% capacity throughout the two days. Amongst the several hundred civilians and Chief General Baduel were at least 250 young male and female Venezuelan soldiers, high officers, and for the morning of Saturday, a four star Chinese general.
Speakers from the Dominican Republic, Spain, the USA, and Venezuela each presented stimulating accounts on the methods of peace. Topics ranged from establishing local development as a solution to neoliberal economics, to Buddhist methods of bringing about inner calm and inner wisdom. Success-only education, the benefits of emotional intelligence, music therapy, incorporating cultures of differing races into policy, communication techniques, and empathy were some of the other topics.
All the sincere, different examinations of how peace may be practiced left me feeling inspired and hopeful. Not only for the actual messages that I received from each individual presentation, but for the larger picture that was painted for a more concerned world. This conference represented the unification that is building in Venezuela. As such, it was a form of communication that expressed an alternative to present forms of capitalism. Today's popular economy requires self-interested individualism in order to maintain its theory that competition will balance its markets. Yet what Venezuela is creating takes this societal-economic vision to the level of social solidarity, attempting to eliminate forms of alienating competition. They are recreating the workplace paradigm to make the people aware of the people, thus creating the understanding of the personal importance and production benefits of interdependence.
This peace conference was settling in that it was in line with the vision of Venezuela's Bolivarian revolution. It is people that are the interest in a society that uses community-serving cooperatives, for example, to encourage people to organize, to develop their neighborhoods, and to increase their standard of living. And it is people, the value of life, that are the interest of an armed forces that would rather avoid violence by bringing people together in ways that support the elements that maintain peace. The armed forces of Venezuela may continue to stand prepared for anything, but the message they have sent to the world that weekend is not a common one in the world's ever prepared soldiers- they stand fearlessly, and with curbed greed for personal power, to defend the self-empowerment of developing groups of people
The women of Ohio call upon the women of the world, from the day-old babies to our most senior elders, to stand with us to save the world.
Sharon Mehdi wrote a wonderful short story for her five-year old granddaughter, The Great Silent Grandmother Gathering that has inspired us. A quick summary of the story is:
A busboy who worked in a café whose window faced the public park noticed that two grandmotherly looking women had been standing in the park all day without moving at all and without talking. They were dressed up in their Sunday best and were just staring at the town hall. He asked the other patrons in the café what they thought the women were up to. They speculated on a variety of things. Then, a five-year old year who was in the café spoke up and said "One of them is my grandmother and I know what they are doing. They are standing there to save the world." All of the men in the café hooted and howled and laughed. On his way home the busboy decided to ask the women what they were doing and sure enough their answer was "We are saving the world."
Over dinner that evening the busboy told his parents and he and his father hooted and howled, but his mother was totally silent. After dinner, the mother called her best friends to tell them.
The next morning the busboy looked out the café window and the two women were back, along with his mother, her friends, and the women who had been in the café the day before. All were standing in silence staring at the town hall. Again, the men hooted and howled and said things like "You can't save the world by standing in the park. That is what we have armies for," and "everyone knows you have to have banners and slogans to save the world--you can't do it by just standing in the park."
The next day the women were joined by the women who were in the café the day before and a number of their friends. This brought the local newspaper reporter to the scene. He wrote a derisive article about the women. The day after it appeared, hundreds of women showed up to stand in the park in silence. The mayor then told the police chief to make the women leave because they were making the town appear to be foolish. When the police chief told them they would have to disperse because they didn't have a permit, one of them responded that "we are just individuals standing in our public park and we are not giving speeches or having a demonstration so why would we need a permit." The police chief thought about this and agreed with them and left the park.
At this point 2,223 women including the mayor's wife, the police chief's wife, and one five-year old girl were standing in the park to save the world. The news quickly spread and soon women were standing all over the country. The story ended with women standing in every country throughout the globe, standing to save the world. See www.grandmotherbook.com.
Please stand with us for five minutes of silence at 1 p.m. your local time on May 13, 2007, in your local park, school yard, gathering place, or any place you deem appropriate, to signify your agreement with the statement below. We ask you to invite the men who you care about to join you. We ask that you bring bells to ring at 1 p.m. to signify the beginning of the five minutes of silence and to ring again to signify the end of the period of silence. During the silence, please think about what you individually and we collectively can do to attain this world. If you need to sit rather than stand, please feel free to do so. Afterwards, hopefully you and your loved ones can talk together about how we can bring about this world.
Building community capacity for peacebuilding worldwide
The Global Peacebuilders project managed by Springboard Opportunities Limited is going live soon. Comprising an innovative online information-sharing portal, unique best practice catalogue and an international conference located in Belfast, Northern Ireland, the Global Peacebuilders project will connect researchers, academics, practitioners and organisations working on peace and reconciliation, conflict resolution and peacebuilding worldwide, and will provide a platform for disseminating achievements and building capacity for the future.
While every conflict across the world is distinct, the underlying causes are often similar, and there is much to be gained by building bridges between practitioners and sharing in the positive work and successes that have taken place. Not only within the context of the island of Ireland, but also beyond, there is a need for a positive place in which all conflict resolution and peacebuilding organisations can come together, share strategy, build momentum and increase their capacity for transforming conflict and creating the conditions for sustainable peace.
The Global Peacebuilders project will help build such a platform for disseminating achievements and sharing strategies for the future. Specifically, a fully-searchable 5-language online database of individuals and organisations working in conflict resolution and peacebuilding will be developed. The database will bring together organisations from across the global north and south, and, stemming from this, a comprehensive catalogue of best practice examples in conflict resolution and peacebuilding from around the world will be produced.
By building new relationships and spanning continental divides, the project will enable organisations to 'broaden their horizons', offering inspiration and strategic direction, and affording them a portal through which to share and incorporate innovation and best practice. By offering a solid support network for conflict resolution, reconciliation and peacebuilding, Global Peacebuilders will help organisations to learn from one another, increase confidence, build capacity and ultimately make a more effective contribution towards stable and inclusive societies across the world.
Sign up and circulate
If you, your organisation, or any organisation you know would be interested in joining the online database of peacebuilding and conflict resolution organisations, contributing your best practice examples, or simply learning more about the Global Peacebuilders project, contact Sarah Maitland, the Global Peacbuilders Project Coordinator on +44 (0)28 9031 5111, sarah@springboard-opps.org or www.springboard-opps.org. A spirit of inclusivity, diversity and participation is at the very heart of this project, so we would be delighted to hear from you!
The Global Peacebuilders project is funded by the European Union's Peace and Reconciliation Programme 2000-2006 under Measure 5.3 Developing Cross Border Reconciliation & Understanding and managed for the Special European Union Programmes Body by the Community Foundation for Northern Ireland.
++++++++++++++++++++++++++++++++++++++++++++++++++++++++++++++++++++++++++++++++++++

President Chavez decrees ecological solution for indigenous People in Venezuela




In Caracas we buried the coal phantom.

The Venezuelan Minister of the Environment prohibits the opening of new coal mines in the state of Zulia



by:

Sociedad Homo et Natura
Environmental Collectives
Indigenous Communities of Wayúu and Yukpa of Sierra de Perij'a

Caracas, March 21, 2007 - By presidential decree, the Minister of the Environment, Yubiri Ortega de Carrizalez, announced yesterday before the Yukpa and Wayúu indigenous people of the Sierra de Perijá, the prohibition to open new coal mines in the state of Zulia. Additionally, by the same presidential mandate, it was rejected the expansion of the Guasare and Paso Diablo mines projected by Corpozulia and Caribozulia.


Yesterday, the indigenous resistance of the Perija, the social movements and the ecologists who mobilized to take over the Ministry against the mining industry, felt that they had buried the coal phantom and its entire threat in Caracas, which for years had hurt the indigenous peoples of the state of Zulia. However, until the current mining concessions in indigenous lands are not revoked by decree, the fight goes on.

In a meeting with indigenous leaders from the Ukpas and Wayuu, the Home et Natura Society and alternative community media outlets, the Minister of the Environment indicated that she has hope in the new model ordered by President Chavez, which is already underway in the fields of ecology, agriculture, tourism, and sustainable development.

We know that the transnational powers interested in the coal in Zulia will keep promoting the survival, by all means, of their coal mega-project. There are still questions on the future of the Nigales bridge, America Harbor (currently Bolivar Harbor), and the Zulia railways, all of which are part of the expansion plans of the coal mines that were scheduled to open in indigenous territories that have now been prohibited by the presidential mandate.

The downfall of the miserable


Martinez Mendoza threw his final thrust by organizing a paid counter demonstration, forcing the Mara community councils, the mining workers and their families to open more coal mines, after hearing the presidential proposal: agriculture, cattle breeding and tourism in exchange of more coal. On Thursday, the envoys paid by Mendoza abandoned the black script ordered by Obis Prieto (president of Carbozulia) and accepted the sustainable development proposal in exchange for the prohibition of coal mines. This initiative will be taken to Mara next Thursday.

If the coal mines, for all of which they represent, the global mourning of thousands of families that have lost their children and spouses; the social misery that they have caused in their path; the pollution of the soil, the air, and the water; the loss of the woods and rivers; are forever prohibited and if the Venezuelan state finally decrees the prohibition of coals mines in favor of sustainable agricultural and cattle breeding projects that are pro-life, then the eyes of world would find ourselves looking at an exemplary act of social justice and the beginning of a necessary change.

The coal mining and its plans, destroyed entire towns in Mara, destroyed woods and rivers, left the Bari indigenous people without a land, subordinated the indigenous leadership for decades, and left their own people subject to shame and rejection.

President Chavez, by saying today that there will be no more coal mines in Zulia, you are giving back hope for the future to the Wayúu de Mara and Páez people, to the indigenous of the Sierra de Perijá and to life itself. We are looking forward to the decree that will forever prohibit this dark curse.


A "Small is Beautiful" Success Story
The Courage of Dona Catarina Domingo Hernandez

A Letter from Todd Bauer in Ixtahuacan, Guatemala

The story that this letter tells is a vivid illustration of the premise set forth by E.F. Schumacher in his book, Small is Beautiful, first published in 1973 and every bit as valid today as it was then.
If you haven't read it, we strongly recommend that you do.

Hola Everyone,

Receive cordial greetings from Ixtahuacàn. I hope y'all are well and don't have too much cabin fever at this point of the winter. If you do, remember that Spring is around the corner.

All is well here. It is the middle of dry season now. For those of you who live on the West Coast imagine July or August. For those of you who are the classic 4 seasons part of the country, it is probably difficult to imagine what our landscape looks like now but it's very dry. With the smallest careless action who are dealing with a wild fire.

At work we take advantage of this time to work in the nursery and the build rain water catchment systems in the countryside. Recently we had the opportunity of work with a campesino on a water related project. For those of you who remember a letter about the bicibomba, this project goes along the same theme but with a few differences.

The campesino is a woman who doesn't know how to ride a bike and didn't want to learn. Doña Catarina Domingo Hernàndez, resident of the La Vega Colotenango, is the mother of the wife who with her husband received one of the three trial bicibombas. Doña Catarina is a widower who has raised her children, 2 sons and 6 daughters, growing vegetables, mostly onions and wild greens. On her property there was a small spring where she year after year during the dry season who draw out bucket after bucket of water to irrigate her raised beds of veggies. After seeing the bicibomba at her daughter house, she decided to talk with the Pastoral Social agricultural promoter who has been accompanying her in her work for the last few years about the possibility of her own bicibomba but without the bici. The promoter talked with Jorge, who is in charge of such mini water projects. He then talked with me about the project and the Doña Catarina situation, both economic and her efforts to irrigate her garden beds. We went to visit her home to talk with her, test the spring and design the irrigation system. Talking with her and meeting her family, we decided to go ahead with the project.

The next day, the digging began to improve her existing spring/well. With a little luck on her part the water vein was discovered and the water quantity tripled in her well. The final storage size is about 4m² or 1000 gallons with a recharge of less than 24 hours. Water or the difficulty to irrigate is no longer the limiting factor. She is able to plant the amount of land that she and her daughters can cultivate.

After many long days, her irrigation system was up and run. In 20 minutes they can fill their 450 liter storage tank and begin the use the sprinklers. A few days later we could see the seedling germinating in the new area that she planted.

I hope you enjoyed this small success story. It's stories like Doña Catarina's that show us with a little assistance and hard work on the benefactors part positive changes in people's lives can occur. Many of her neighbors said to her how luck she is the have the well and this project. It's true that she was lucky to have a spring on her land but she has the determination to use her resources to survive and make a living. She told me that she has been struggling for years irrigation her veggies bucket by bucket, as a way to support her family. Now she will be able to plant more land and have a greater variety of crops which improves her family's diet while at the same time adding to her income.

One Down and 150,000 Soldiers to Get Back Home

Peace Voters,

Marine mom Tina Richards just called me from the road on her way up to New York for a HipHop Caucus event with great news:

Today when her son Corporal Cloy Richards reported for his third tour of duty in Iraq , an army staffer came out addressed him by name, and related that he will NOT be re-deployed to Iraq , he will get 80% disability for life, and he received a check on the spot for two years back disability pay.

This is a total victory for one Marine and military family – but Tina and Cloy are well aware that many others are still in grave danger. Tina is already working on helping other troops who should not be deployed. One mom she talked to today has a son already deployed who is suffering a serious case of diabetes.

1 down and 150,000 other soldiers to get back home.

Thanks to Tina, Cloy, WhyNotNews.org media and all the others who helped get this justice and who are continuing to work until all our troops are home.

Linda Schade
Executive Director
VotersForPeace
6930 Carroll Avenue, Suite 240
Takoma Park , MD 20912
301-270-2355

Eyewitness Account by Fernando Suarez del Solar

English translation by Jorge Mariscal

~~~~~~~~~~~~~~~~~~~~~~~~~~~~~~~~~~~~~~~~~~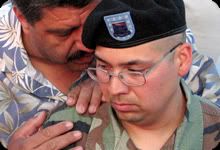 Photo credit unknown
The fifth of March. 9 a.m. The US military base in W?rzburg, Germany. We enter the building where a trial will be held--the court martial of conscientious objector Agustin Aguayo. His family is nervous, his daughters still do not fully understand what may happen to their father, his wife Helga displays a fearlessness that masks what she really feels.
At 9.28 a.m., the military judge enters the courtroom where Agustin is seated with his lawyers. A few civilians and military personnel are there as well as representatives of Amnesty International and I.
The bailiff reads the charges and the prosecutor asks that the accused be found guilty of desertion, AWOL, disobeying orders, abandoning his unit. He asks for the maximum sentence of seven years.
The defense presents its case by claiming that the defendant is innocent, guilty only of AWOL and refusing to deploy to Iraq.
Witnesses are called for both sides. There is a recess for lunch at 12:30. The family is nervous and afraid of the unknown. The General Consul of Mexico appears and states that his government is present to lend support to a fellow citizen.
The trial is called back into session and the judge finds the accused guilty on all counts. At this moment, Helga begins to sob softly, the daughters cry without understanding what has happened, Agustin's mother weeps, and I shed a tear out of anger and impotence before such an injustice. But the real surprise has not yet taken place.
At 5:55 p.m., the judge asks Agustin to stand to hear the sentence. There is tension and fear in the faces of friends and family because the prosecutor has asked for the full seven year sentence and we know the minimum sentence is two years. The judge declares that the penalty will be eight months, and that given the time he has already spent in prison Agustin has to serve only 49 more days. He will be demoted to the rank of E-1 with a lower salary and discharged.
The dark skies parted for the family! Only 49 more days and Agustin would be able to embrace his family as a free man!!!
The expressions of the prosecutors showed frustration, anger, even hate. The expressions of friends and family showed joy because this signified one more defeat for the Bush administration.
As I approached Agustin to hug him, he said "Thank you Fernando for being here. Your presence gave me courage. I knew that having you here would help me to face adversity, you brought me luck, and imagine-- only three months and I will be with you, discussing the lies that led to this war."
I couldn't avoid crying and neither could he. We embraced, and I thought "Why could my son not be here to witness this victory? I would gladly exchange my life for that of my son. I would rather see him in prison for refusing to go to war than have to visit his grave." I left the courtroom, lit a cigarette, and began to weep--Agustin free; Jesus gone forever.
AGUSTIN AGUAYO: WE SALUTE YOUR COURAGE AND CONSCIENCE. THANK YOU
__________________________________________________________________________________
"Never doubt that a small group of thoughtful, committed citizens can change the world. Indeed it's the only thing that ever has."
Margaret Mead
What about a small group of thoughtful, committed kids? What about a group of kids like this one?
Akash Mehta, of Flushing, New York, just turned nine-years-old. He celebrated his birthday in a traditional manner for kids all over the US; he had a sleepover. But Akash didn't receive the usual birthday presents. His friends gave him a total of $490, which will be tripled by a challenge grant from the Unemployed Philosophers Guild. You see Akash is raising funds to help build a girl's school in Afghanistan. How does a nine-year-old become involved in a such a project? Well, to hear Akash tell it, it's because he wasn't very good at washing dishes.
From Akash's website:
Why I want to do this project:
"The first time I thought of this was when I was sitting in the kitchen trying to help my mom wash dishes. But I found that I wasn't good at dishwashing. So I sat down and asked my mom what use kids were to the world. She told me that we were learning how to be good, and we can help the world when we grow up. Plus, when we are kids we make joy for grownups. But I said I want to do something now that makes the world a better place, and I am too young to do that. Then my mom said, OK, these are all the things you can do. She first told me many things I could do that might help, but none of them seemed right because I wanted to help children. So then she asked me if I wanted to do something for Women For Afghan Women (WAW), and I said, what are they doing, and she mentioned a project that I like."
Akash's mom is a co-founder of Women for Afghan Women (www.womenforafghanwomen.org ). She told him about how the girls in the town of Herat, Afghanistan don't have any classrooms. The classrooms are reserved for the boys while the girls sit in the fields or don't go to school at all. WAW has been raising money to build a school for the girls and Akash decided that he wanted to get involved with this project. You can read more about his efforts on the website. www.kidsforabetterfuture.org
Just raising funds for this project is apparently not enough for Akash. In January he will be meeting with some other kids with "great projects" to organize Kids for a Better Future.
Says Akash:
"Kids for a Better Future is an organization I am starting that lets kids try their best to make the world a better place. It has not been built yet but I have a meeting with a few kids who have great projects in January. My hopes for Kids for a Better Future are Simple. I want Kids for a Better Future to be an organization where kids have their own projects which make the world a better place but we all help each other on our various projects even though we each have our own"
Akash is asking anyone who can, to help out with the girl's school project and his plea is from the heart, the heart of an extraordinary nine-year-old.
"My friends and I have everything we need. We have a home, parents, lots of love, food, we have so many things. But these girls don't even have a school, and most of them have very hard lives. Please help me bring a school to these girls.
This is what I promise to do:
I will write to everyone who supported me to give them an update on the project. I will send photographs of the school when it is built.

I will also let everyone know about the organization I am starting –Kids for a Better Future. (kidsforabetterfuture.org) Any child who has a charity project can join my organization! If you know a kid who wants to participate, send me an email.
Could a small group of thoughtful, committed kids change the world? If they're anything like this one, I think so