Pitchers and catchers report!
Latest Rumors around the team:
The team has resumed talks with Pedro Astacio on a minor league deal and because only a handful of teams have interest a deal might be worked out...The Padres have not talked about David Wells with BOS in several weeks...Towers is no longer shopping Dave Roberts, though he still could be moved
Opening Day 2006:
Tuesday, April 4th @ 7:05PDT on the Mighty XX 1090/105.7 and 4SD
vs.
@ Petco Park
Peavy vs. Schmidt
Upcoming Games:
April 5: vs. SF: Young vs. Lowry
April 6: Off Day
2006
West Standings:
1-0 1.000
1-0 1.000
0-1
0-1
0-1
25-Man Roster:
Jake Peavy Trevor Hoffman Scott Linebrink Woody Williams Scott Cassidy
Clay Hensley Chan Ho Park Dewon Brazelton Chris Young
Alan Embree Brian Sweeney
Doug Mirabelli Mike Piazza Rob Bowen
Infielders:
Eric Young Vinny Castilla Khailil
Greene
Geoff Blum Josh Barfield
Mark Bellhorn Adrian Gonzalez
Outfielders:
Dave Roberts Ben Johnson Brian Giles Mike Cameron
Remainder of the 40-man roster:
(37 out of 40 spots filled)
George Kottaras Jared Wells Paul McAnulty Tim Stauffer
Thompson Freddy Guzman Pete LaForest Terrmel Sledge Jon Adkins
15-Day Disabled List:
Doug Brocail Ryan Klesko Shawn Estes
Non- 40-man roster Minor Leaguers:
Michael Johnson Jon Knott Tagg Bozied Erick Burke Kenny Baugh
Cesar Carrillo Mike Thompson Bubba Nelson Eric Junge
Matt Bush Ryan Meaux
Jack Cust Eric Valent Jason Anderson Manny Alexander Justin Leone
Seth Etherton Brian Sikorski Aquilino Lopez
Coaches:
Bruce Bochy Tony Muser Darrell Akerfelds Darren Balsley Dave Magadan
Manager Bench Bullpen Pitching Hitting
Tye Waller Glenn Hoffman
First Base Third Base
Mark Merila Ben Risinger
Bullpen Catcher Bullpen Catcher
Trainers:
Todd Hutcheson Paul Navarro Kelly McCord
Head Assistant Massage Therapist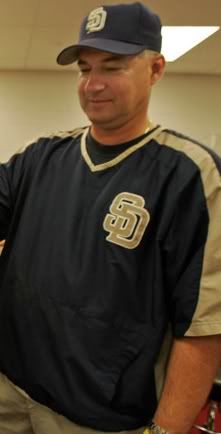 Hutch
Other:
No Picture
Jim Malone Brian Prilaman
Strength & Conditioning Director of Team Travel/Equipment and Clubhouse

Mike Tompkins Tony Patricia
Video Coordinator Clubhouse Manager
Front Office:
John Moores, Owner and Chairman
(Member of MLB's Executive Council)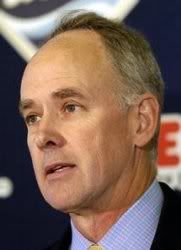 Dick Freeman, President & COO Richard "Sandy" Alderson, CEO & Minority Owner
Kevin Towers, Executive VP and General Manager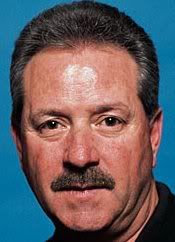 Grady Fuson, VP of Player Development and Scouting
Ed Wade, Professional Scout of AAA-IL and AA-Eastern League and Major Leagues
Erik Judson None
VP of Ballpark Developement Exec. VP of Business Affairs
Dave Winfield Richard Anderson
Senior Adviser Executive VP and Managing Director/Ballpark Oper.
Fred Gerson Jeff Overton
Exec. VP and CFO Exec. VP/Communications
Fred Uhlman Jr. Ken Bracey
Asst. GM Special Asst. to GM
Mark Guglielmo Katie Potheir
VP/Ballpark Operations Executive VP/General Counsel
Dan Fumai Michele Anderson
VP/ Controller VP/ Community Relations
Luis Garcia Mike Uhlenkamp
Director of Media Relations Asst. Director of Media Relations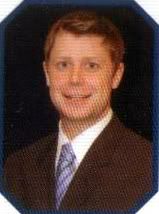 Dustin Morse Josh Stein
Baseball Information Coordinator Coordinator of Baseball Research
and Advance Scouting
For More info on the Padres, Buy the 2004 Media Guide
Retired Numbers: